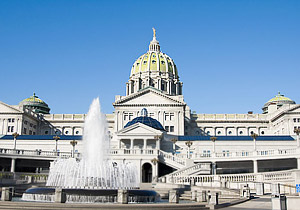 Good morning politicos, here's the Buzz. A new poll shows Obama up 46-40. Kathleen Kane tries her hand at being an Obama campaign surrogate. And we have the first of a four-part feature: Harrisburg's Smartest Staffers. First up: Senate Republicans.
Harrisburg's Smartest Staffers: Senate Republicans: Lawmakers are great, but staffers are the people who make government happen. Over the coming days, we will introduce you to the best and brightest in each of the four caucuses in Harrisburg. Here's our list of the top 10 in the Senate GOP.
Want to be among the first to see our next Smartest Staffers list? Sign up for the Morning Buzz. 
Quinnipiac Poll: Obama 46, Romney 40: PA isn't a runaway yet. Obama holds a 6 point lead over Mitt Romney according to the latest Quinnipiac, fueled by his better performance among women and independents. Romney remains competitive because of his performance among men and on the question of who's better suited to handle the economy.
Kane Headlines Obama Camp Press Call: Kathleen Kane: Obama surrogate? The Attorney General hopeful – and ardent Hillary Clinton supporter – gave strong backing to the President during an Obama campaign press call Monday afternoon.
Badey Poll: Meehan's 20 Point Lead Shrinking: Support for Rep. Pat Meehan (R-Delaware) is waning according to an internal poll conducted by his opponent, George Badey. Although Rep. Meehan currently has a 20-point edge, his lead shrinks when his record on Medicare and women's health are revealed.
In First Campaign Punch, Fitz Links Boockvar to Pelosi: Nancy Pelosi didn't stop in Bucks County during her visit to PA on Saturday, but that was close enough for Rep. Mike Fitzpatrick. His campaign challenged opponent Kathy Boockvar to say whether she'd be a vote for Pelosi in Congress.
Politically Uncorrected: Taking Stock of the American Mood: Despite the bickering over gas prices and inflation (and how it will hurt Obama's chances this fall) a new Emory University study suggests there is one economic factor that predicts the presidential election's outcome better than the rest: stock market performance.
National
Inquirer: PA still a battleground state
Politico: Romney does the bus tour thing
Politico: Romney to launch swing-state bus tour
Pennsylvania Ave: Romney, Obama headed to Pennsylvania. Is it on?
National Journal: Is Anybody Boring Enough To Be Mitt Romney's Running Mate?
National Journal: Romney Plans Bus Tour of Battleground States
National Journal: Priorities USA, SEIU Release Spanish-Language Ads Attacking Romney
National Journal Hotline: Previewing the Sunday shows
FiveThirtyEight: Where Electoral forecasts agree and disagree
The Hill: Division in Dem coalition resurface
The Hill: Romney launches small-town bus tour across six swing states
The Caucus: Romney Will Take the Bus on 6-State Campaign Swing
USA Today: Cities' homeless crackdown: Could it be compassion fatigue?
Statewide
AP: Corbett saying little about talks with lawmakers
AP: Proposed tax break for shale gas 'cracker' plant draws debate
AP: Pa. House bill levies fine, points for ignoring flood roadblocks
AP: Court rules records requests need not be perfect
StateImpactPA: How Fracking Has Moved America's Production Goalposts
StateImpactPA: Corbett Says Shell Negotiations Are "Not A Done Deal"
StateImpactPA: Drill Bits: Local Officials Say DEP Lacks Transparency, Feds Investigate Health Concerns, and SEPTA Under Fire
Capitol Ideas: Western PA lawmaker eyeing voucher alternative bill
Capitol Ideas: PA House gunning for booze privatization vote today
Capitol Ideas: Top Republican: "Baby steps" being made on #PaBudget
Capitol Ideas: Tom Corbett's Polling Glass Ceiling
Capitolwire:  Corbett says only PA-based companies will get ethane tax credit
Capitolwire: Gov. Corbett to decide this week, how much to pay? Which education reforms to buy?
Capitolwire: DCED Secretary Walker says state not paying for Shell site clean-up. Senator, staff say he told them otherwise
Capitolwire: Legislative commission sets district lines. Now Supreme Court may review
Capitolwire: Gov wants $233 million cut from House-Senate budget
PA Independent: Economic development program gets new name, stricter rules
PA Independent: Property tax elimination bill tabled in committee
PA Independent: Tax credit school choice plan may replace vouchers
Philadelphia
Inquirer: Debate set on privatizing Pa. liquor, wine sales
Philly.com: Advisory group for Voter ID law set to meet Thursday
Philly.com: Unkovic to US, Corbett: Stop PA 'corruption,' 'unchecked greed'
Philly.com: Pa. court quarrel
Phillynow.com: Is liquor privatization an LGBT issue? Some say yes
Phillynow.com: What you should know about this week's potential liquor vote
CBS Philly: Report: young adults avoiding doctor visits due to cost
CBS Philly: Pa. officials urge nursing homes to provide residents with Voter ID cards
CBS Philly: Corbett hints at areas of Pa. budget compromise
CBS Philly: Phila officials dicker with Pa. for list of voters who need ID cards
Heard In The Hall: Corbett administration limits discussion on Voter ID
Heard In The Hall A showdown for Phila Republicans, or maybe not
SEPA
Pottstown Mercury: Corbett: Should higher education be funded with voucher system?
Bucks Local News: Bucks County Democrats call on Gov. Corbett to delay business tax cuts, restore funding to schools, human services
Pittsburgh
Early Returns: Turzai tweets: "Hooch" and "Booze"
Early Returns: Rep. Vulakovich in for Orie special
Early Returns: The $233 million budget question
Early Returns: Kumar in Pgh tomorrow for Obama
Tribune-Review: House begins debate on liquor store privatization bill
Post-Gazette: Pennsylvania House tables bill to fund schools with income, sales taxes
Post-Gazette: Corbett attempting to change capital fund borrowing
Post-Gazette: Corbett, Republicans inch closer to state budget agreement
Southwest
Altoona Mirror: Enrollment leading to furloughs
Lehigh Valley
WFMZ: Lawmaker calls for commission to reform education in Pa.
NEPA
News Item: Local legislators weigh in on marijuana debate
South Central
York Dispatch: Rendell visits York with new book
North by Northwest
Centre Daily News: Corbett saying little about talks with lawmakers
The Sentinel Editorial: Judge Cleland's decision troubling
Erie Times-News: Erie County loses state House seat under new remapping
Erie Times-News: Erie funeral homes react to court-ordered changes in state law
Erie Times News: Independent voters in Erie area shun partisan politics
Opinion
News Item Editorial: 'Reform' bill considers one side of ledger
Wayne Independent Editorial: Economic situation needs to be a focus
Standard Speaker Editorial: State's UC reforms burden workers
Times News Op-ed: Texting Drivers
Pocono Record Op-ed: The cruelest cut, social and fiscal
Harrisburg Patriot News Op-ed: Liquor privatization could harm state's health record
Lancaster Intelligencer Journal Op-ed: A bad tax deal
Tribune-Review: Public pensions: Vox populi
Post-Gazette: A bad deal: Short-term loan bill means long-term disgrace
Somerset Daily American: Preying on students
Altoona Mirror: Bond deal will aid employers
Blogs
Keystone State Education Coalition: "…the percentage of state funding for PA public education has declined – from 55 percent in 1980 to 35 percent today"
The Pennsylvania Budget and Policy Center: The Myths Behind Governor Corbett's Budget Myths
NEPArtisan: PA-Sen: Tom Smith to "Hang" Bob Casey
The Pennsylvania Progressive: News & Notes June 11, 2012
Keystone Politics: Fake Liquor Privatization Plan Gets a Vote Today
Keystone Politics: Shell Cracker Deal Looking Worse and Worse
Keystone Politics: PA Dems Include Marriage Equality in The Party Platform
Keystone Politics: UFCW Releases New Ad as Turzai Moves to Vote on Privatization
Keystone Politics: Legislation Proposed to Regulate Charter Schools
Keystone Conservative: Wall Street Journal's Steve Moore on Bob Casey
Keystone Conservative: Sen. Toomey Co-Sponsors Amendment To Curtail Wasteful Sugar Subsidies