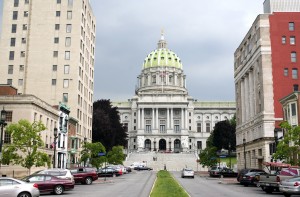 Good morning politicos, here's the Buzz. Obama visits Philly, liquor privatization staffs, more on yesterday's Q-Pac poll, and check out our latest Smartest Staffers list!
Harrisburg's Smartest Staffers: Senate Democrats: Lawmakers are great, but staffers are the people who make government happen. Here's our second edition of the best and brightest in each of the four caucuses in Harrisburg: the top 10 Senate Democratic staff members.
Want to be the first to see the next list? Sign up here! We'll update this with a link later this morning.
ICYMI: Smartest Staffers: Senate Republicans
Quinnipiac Poll: Casey Leads Smith 51-32; Cracks Magic Number: Bob Casey has done it. For the first time in years, more than 50 percent of PA voters say they approve of the job he's doing as Senator. Today's Quinnipiac poll has several bits of good news for the freshman Senator and is the latest to show him winning re-election by a significant margin.
Quinnipiac Poll: Corbett Approval Continues to Slide: The latest Quinnipiac University poll shows voters increasingly unhappy with Gov. Corbett's job performance, disapproving by a 47 to 36 percent margin. We've also got numbers on the budget, state legislature, voter ID and Sen. Pat Toomey.
New Obama Ad Blasts "Romney Economics" (Watch Video): President Obama's campaign continued their assault on Mitt Romney's economic credentials in their latest ad buy, saying that during his tenure as Massachusetts Governor, Romney increased state debt and reduced job creation.
PAGOP Throws Jabs as Obama heads to PA: Since the "the private sector is doing fine" gaff, Obama has received criticism on all fronts, and GOP leaders continued the attacks Tuesday with a press call to discuss the election and an Obamacare Medical Device Tax repeal that passed the House.
Joan Orie Melvin: To Pay, or Not to Pay: With all three Ories facing charges or having been criminally convicted, the question now arises as to whether the suspended Supreme Court Justice should continue to receive pay while she fights charges.
Legislative Election Updates:
HD-111: Rep. Sandra Major (R-Susquehanna) has left the American Legislative Exchange Council, said here opponent Jeffrey Dahlander. He pounced on the opportunity to blast the incumbent, who just last year touted her membership. ALEC proposes to work to advance traditional conservative interests, including those of free-market enterprise and limited government. Opponents claim the organization advances legislation favoring corporations over individuals.
National:
Politico: Not bad for a Tuesday . . .
Politico Playbook: Dems call for fresh message, warn of 'impossible headwind
Pennsylvania Ave: Obama leads Romney in Pennsylvania in new Quinnipiac poll
National Journal: When Gaffes Matter: Why Both Obama and Romney Should Worry
National Journal: Obama Leads in Pennsylvania But Remains Vulnerable
National Journal Hotline: Q Poll: Casey Above 50 Percent Against Smith
USA Today: Obama's day: Campaigning in Maryland and Philly
The Caucus: Obama Stays Ahead in Pennsylvania Poll
Statewide
AP: Gov., others still vying for planned Pa. refinery
AP: Corrections reform bill wins unanimous House OK
AP: Senator's bill would expand liquor, wine sales
AP: Bill dies on the vine in House committee
AP: Corbett signs bill to repay jobless benefits debt
AP: Pa. ethics court to hear Orie Melvin pay question
AP: Gov. Tom Corbett's approval rating reaches all-time low of 36% in poll
AP: Federal court rules in favor of Pa. gas pipeline
Capitol Ideas: Republicans weighing new Corbett budget pitch
Capitol Ideas: Booze debate to continue in the House today
StateImpactPA: Opinion On Pittsburgh Fracking Ban Will Have To Wait
StateImpactPA: Shale Gas Boom Shoots Up the Price of Guar Gum
StateImpactPA: Drill Bits: A Plea for More Regulations, Wind-Free Somerset County, and the Sound of Fracking
Capitolwire: House begins debate on liquor privatization amendments
Capitolwire: Obama leads Romney in head-to-head, Q-Poll says
Capitolwire: Corbett, lawmakers receive poor marks from voters in new Q-Poll
Capitolwire: Corbett says only PA-based companies will get ethane tax credit
Philadelphia
AP: Obama talks to Philly grads before fundraiser
Daily News: Obama tops Romney by 6 points in PA, poll finds
Inquirer: Pa. House pulls back on privatizing LCB vote
Phillynow.com: Mayor Nutter attacks Romney, praises economic improvement on CNN
Philly Clout: Have people been using the Controller's iPhone fraud app?
ABC Philadelphia: Obama campaign attends Phila fundraiser
WHYY NewsWorks: Pa. to borrow $4.5 billion to settle debt from unemployment pay
PhillyDeals: How a PA group shamed striking teachers
SEPA
Bucks Local News: Bucks County on track with workforce reduction; eliminates 18 more positions
Pittsburgh
Early Returns: Rooney, Tomlin give to Obama
Early Returns: AFL-CIO pushing back against voter ID
Post-Gazette: Gov. Tom Corbett, legislators work to forge budget
Tribune-Review: Private alcohol drive stalls
Tribune-Review: Highway funding bill elusive, lawmaker says
Tribune-Review: Ruling delayed on pay for Melvin, awaiting trial
Southwest
Beaver County Times: Report questions jobs, cost of cracker plant tax credit
Somerset Daily American: Silka to leave Somerset County Economic Development Council
Somerset Daily American: Republicans and Democrats fight over how to extend lower interest rate for students
Lehigh Valley
The Morning Call: Republicans weighing new Corbett budget pitch
The Morning Call: Gov. Tom Corbett signs bill allowing Pennsylvania to borrow $4.5 billion to pay off unemployment debt to federal government
WFMZ: Gov. Corbett signs new unemployment compensation measure into law
WFMZ: Survey: Corbett's job approval rating lowest yet; Obama tops Romney
NEPA
Times-Tribune: State: No bailout for Scranton
South Central
Harrisburg Patriot News: Rendell touts public service and laments cowardly politicians in 'Nation of Wusses'
Harrisburg Patriot News: Prison reform passes House with unanimous vote
Harrisburg Patriot News: Poll: New voter ID law popular among Pennsylvanians
Harrisburg Patriot News: Proposal would give businesses tax credits for funding scholarships for troubled schools
North by Northwest
Erie Times-News: Pa. might be tossup state in presidential race
Erie Times-News: North East to replace borough manager
Campaign '12 Blog: A milestone: 1,000th post on the campaign blog
Statecollege.com: State College Area School Board on Cusp of Budget Approval; Staff Changes Revealed
Opinion
Philadelphia Inquirer: Editorial: Sound bite duel lacks context
Philadelphia Daily News: Editorial: Too many roadblocks before the ballot box
Tribune-Review: The state of welfare: Abuse factory
Post-Gazette: Unhealthy distrust: Where are impartial justices when we need them?
Observer-Reporter: Better tomorrows?
Indiana Gazette: Lorna Cravener Lassick: Why the GOP assault on social programs?
Blogs
Keystone State Education Coalition: E.I.S.C.: How do you spell Chutzpah?
Commonwealth Foundation (Tribune-Review): The state of welfare: Abuse factory
Jon Geeting: Actually Bethlehem and Hanover Twps Are Losing Even Less Money to Allentown NIZ
The Pennsylvania Budget and Policy Center: PA House Sets Budget Priorities, Laying Groundwork for final budget negotiations
NEPArtisan: Scranton Mayor Asks State For $$$, State Says HAHA, No, Blame City Council
John Hanger: Great PA Presidential Facts: Clinton Never Got 50%; Obama 08 Beat Reagan 84; & Much More
The Pennsylvania Progressive: Cox's Property Tax Bill Dies in Committee
Above Average Jane: Special Education Reform Resources
Above Average Jane: Cost of Proposed Shell Tax Credits
Keystone Politics: Q-Poll: Women Disapprove of Corbett 51-32
Keystone Politics: The 2012 Campaign Unemployment Rate