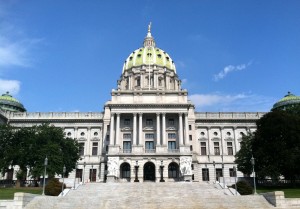 A new Democrat jumps into the Lt. Gov conversation, the PA House passes a budget, and we take a deep look at the new reality of PA-8. With maps! Good morning politicos, here's the Buzz.
Maps: What Democrats Are Up Against in PA-8: The 8th is Dems' best hope for a congressional pickup in Pa. But a look at past elections shows that the newly drawn district slightly, but durably, favored Republicans for Congress in competitive elections.
State Sen. Farnese Weighing LG Bid: Larry Farnese is eying a run for Lieutenant Governor, the Philadelphia state Senator told PoliticsPA.
House GOP Budget Passes on Party Lines: House Republicans passed their version of the state budget on a party-line vote, 108 to 92.
Deadline Looming, Corbett Soft Sells Liquor Privatization: Governor Corbett's press conference brought out business leaders to support his plan.
Back to Congress? The Hill Says Critz Eying Rematch: Former Congressman Mark Critz is eying a return in PA-12 and will decide on whether to challenge incumbent Rep. Keith Rothfus in the coming weeks. According to a source from The Hill, Critz is "leaning strongly" toward another House run.
Washington Backs Margolies: State Sen. LeAnna Washington (D-Phila) was a possible contender for the 13th district congressional seat. Now she's backing Marjorie Margolies.
Statewide
Capitolwire: Corbett administration has no timetable to do Medicaid expansion, says Mackereth
Capitolwire: Advocates push for Medicaid expansion
Capitolwire: OFF THE FLOOR: Senate GOP plans liquor privatization bill blitzkrieg next week
Capitolwire: PSU asks NCAA, state officials to reach a settlement over sanction money
Capitolwire: DPW suggests there could still be problems for PA's tax on Medicaid MCOs
StateImpactPA: Seeking Workers for Gas Industry, Recruiter Targets Pittsburgh Steelers Bars
StateImpactPA: Oil and Gas Support Services Company Moving Facility From New Jersey to PA
PA Independent: Corbett makes final push for liquor privatization before budget deadline
PA Independent: WATCHBLOG: House passes budget bill 108-92, now moves to Senate
AP: Pa. House approve $28.3 million GOP budget
Philadelphia
Philadelphia Inquirer: Schwartz raised at least $150K at Monday event
Philadelphia Daily News: City Council will pay for cameras at rec centers
Philadelphia Daily News: Butkovitz: 2012 election 'a failure'
Commonwealth Confidential: A secret Capitol booze pow-wow
Heard in the Hall: No Vote on Liquor Bill
Big Tent: Sen. LeAnna Washington endorses Margolies for Congress
WHYY: Corbett, a few other governors still holding out on Medicaid expansion
WHYY: Attempt to hike tax on drinking in Philly falters
WHYY: With House plan for Pa. liquor privatization in place, Bucks lawmaker readies chaser
Philadelphia Weekly: Philly votes against PA House budget
SEPA
AP: Pileggi bill to KO Philly Traffic Court gets OK, heads to Corbett
phillyburbs.com: Strouse goes on offense over GOP hit in 8th District Race
phillyburbs.com: More officials calling for Evesham board member to step down
Delco Daily Times: Ex-Chesco township supervisor charged in child porn case
Daily Local News: No tax increase in Downingtown school district
Pittsburgh
Pittsburgh Tribune-Review: Ravenstahl offers few answers about federal investigation into police spending
Pittsburgh Post-Gazette: Allegheny County DA's office files rebuttal to jailed Jane Orie's appeal
Early Returns: County council has no say on SB 1, but don't tell them that
Early Returns: Hill: Critz considers rematch
Pittsburgh City Paper: A Conversation with Josh Fox
Southwest
Altoona Mirror: AASD closing two schools
Altoona Mirror: Triangle developer frustrated
Tribune-Democrat: Program focuses on preparing kids for future
Tribune-Democrat: Bill targets schools' handling of accused teachers
Beaver Countian: Economy Councilman Greg Trecha Announces Resignation Following Beaver Countian Report
South Central
The Sentinel: DA argues details of drug case against former Boiling Springs teacher
The Sentinel: Camp Hill approves strategic plan development
Patriot News: Corbett officials on Medicaid: Corbett wants to expand, but Obama administration is too rigid
Patriot News: Pennsylvania House of Representatives passes Republican-authored state budget plan
Patriot News: House panel questions PennDOT secretary about transportation funding plans
Patriot News: Supreme Court affirmative action rule likely to have little impact in Pennsylvania
Patriot News: Pennsylvania Gov. Tom Corbett, GOP legislative leaders meet on budget
Patriot News: Pennsylvania House of Representatives passes Republican-authored state budget plan
Patriot News: Dauphin County primary write-in winners on the clock to accept nominations
Patriot News: Write-in candidates made official in Cumberland County
Patriot News: You voted: Unlimited access to the morning after pill is a step in the right direction
York Dispatch: Corbett aide stresses work on Medicaid expansion
NEPA
Times-Tribune: Variance rejected for University of Scranton's $47.5M project
Times-Tribune: DA's office investigating missing file in Gibbons accident
Times-Tribune: State representative Marty Flynn settles trip and fall lawsuit
Citizens Voice: Director opposes new county reassessment
Citizens Voice: Police: Shickshinny youth football president stole $15K
Lehigh Valley
Express-Times: Saucon Valley School Board has vacancy after Sharon Stack resigns
Express-Times: Bethlehem Parking Authority moves to buy properties for South Side garage
Express-Times: Longtime Warren County judge returning to private practice
Express Times: Oil and gas pump company moves some operations, jobs to Northampton County from N.J.
Express-Times: Lower Nazareth Township supervisors strike down merging police services with Nazareth
WFMZ: Commissioners elect new Lehigh County Executive
North by Northwest
Erie Times-News Campaign '13 Blog: DeLand leads election office
Onward State: Sen. Toomey Pens Letter Supporting Lunar Lion
Williamsport Sun-Gazette: City council to hear more on housing development
Williamsport Sun-Gazette: Board OKs budget with tax hike
Williamsport Sun-Gazette: Commissioners to review several contracts
Opinions
Times-Tribune: Wholesale just as bad
Times-Tribune: Terminate run for the doses
Delco Daily Times: Letter: Media First Team thanks voters for support in primary election
Blogs
Keystone Politics: School Closings, But Not the Fun Kind
Keystone Politics: The Bottom Line on PA Education Funding
Keystone Politics: Lehigh GOP Committee Resigns to Support Dem Executive Nominee Tom Muller
Jon Geeting: My Modest Vision for Lehigh Valley Urbanism