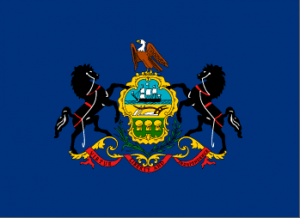 No Charges filed against Wagner, tracker after their confrontation, SDCC names a new Executive Director, Bartos wins our reader poll, and should Pennsylvania change how it elects Lieutenant Governors is our new poll.  Good morning politicos, here's the Playbook!
Reader Poll: Should Pa. Change How it Elects Lieutenant Governors?: After the headlines coming out of the Lieutenant Governor's office this year, people are looking into ways to change how Pennsylvania elects Lieutenant Governors. We want to know if Pennsylvania should.
SDCC Names New Executive Director: The Senate Democratic Campaign Committee named David Marshall as its new Executive Director.
Reader Poll: Bartos is the Strongest Republican Senate Candidate in a General Election: A plurality of our readers think Jeff Bartos is the strongest Republican Senate candidate in a general election.
No Charges Over Wagner Tracker Confrontation: The Attorney General's Office announced today there will not be charges against Gubernatorial candidate Scott Wagner or American Bridge tracker Chris Van Leeuwen after the incident at the Country Club of York in May.
Statewide
State House Sound Bites: Bill to give legislature extra regulatory power moves forward
State House Sound Bites: Democrats push to get voter registration bills out of committee
City and State: Philly Councilmember wants crucial Rebuild vote held until fall
City and State: Stop-and-go legislation starts up again in PA House
PLS Reporter: Video: Senators introduce legislation to change the way the Lt. Governor is elected
PLS Reporter: Legislators discuss bills to increase voter registration
Capitolwire: Pa House amends police body cam bill, positions it for final vote
Capitolwire: Sanctuary city bill produces blow-up in House committee
Capitolwire: Senate approves recycling fee renewal bill
Capitolwire: Senate panel unanimously advances five bills to help combat opioid epidemic
Philadelphia
BillyPenn: Philly admits it will earn less money from the soda tax than it planned
WHYY: Pa. may reconsider lieutenant governor election process
WHYY: Pa. state regulators hold hearings on Atlantic Sunrise pipeline
WHYY: Wolf signs pension overhaul into law
WHYY: Aggressive panhandlers prompt Philly to offer new option for helping those in need
KYW: PA Allows Controlled Substance To Be Grown For Science
KYW: AG Shaprio: No Charges Against Wagner In Scuffle
KYW: Philly Beverage Tax Revenue Draws Warning, Kenney Administration Remains Confident
KYW: Prosecutors File Witness List For Seth Williams Trial
KYW: Citing Controversy, Senators Seek Change In Selecting Pa. Lieutenant Governor
KYW: City Offering 'Text Alternative' To Reduce Panhandling
Inquirer: Should Pa. change how lieutenant governors are elected?
Inquirer: Philly: Soda tax revenue to fall short
Inquirer: Schuylkill Yards first phase gets Council committee approval, despite neighbors' unrest
Inquirer: AG Shapiro's office: No charges against Sen. Wagner or campaign tracker in scuffle
Philly Voice: Pa. utility commissioner: Climate change may require subsidized cooling
Philly Voice: Ed Rendell: It'll be 'you're fired Mr. President' if Trump terminates special counsel Mueller
Philly Voice: Prosecutors won't file charges after Sen. Scott Wagner grabbed camera
SEPA
Bucks County Courier Times: Pennsylvania takes new step on troubled public pension plans
Bucks County Courier Times: Topic was scams against elderly, but focus turned to Gov. Wolf's consolidation plan
Delco Daily Times: Pa. Sen. Scott Wagner won't be charged in rally tiff
Delco Daily Times: Former attorney general Kathleen Kane pays $400,000 in lawsuit settlement
Daily Local News: Deadline looms on state tax amnesty program
Daily Local News: State House panel passes bill to better communicate with veterans
Pottstown Mercury: Pottstown council to repeal law banning backyard fires
Bucks Local News: Amid Stack controversy, Pa. lawmakers call for change to how voters elect lieutenant governor
Bucks Local News: Pa. pension formula changes for new teachers, state workers
Bucks Local News: Wolf signs pension reform bill into law
Pittsburgh
Tribune Review: Wolf signs law granting career-track students alternatives to Keystone exit exams
Tribune Review: Pennsylvania not among states Russia hacked during election, official says
Tribune Review: Pennsylvania hopes to recover unpaid taxes through amnesty program
Post-Gazette: Legislature weighs bill that would allow governor to choose running mate
Post-Gazette: Shapiro: No charges will be filed against gubernatorial candidate Scott Wagner
Pittsburgh Business Journal: Corporate leaders remain optimistic, but economists grow wary
KDKA: AG Sessions: No Third Meeting With Russian Official
Southwest
Beaver County Times: Gov. Tom Wolf tours Shell cracker plant site, impressed by speed and scale of work
Beaver County Times: Beaver County senior citizens question Gov. Tom Wolf on plan to consolidate four state agencies
Beaver County Times: Lawrence County Commissioners voice concerns about YDC purchaser
Altoona Mirror: State takes new step on pensions
Observer-Reporter: Pennsylvania takes new step on troubled public pension plans
NEPA
Times Leader: FEMA denies Wolf's appeal for disaster funds
Times Tribune: Sessions vigorously denies improper Russia contacts
Times Tribune: Locals attend hearing on natural gas pipeline
News Item: Q&A: What's next in the legal fight over the travel ban?
Standard Speaker: The Latest: Gillespie wins GOP nomination in governor's race
Pocono Record: Pennsylvania again denied federal cleanup aid for March snow
Citizens Voice: Officials: County likely out of options for March snowstorm reimbursement
South Central
Patriot News: Pat Toomey says investigation into Russia-Trump ties is overblown
Patriot News: Should Pennsylvania change the way its lieutenant governor is chosen?
Patriot News: In dueling emails, Wolf, Wagner snipe over pension reform
Patriot News: No criminal charges arising out of Scott Wagner's confrontation with campaign tracker
Patriot News: Kathleen Kane paid $400,000 in lawsuit settlement with former agent
Carlisle Sentinel: South Middleton changes requirements for compost site
Carlisle Sentinel: Mechanicsburg School Board finalized budget, tax hike
Carlisle Sentinel: Pa. again denied federal cleanup aid for March snow
York Dispatch: Pennsylvania budget: The legend of Ledger 5
Lancaster Intelligencer/Era: Attorney General takes legal action against 31 unregistered contractors in Pennsylvania
Lehigh Valley
Morning Call: Pennsylvania House panel OKs workers comp/opioid bill
Morning Call: Cartwright energy-efficiency bill passes House
Morning Call: Pennsylvania state Sen. Scott Wagner won't be charged for 'tracker' altercation, prosecutor says
Reading Eagle: Argall proposes change in lieutenant governor selection process
Reading Eagle: Wyomissing School Board OKs budget with no tax hike
North by Northwest
Williamsport Sun Gazette: Wolf signs new state pension bill
Williamsport Sun Gazette: South Williamsport council contributes to tennis courts
Williamsport Sun Gazette: Hughesville council addresses traffic woes
Erie Times-News: Erie County Council approves salary for Blasco Library director
Opinion
Post-Gazette: Progress on pensions: State legislators and governor take good first step
Inquirer: Watergate saga should tell Trump firing Mueller won't help him
Inquirer: Baer: A good idea from Mike Stack's mess
PhillyMag: OPINION: Philly's Soda Tax Is Shaping Up to Be an Epic Flop
Daily Local News: Editorial: Pa. is ready to roll dice on more gambling
Altoona Mirror: Late-night gambling (bill) is bad
Johnstown Tribune-Democrat: Linda Thomson and Mike Kane | Expanding tax credit would benefit city
Johnstown Tribune-Democrat: Guest editorial | Pension reform is a start, but could have gone further
Tribune Review: Fueling the politics of hate
Tribune Review: Free speech under attack on campuses
Times Leader: Their view: Don't step back on Cuba relations
Times Tribune: Streamline reform