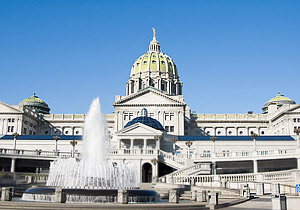 Good morning politicos, here's the buzz.  Romney's coming to PA tomorrow, and supporters and critics are gearing up. Mark Critz whacked President Obama post-speech on trade and the Keystone Pipeline; and Kathleen Kane will be getting her third campaign manager.
Don't forget to check back later for the Ups & Downs.
Romney Doing 3 Stops in PA Tour: Don't write off Pennsylvania as a swing state quite yet. GOP Presidential hopeful Mitt Romney will make 3 stops on his bus tour through PA, several Republican sources confirm. He'll be in Bucks, Carbon and Lebanon counties on Saturday.
PA Dems Blast Romney; Nutter Emerges as Top Surrogate: With a cross-state tour looming, the PA Dems have sounded the alarm to remind voters of Romney's track record as a governor and the progress made under Obama's administration.
Critz Takes a Swipe at Obama Speech: Rep. Mark Critz, Republicans' top congressional target in Pennsylvania this cycle, had some less-than-kind words for Barack Obama following his major campaign speech Thursday. He criticized the President on trade and the Keystone XL Pipeline.
Another Staff Shakeup for Kane: For the second time in 6 months, Kathleen Kane is changing her top staff. Campaign Manager Sadie Sterner Restivo is moving on, according to several sources with knowledge of the race. Update: the Kane campaign confirmed the change.
Legislative Election Updates:
SD-15: Democrat Rob Teplitz knocked opponent John McNally for his support of the current redistricting process, which he voiced in this York Daily Record article: "…John McNally, said he does not want to reform the current redistricting system and accused Teplitz of focusing too much on certain geographic areas." The initial version of the new map would have cut Teplitz's home out of the 15th district, where both men seek to replace retiring Sen. Jeff Piccola.
"South Central Pennsylvanians have been subject to news stories for years of insider political games in Harrisburg and state legislators being hauled off to court on charges resulting from their abuse of power," Teplitz said. "Those days must come to an end and I am the only candidate in this campaign who has clearly stated their commitment to making those changes."
SD-49: Want a free Janet Anderson for State Senate t-shirt? The Erie Times-News has the details. She's running against Dem Sean Wiley for the seat of retiring Sen. Jane Earll (R-Erie).
HD-3: The ETN also has the low down on Dem Ryan Bizzaro's fundraiser Thursday night.
National
Roll Call: Swing States, Battlegrounds and the 2012 Map
Statewide
Capitol Ideas: The five things you need to know this morning
Capitol Ideas: PA unemployment rate holds steady at 7.4 percent in May
PA Independent: House passes updates to Wiretap Act
PA Independent: Liquor privatization vote postponed until Monday, maybe longer
StateImpactPA: Drill Bits: Ohio's New Law, And Increased EPA Scrutiny
StateImpactPA: Corbett Administration Begins Public Push For Shell Tax Break
StateImpactPA: Corbett Administration Sells Ethane Cracker Tax Break; Secretary Says Shell Asked For It
AP: Corbett begins PR effort for refinery tax credit
AP: State shields 2,389 farm acres from development
Capitolwire: Gov. Corbett asks lawmakers for five bills with budget
Capitolwire: Teachers union chief confident block grant budget objectives will be reached
Capitolwire: Effort to fully restore Key '93 Fund has a voice at the negotiating table in GOP chairman
Philadelphia
Talking Points Memo: Is Mayor Nutter the new Cory Booker?
Philly.com: Gloucester County GOP elects new leader
Inquirer: This one's on the house: Pa. legislators to mull booze bill again next week
PhillyClout: Council leaders huddle with mayor on budget
Phillynow.com: Nutter becomes U.S. Council of Mayors Prez on Saturday
Phillynow.com: What happened to the liquor store privatization debate?
Philly Tribune: Pa. moves to restore mortgage assistance
Philly Tribune: Clark: Tax reform not final
City Paper: ACLU cries foul as House moves forward with "Orwellian" wiretap bill
AP: Union: $20M in givebacks offered to Philly schools
SEPA
Delco Daily Times: City Council seeks to release $1M for pipeline
Pittsburgh
Early Returns: Critz Cross
Tribune-Review: State senators, their constituents to change footing in newest map
Tribune-Review: Senate to take up Ward's child abuse bill
Tribune-Review: Fayette housing authority board OKs censure
Southwest
Somerset Daily American: Federal government announces payment for Flight 93 property
WJAC: Corbett begins PR effort for refinery tax credit
Lehigh Valley
WFMZ: Lehigh Co. Commissioners authorize use of eminent domain in 7-1 vote
WFMZ: Pa. lawmakers want UGI to comply with PUC order
WFMZ: Lehigh controller says 2-year break not required; wants DA's complaint tossed
WFMZ: Romney to make stops in Bucks Co., Carbon Co. this weekend as part of bus tour
WFMZ: State House OKs overhaul of Pa. wiretapping law
NEPA
Times Leader: Romney will be in Weatherly Sunday
Times Leader: Casey: Farm bill would directly impact Northeastern Pa. farmers
Pocono Record: Romney to visit Quakertown on swing through Pennsylvania
South Central
ShipNewsNow: Democrat Spicka opens campaign headquarters in Shippensburg cottage
Carlisle Sentinel: State unemployment rate steady while May job numbers take a hit
Harrisburg Patriot News: Mitt Romney to campaign at Cornwall Iron Furnace in Lebanon County Saturday
York Daily Record: As state takes another shot at redistricting, some see the need for reform
Lebanon Daily News: Romney to visit Cornwall Saturday
Lancaster Intelligencer/Era: Romney sets Lebanon County campaign stop Saturday
North by Northwest
Erie Times-News: Erie surrogates for Obama criticize Romney over jobs
Erie Times-New: No consensus on 2nd Philly casino license
Erie Campaign '12 Blog: Eaton to open campaign office in Sharpsville
Erie Campaign '12 Blog: Shirts off their backs, other Erie campaign notes
SunGazette: Commissioners to consider flood buyout grant
SunGazette: West Branch Regional Authority to take over 4 area sewer systems
Centre Daily: Philipsburg Osceola school board members question hiring, table jobs
Centre Daily: Centre Region Code Agency gets OK to buy 4 vehicles
Centre Daily: Conference for elder abuse awareness set for Friday
Centre Daily: Corbett begins PR effort for refinery tax credit
Sharon Herald: Board to hire contractor to videotape sewer lines
Opinion
Philly.com: Op-ed: The forward-thinking, live-saving Liquor Control Board
The Times-Tribune Editorial: Court rightly puts duty on government
News Item: Another example of why Right to Know law is vital
Pocono Record Editorial: Keep reforming Pa. prisons
Harrisburg Patriot News Editorial: Crunch Time: What are Gov. Corbett's priorities?
Harrisburg Patriot News Op-ed: Pa. about to lose its lead in solar industry
Lebanon Daily News Editorial: Same old thing
Post-Gazette: Empty bottle: The state Senate's liquor plan is no reform at all
Observer-Reporter: The changing face of retirement
Somerset Daily American: Ruling marks victory
Blogs
Keystone State Education Coalition: Teachers, students protest proposed school cuts at Pa. capital
Above Average Jane: Recent Paul Drucker News
Keystone Politics: Tax Credits Are the Same Thing as Spending
Keystone Politics: The Positive Impact of Immigration on Pennsylvania's Economy
Keystone Politics: Hey Look Pittsburgh's Recovering
Keystone Politics: If You Like Irresponsible Debt Ceiling Brinksmanship, You'll Love Tom Smith