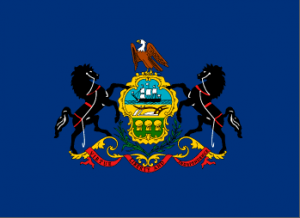 Rendell tells the House GOP they won't be getting the Host Committee's surplus back, and Lt. Governor Stack gets his first primary challenger for next year.  Good morning politicos, here's the Playbook!
Rendell Tells House GOP They Won't Get DNC Money Back: DNC Host Committee Chair Ed Rendell responded to a letter sent by the state House GOP leadership asking for the surplus the Host Committee ran during the DNC to be returned to the State. Rendell's letter says Pennsylvania will not get the money back.
Berringer Jumps in Race to Challenge Stack: Aryanna Berringer has made it official, she will challenge Lieutenant Governor Mike Stack in 2018.
Statewide
State House Sound Bites: Pennsylvania is being sued for unconstitutional gerrymandering
State Impact: NJ Gubernatorial candidate calls for fracking ban in Delaware River Basin
State Impact: Wolf weighs bill to block municipal plastic bag bans
State Impact: Sunoco seeks injunction against anti-pipeline family and supporters in Huntingdon County
PLS Reporter: Sen. Aument opens up about independent inspector General legislation
PLS Reporter: Pennsylvania voters announce lawsuit over alleged gerrymandering
CapitolWire: Some lawmakers look to delay Wolf's DHHS merger plan, seek more info
Philadelphia
Inquirer: On deadline, Philly City Council reaches consensus on Rebuild
Inquirer: Jury: Ex-Radnor commissioner guilty of indecent assault
Inquirer: Groups sue Pa. over congressional district gerrymandering
Inquirer: His freedom at stake, DA Seth Williams' federal bribery and fraud trial starts Monday
BillyPenn: Philly has a multi-million-dollar plan to clean up a notorious heroin haven
Philly Mag: Lawsuit Challenges Gerrymandering of Pa. Congressional Districts
Philly Mag: LISTEN: Chief Philadelphia Public Defender Slams Racial Disparities in Marijuana Arrests
Philly Mag: Wolf: I'll Protect Medical Marijuana Patients from Jeff Sessions
Philly Mag: Pa. Senate Passes Bill That Would Keep Philly From Taxing Plastic Bags
Philly Voice: Are plastic bags on the way out in Philadelphia? It's up to Wolf
WHYY: Pa. AG says his office is investigating opioid manufacturers
WHYY: Council President Clarke calls for Vision Zero implementation plan, despite existence of city's Vision Zero Action Plan
WHYY: Just about to announce Pa. gubernatorial bid, candidate learns he's not eligible to run
WHYY: Pa. measure blocking regulation of plastic bags goes to Wolf
WHYY: Behind closed doors, Pa. budget negotiations keep going
WHYY: Pennsylvania agrees to new steps for mentally ill in jails
Philadelphia Business Journal: Rendell to Pa. House GOP: You're not getting DNC money back
Philadelphia Business Journal: Lobbying group wants to ground bill banning balloon releases
Philadelphia Business Journal: Rebuild's workforce diversity remains sticking point for Council
Philadelphia Business Journal: Philadelphia tech scene, now backed by city council, continues tech tax fight
KYW: Former Mayor John Street Has Portrait Unveiled In City Hall
KYW: Gov. Wolf Asks Sessions To Back Off Medical Marijuana Penalties
KYW: PA Attorney General Sues Trump Administration Over Energy Efficiency Standards
KYW: PA Senator Introducing Bill To Address Inequitable School Funding
KYW: Philadelphia City Council Passes New Budget
KYW: Local Congressmen 'Stand United In Love Of Country' After Va. Shooting
KYW: Lawsuit Filed Challenging Pennsylvania's Congressional District Map
SEPA
Bucks County Courier Times: Lawsuit challenges Pennsylvania map of US House districts
Bucks County Courier Times: Pennsylvania agrees to new steps for mentally ill in jails
Pottstown Mercury: Regional Morning Briefing: Local congressmen react to shooting; Cosby jury still out
Bucks Local News: Pa. lawmaker discusses budget, pensions, exams at Greencastle breakfast
Bucks Local News: For public school teachers, it's less about the pension and more about the 'calling'
Daily Local News: West Goshen officials considering limiting public comment at meetings
Delco Daily Times: Ex-pol goes on trial, charged with fondling woman, 103
Pittsburgh
Tribune Review: Congress comes together on the baseball field
Tribune Review: Pennsylvania's U.S. House district borders challenged in court
Tribune Review: Congressional Baseball Game traces its roots to politician with Pittsburgh ties
WESA: Wolf Says He'll Protect PA's Medical Marijuana Program from Federal Intervention
KDKA: Trump to Announce Plan to Stop Cash Flow to Cuban Military
KDKA: Bill to Prohibit Bans & Taxes on Plastic Bags Goes to Governor
Pittsburgh Business Times: Western Pennsylvania senator moves to axe 'help desk' tax
Post-Gazette: Pennsylvania gas drilling fee revenue falls for third year
Post-Gazette: County in good shape financially, audit says
Southwest
Observer-Reporter: North Franklin election dispute in hands of judge
Johnstown Tribune-Democrat: Scalise's colleagues say shooting reflects national angst, need for civil tone in politics
Beaver County Times: Gerrymandering lawsuit targets Pennsylvania's GOP-drawn congressional map
Beaver County Times: Wolf, Casey warn about GOP cuts to Medicaid hurting Pennsylvanians
Altoona Mirror: Shuster: Shooting 'pretty grim'
Altoona Mirror: Group seeking criminal charges for Presby project
Altoona Mirror: Central Cambria working to improve attendance
NEPA
Times Leader: Duryea to join huge project to clean up Susquehanna River
Times Tribune: Impact fees shrink while natural gas production swells
Times Tribune: Putin sarcastically offers Comey political asylum in Russia
Citizens Voice: Barletta, Lombardo shaken by shooting
News Item: Barletta: Rhetoric needs to change
Standard Speaker: Lawsuit challenges PA map of US House districts
Pocono Record: 'I was supposed to be there': PA Congressman says on Alexandria shooting
South Central
Patriot News: Gerrymandered? New lawsuit demands fairer congressional districts
Patriot News: Attorney General Shapiro: Pennsylvania is part of multi-state opioids investigation
Patriot News: Tom Wolf on medical marijuana: 'We do not need the federal government getting in the way'
Carlisle Sentinel: Carlisle School Board OKs 2017-18 budget, tax hike
Carlisle Sentinel: Perry postpones town hall, citing Alexandria shooting
Carlisle Sentinel: Pa.'s US House district borders challenged in court
Carlisle Sentinel: Residents fight redevelopment plans for former Lemoyne Middle School
Lehigh Valley
Reading Eagle: Lawsuit challenges Pennsylvania's congressional map
Reading Eagle: Pennsylvania attorney general joins investigation into opioid crisis
Morning Call: Pennsylvania agrees to new steps for mentally ill in jails
Morning Call: Pennsylvania's US House district borders challenged in court
Morning Call: Williams Township residents oppose proposed medical marijuana operation
WFMZ: Candidates for Allentown mayor make their case on TV
North by Northwest
Williamsport Sun-Gazette: $5 fee to start in October
Williamsport Sun-Gazette: Group fights mapping of House seats
Centre Daily Times: FFA strengthens leadership and citizenship in youth, state agriculture secretary says
Erie Times-News: Public weighs in on Erie County community college plan
Opinion
Inquirer: Black and brown voters make their voices heard in Philly, nationwide
Inquirer: Dear Philadelphians: Join me in efforts to curb gender violence
Daily News: 'I am a citizen': Pledging a new American Dream
Philadelphia Business Journal: Pennsylvania's remarkable achievement
Bucks County Courier Times: Expanded gaming must also expand property tax relief
Delco Daily Times: Editorial: Heroin problem not going away; it's getting worse
Observer-Reporter: EDITORIAL Naming rights for state buildings? How about for lawmakers
Johnstown Tribune-Democrat: Editorial | Keep public notices where they'll reach the most people
Tribune Review: Achieving meaningful unity
Tribune Review: The GOP baseball team shooting: A call for calm
Post-Gazette: An attack on all: The gravity of an attack on members of Congress
Post-Gazette: States of siege: Why are U.S. forces involved in these three spots?
Times Leader: Their view: How Trump got the wall he needed most
Times Leader: Their view: Shooter is a warning for all of us to step back
Reading Eagle: Editorial: Clear privatized air-traffic control system for takeoff
Patriot News: What Trump scandals? Toomey has his eye on tax reform: Nick Field
The Intelligencer: A better way to pick a lieutenant governor