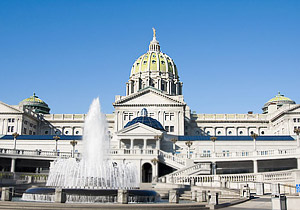 Good morning politicos, here's the buzz. PoliticsPA takes a look at Obama's PA primary performance and found some problems for him in Western PA, Romney's tour through PA had highs and a big low, and the GOP selected State Rep. Vulakovich to run for ex-Sen. Jane Orie's seat.
Obama's WV Problem Stretches Into PA: With maps: A significant portion of western and central PA Democrats declined to vote for Barack Obama in the primary, an analysis by PoliticsPA has found. The results there resemble those of Kentucky and West Virginia, where he lost around 40 percent of the primary vote to no-name opponents or "undecided".
Romney Talks Up PA Chances to Friendly Lebanon Crowd: Mitt Romney and PA's leading Republicans talked up his chances of winning the state during a rally Saturday. "I AM gonna win Pennsylvania!" Romney declared to a crowd of about 700 supporters in Lebanon County. Gov. Tom Corbett, Sen. Pat Toomey and several others joined him.
GOP Picks Vulakovich Over Hart for Orie Seat Special: State Rep. Randy Vulakovich will likely soon be State Sen. Randy Vulakovich. GOP party leaders named him as their candidate for the seat of ex-Senator Jane Orie, who was convicted over ethics violations earlier this year.
Smith Seizes on Prez's Casey Comments, But is Obama a Liability? (Watch Video): Barack Obama gave Bob Casey the kind of praise on Tuesday that would have given a Dem candidate heartburn in 2010. Among other accolades the President said Casey, "has always had my back." Naturally, Tom Smith jumped on the comment. But is Obama, who polls ahead in PA, really a liability for Casey?
6/15 Ups & Downs: See who had a good week, and who would like to take it back. Campaigns are heating up around the state. Plus, it's been busy in Harrisburg, and it looks like one politico could use a stiff drink.
Update: PA Dems Blast Romney; Nutter Emerges as Top Surrogate: With a cross-state Romney tour looming, PA Dems have sounded the alarm bells. Rendell and some other prominent Dems plan to meet up with Romney at a Quakertown Wawa, as Mayor Nutter and VP Biden discuss why America needs four more years of Obama.
Marino Challenger Agrees with Bush: Democratic businessman Phil Scollo, who's running for Congress in Pennsylvania's 10th District, wants supporters to know he agrees with Bush. Jeb Bush, that is.
Legislative Election Updates
SD-40: The GOP has named State Rep. Randy Vulakovich as their candidate for ex-Sen. Jane Orie's seat. He will face Dr. Sharon Brown in an Aug. 7 special election.
Romney in PA
Morning Call: Romney dodges protesters at Quakertown stop
Express Times: Ed Rendell on Mitt Romney: 'There was no reason for him not to show up'
Pottstown Mercury: Romney: Obama denying middle class a 'fair shot'
AP: Romney divers bus in Pennsylvania to avoid Dems
AP: Romney brings bus tour to Pennsylvania
The Morning Call: Mitt Romney confirms Pennsylvania itinerary
The Morning Call:Rendell-Romney in showdown at the Wawa
National Journal: Obama Supporters Disrupt Romney Event
National Journal: On Bus Tour, Romney Hauls Out the Weather Metaphors
Politico: Romney's bus tour: Protests, hoagies and a new 'surrogate'
Politico: Romney: I want to talk economy, Obama not so much
Real Clear Politics:  Romney Strikes Positive Note in Pennsylvania
Politico: Romney slips, calls Obama 'governor'
Wall Street Journal: Mitt Romney Embraces Hill GOP
Pittsburgh Post-Gazette: Mitt Romney predicts he will end Democratic Pa. winning streak
WFMZ: Romney switches Quakertown visit last minute
WFMZ: Mitt Romney visits area, makes 1st stop in Carbon Co.
WFMZ: Romney's campaign bus to roll through Pa. on Saturday
WFMZ: Gov. Corbett to campaign with Romney in Pa. on Saturday
Times-Tribune: Romney, in NEPA, speaks about economy
The Times Leader: Romney's speech addresses jobs, energy, Obama
The Times Leader: Gov. Corbett to campaign with Romney in PA
Lebanon Daily News: Romney cheered at Cornwall
Harrisburg Patriot-News: Romney vows to return, win in PA
Harrisburg Patriot-News: Romney answers questions at Lebanon County stop
Harrisburg Patriot-News: Tightening polls lure Mitt Romney to central PA
The Times Leader: On bus tour, Romney looks to connect with Main Street
Philly Now: Mayor Nutter and VP Biden sound off on Romney ahead of Pa Visit
The Pennsylvania Progressive: Romney leaves supporters in Quakertown, goes elsewhere to avoid Dems
National
Express Times: Mitt Romney to speak Saturday in Milford Township, campaign says
South Whitehall Patch: Mitt Romney coming to Easter Pa. Sunday
South Whitehall Patch: Demonstrators crash Romney appearance
PA Independent: Romney tells voters he'll boost national economy
Politico: Conservatives: Bring it on
Politico: Mitt Romney dodges immigration questions, calls W.H. move 'political'
Politico: Plouffe denies administration leaked information
Politico: McCain: Obama's immigration move a diversion
Politico: Obama's policy strategy: Ignore the laws
Politico: Obama: Politics failing the country
Roll Call: Some Least Wealthy Members Move Up
National Journal: Obama, backed into a corner
National Journal Hotline: The High Hopes that Obama will Legalize Marijuana
The Hill: Romney: Don't bail out Europe
The New York Times: Romney Doesn't Say Whether He Would Overturn Obama Immigration Order
Wall Street Journal: U.S. to Stop Deporting Some Illegal Immigrants
Slate: A Map That Should Panic the Obama Campaign
Statewide
State House Soundbites: Links: So you want to be a judge, Corbett's new helmsman, & a certain special tax break
State House Soundbites: Budget talk of many things: schools and evals and balances
Capitol Ideas: What the web said about this week's liquor privatization debate
Philadelphia
Inquirer: Rep. Brady's wife foils breakin attempt
WHYY Newsworks: Pa. House to take up liquor privatization plan –again
WHYY Newsworks: Philadelphia Council considers allowing, regulating electric fences
KYW Newsradio: Philadelphia City Council Delays AVI and Cuts School Bailout
KYW Newsradio: Pa. Funding Cut is Bad News for Philadelphia Program for Former Prisoners
KYW Newsradio: Local Economic Experts Discuss Impact of Greek Election on U.S. Economy
Fox Philadelphia: Philly Mayor new head of US Conference of Mayors
Inquirer: Kelly resigns from PHA
Inquirer: Romney visits Pa., dodges protesters
Inquirer: Delco has new president judge for Common Pleas Court
Daily News: Without AVI, tax ruling could cost city big bucks
SEPA
Intelligencer: Poprik to lead Bucks GOP
Delco Daily Times: Big test for Corbett looms in election, tax credit
Pittsburgh
Tribune Review: 'Doing OK' – but not just fine
Tribune Review: Vulakovich picked for state Senate run
Pittsburgh Post-Gazette: Vulakovich beats Hart for run at Orie's seat
Pittsburgh Post-Gazette: Allegheny County Democrats to fight cost of voter ID law
Pittsburgh Post-Gazette: Corbett wants speedy approval of $1.6 billion in petrochemical tax credits
Pittsburgh Post-Gazette: Allegheny Front: Fracking forces central Pa. mobile home residents out
Pittsburgh Post-Gazette: Corbett admin pushes ethane tax credit; NJ says no to PA frack waste
Early Returns: County officials, ACLU challenge voter ID law
Early Returns: Corbett goes all-out for cracker credits
KDKA: Allegheny County to File Lawsuit Over Voter ID Law
KDKA: Pa. Republicans Nominate Vulakovich For Special Election
Southwest
Observer-Reporter: In Bethesda, political speech restrained at most elementary level
Lehigh Valley
Reading Eagle: Beer distributors sour on privatization bill
Reading Eagle: Massachusetts politician visits Reading, slams Romney
Reading Eagle: GOP write-in candidate on ballot to face Schwank
Morning Call: Quakertown raises school taxes by 1.26 mills
Morning Call: Palisades holds taxes steady for 2012-13
Morning Call: Politics as usual
Express Times: Palmer Township joins other region municipalities using paperless agenda system
Express Times: Washington Township committeewoman wins lawsuit over committee's censure for lewd text message
Express Times: Easton City Council considers community bill of rights
Express Times: Bethlehem to hire caregiver for stray dogs after employees report neglect
Express Times: Former Bethlehem public works employee sues city, alleging discrimination of disability
Express Times: Mosser Elementary School teachers embrace reform-oriented reading program
Express Times: Pennsylvania State Police secrecy doesn't serve public interest
South Whitehall Patch: Obama "Gotta Vote" Project Comes to Area Saturday
South Whitehall Patch: Corbett's Approval drops to 36 percent
NEPA
Pittston Politics: Cartwright has one more election to win, GOP candidate has uphill battle
Citizens Voice: Carbon County Dems attack Romney's record
Times-Tribune: With Scranton almost out of cash, bankruptcy no longer impossible
The Times Leader: Honesty's my creed, says ex-Gov. Ed Rendell
South Central
York Daily Record: Stetler trial: A look at other high-profile cases for York County political figures
York Dispatch: Saylor's job training bill passes House
Harrisburg Patriot-News: Could the lottery be privatized?
Harrisburg Patriot-News: Newly naturalized U.S. citizens split over new Obama administration immigration policy
Lebanon Daily News: County parties look to Nov. 6, with focus on recruiting and organizing for Obama v. Romney
Harrisburg Patriot-News: State strips former Lackawanna County Sen. Robert Mellow of his pension
Harrisburg Patriot-News: Fraternity members to hold pro-Obama rally in Harrisburg next week
North by Northwest
Erie Times: Romney ramps up Pa. campaign offices
Erie Times: Democratic congressional candidate Eaton to open office in Sharpsville
Erie Times: Western Pa. Democrats to challenge voter ID law
Erie Times: GOP picks Vulakovich for Pa. seat vacated by Orie
Sharon Herald: Board Oks auditorium work, puts gym on hold
Courier Express: Taxpayers foot the bill for cyber charter schools
Opinion
The Inquirer: Public schools simply aren't funded properly
The Inquirer: Right moves are made on AVI
Daily News: Safer houses
Pottstown Mercury: Let's make a deal, Obama-style
Harrisburg Patriot-News: Editorial: Are the days of early state budgets over?
Pottstown Mercury: Can Obama run on his record?
Pottstown Mercury: Pennsylvania will decide future on energy efficiency
Bucks Local News: 'Common sense ' governance is missing from U.S. Congress, a culture change is needed
Politico: Can Mitt survive GOP intraparty war?                                                                     Politico: Fighting for the First Amendment
The Morning Call: Justice Kennedy will not let Obama's health care law die
The New York Times: Unleash the High Court
The New York Times: Sympathy for the Radical Left
Centre Daily Times: Health care mandate attacks freedom
Times-Tribune: Column: Corbett's lavishing tax-free gifts in pursuit of potentially toxic refinery
Blogs
Rick Smith Show: Rep. Brad Roae uses children with cancer to push anti-prevailing wage bill
Young Philly Politics: Council Democrats poised to kill tax breaks for low-wage workers
Commonwealth Foundation: Spending crisis forces mom to surrender child
PA Budget and Policy Center: PA's revenue picture remains upbeat despite a slow May
Lehigh Valley Independent: Romney should just stick with MassCare
2 Political Junkies: Now THIS is odd
PA Water Cooler: Republicans throw up roadblocks to property tax reform-where is the outrage?
The Pennsylvania Progressive: News and Notes June 15, 2012
Above Average Jane: Aryanna Strader for Congress in 16th District
Keystone Politics: Philly Council delaying reassessment for a year
Keystone Politics: What policy concessions should Dems extract from Corbett in exchange for Bill Ward's confirmation
Keystone Conservative: Sens. Toomey and Sheehan press conference on crop insurance amendment
John Hanger: Jobs boom: Unconventional gas supported 1 million jobs nationwide by 2010 and helped fend off a depression
Citizens' Call: DEP options for Glenside Flood Control get mostly positive reviews; decisions lie ahead