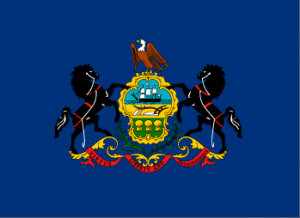 Pa.'s unemployment increases, a lawsuit over Congressional district lines, Hart's Gubernatorial run ends abruptly, and the Ups & Downs from the week.  Good morning politicos, here's the Playbook!
Pa. Unemployment Rate Rises for Second Month: Pennsylvania's unemployment rate increased for the second consecutive month, moving from 4.9% to 5.0%.
Lawsuit Filed Over Pa. Congressional District Lines: The League of Women Voters is leading a lawsuit to force a change in Pennsylvania's Congressional district lines, arguing the lines disenfranchise voters.
Hart Exits Governor's Race After Residency Question: Kris Hart had to quickly exit the race for Governor in the same week he announced because he did not meet the Constitutional residency requirement.
6/16 Ups & Downs: Congress unites and sends a strong message, the Philly soda tax has an rollercoaster of a week, Wolf gets a positive rating, and a single question derails a campaign. See who made this week's Ups & Downs!
Statewide
State House Sound Bites: Sunoco seeks injunction against anti-pipeline family in Huntingdon County
State House Sound Bites: Convicted attorney general: Prosecutor given too much power
State House Sound Bites: US Rep. Perry explains decision to postpone town hall
State House Sound Bites: Allegheny County has a lead task force. Now the state wants one, too
State House Sound Bites: Just about to announce bid for Pa. gov., candidate learns he's not eligible
State House Sound Bites: Rep. Perry postpones town hall, citing Wednesday's attack
Capitolwire: Capitolwire: Some lawmakers look to delay Wolf's DHHS merger plan, seek more info.
PLS Reporter: PA unemployment rate hits 5.0 percent in May
PLS Reporter: Philadelphia City Council passes $4.4 billion budget
PLS Reporter: Allegheny County state legislative delegation activity for the week of June 12
Philadelphia
BillyPenn: Why Philly's new pride flag is causing a controversy (video)
Inquirer: Father's Day memories from Jim Kenney, Alex Holley and other Philly notables
Inquirer: Taxpayers: Pennsylvania lawmakers have a gambling problem
Inquirer: Ahead of Monday contract vote, some PFTWHYY Newsworks: On Philly Pride day, rallying for more recognition for trans people of color in the movement
WHYY Newsworks: A 'get out of town' budget appears inevitable, lawmakers say
Philadelphia Magazine: Rep. Meehan Proposes Bill Targeting Hazing on College Campuses
SEPA
Bucks Local News: Pennsbury Support Professionals vote to accept tentative contract agreement
Bucks County Courier Times: Six school districts all approve their shares of technical school budget
Bucks County Courier Times: Gerrymandering gives incumbent state representatives a home-court advantage
Bucks County Courier Times: To reform gerrymandering, Pennsylvania lawmakers must give up power
Bucks County Courier Times: Pennsylvania likely to lose one U.S. House seat, so battle to get heated as incumbents will want to protect jobs
Delco Times: Delco officials, tavern owners eye jackpot
Delco Times: Are we losing war on heroin? Delco struggles with epidemic
Pittsburgh
Pittsburgh Business Times: State's unemployment rate at 5 percent
Pittsburgh Business Times: Pa. tax amnesty deadline nears
WTAE: Last day for PA Tax Amnnesty program is hours away
WTAE: Pa. gets Real ID extension from Homeland Security
Tribune Review: A 'get out of town' budget appears inevitable, lawmakers say
Tribune Review: Parting can be sweet for Pennsylvania legislators
Tribune Review: Pa. ranks 49th in female representation in elected office
Tribune Review: State lists applicants to grow medical cannabis in Pa.
Tribune Review: Feds give Pennsylvania more time to comply with ID requirements
WESA: Just About To Announce PA Gubernatorial Bid, Candidate Learns He's Not Eligible To Run
WESA: Behind Closed Doors, Budget Negotiations Are Underway
Post-Gazette: Pa. AG: States are probing drug companies' role in opioid crisis
Southwest
Altoona Mirror: Reps. pull back after baseball practice shooting
Altoona Mirror: Reade Twp. agrees to $5,000 fire company donation
Altoona Mirror: City approves police contract
Beaver County Times: 'Clean slate' bills would seal nonviolent misdemeanor offenders' records
Washington Observer-Reporter: A 'get out of town' budget appears inevitable, lawmakers say
NEPA
Standard Speaker: Senator persists on tax reform
The Times Leader: DEP secretary: Republican budget proposal puts public health at risk
The Times Leader: Most municipalities signing up for WVSA pollution reduction plan
The Times Leader: State's unemployment rate rose to 5 percent in May
The Times Leader: Barletta urges members of Congress to halt Town Hall events
Times-Tribune: Scranton mayor to hold town hall meeting to explain sewer sale
Times-Tribune: Haggerty settles campaign debt
Times-Tribune: Lawyer identifies developer of Common Cause Committee
Pocono Record: Pa. lawmakers brace for 'Get-Out-of-Town' budget
Pocono Record: Pocono Township hires Asure as manager
South Central
Patriot News: Database of taxes owed to Pennsylvania
Patriot News: How much did Harrisburg mayoral candidates spend per vote?
Patriot News: Could smokers could help solve another Pa. budget? (And not in the way that you think)
Patriot News: 'It's a sad day' Rep. Scott Perry discusses decision to cancel town hall
Lancaster Online: Lancaster County Reps. Lloyd Smucker, Pat Meehan represent different GOP sides of health care debate
Lancaster Online: Southwest Lancaster awarded $1.15M over 5 years to revitalize neighborhood: 'The community is coming to life'
Lancaster Online: U.S. Rep. Scott Perry cancels town hall, citing attack at congressional baseball practice
Lehigh Valley
Morning Call: Politics as Usual: Pa. Democrats join suit on Trump business ties
Reading Eagle: Ron Southwick: Pension reform deserves praise
Reading Eagle: The Rundown: Ryan Mackenzie's bill on stroke care becomes law
Express Times: How these Pa. lawmakers plan to bring fairness to elections
North by Northwest
Centre Daily Times: Wolf takes pledge to end gender, domestic violence
Erie Times-News: Lawmakers cite overhead costs in push to defund gaming authority
Erie Times-News:  Erie doctors now prescribe hormones to transgender patients
Erie Times-News:  Roll Call: How Erie's representatives voted this past week
Opinion
Post-Gazette: Keep them apart: Let governor and lieutenant governor races stay separate
Times-Tribune: Gerrymander case critical
Times-Tribune: Boost the vote
Times-Tribune: Wolf should veto bag bill
Citizen's Voice: Put an end to manipulation of legislative districts in Pa.
Standard Speaker: Legislative garbage
Bucks County Courier Times: 'Live within our means'
Patriot News: The tide of history is turning to statehood for Puerto Rico: Charlie Gerow
Patriot News: If nine of 10 Puerto Ricans want to join the union – why not?: Tony May
Patriot News: Dickinson prof had it wrong on Trump & illegal immigration – rural Pa. will thrive: Mike Regan
Patriot News: Legislature, Wolf should act responsibly on funding for pre-k programs: Editorial
Tribune Review: Sunday pops: Kathleen Kane's costs continue; Pens haters
Tribune Review: ObamaCare premiums: Going up
Daily News: Taxpayers: Pennsylvania lawmakers have a gambling problem
Daily News: Soda tax is tanking. What comes next?
Inquirer: Nice to see Democrats and Republicans pray together, but it won't last