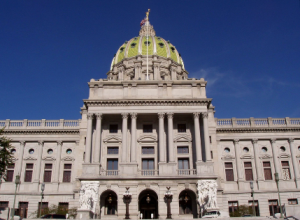 We look at a member-vs-member redistricting battle and more. Good morning politicos, here's the Buzz.
Ferlo's Progressive Roots Could Be Liability in 2014: State Senator Jim Ferlo's liberal background – including a decades-old to the Communist Party – could be a difficult sell in his new, more Republican district. Will he opt instead for a new opening on Pittsburgh City Council?
PA-13: State Rep. Dean Backs Margolies: Dean is the second Harrisburg lawmaker to support Marjorie Margolies in a week full of endorsements.
Casey Comes out Swinging to Stop Student Loan Rate Increase: With less than two weeks left before federal Stafford loan interest rates are set to double, U.S. Senator Bob Casey is speaking out against allowing the rates to increase.
ICYMI: PoliticsPA's Celebrity Look-Alikes and Celebrity Look-Alikes 2011 Throwback: The resemblance is striking! Here are Pa. politicos and their celebrity doppelgangers.
Statewide
Capitolwire: McIllhinney's liquor proposal diverges from House bill
Capitolwire: Purely public charities constitutional amendment advances in PA house
Capitolwire: Hess says $100 driving violation fee to be dropped from House transportation bill
Capitolwire: Senate panel approves plan to create 401(k)-style retirement plan for nearly all state employees
Capitolwire: Judges hear arguments over control of $60 million NCAA fine
Capitolwire: Liquor privatization on life support in Senate. Some say 'it's dead'
Capitolwire: With liquor plans on life support, is 401-(k)for new PA employees and elected officials reviving?
PA Independent: PA senators aim to put all new state workers in 401(k) plan
PA Independent: PA DNA law resurfaces after U.S. Supreme Court decision
PA Independent: WATCHBLOG: $100 surcharge off the table in House transportation plan
State House Sound Bites: Senate panels moves scaled-back pension overhaul
State House Sound Bites: House GOP drops speeding ticket surcharge idea
Philadelphia
City Paper: Secret poll: Corbett should exploit Philly school crisis, attack teachers union for political gain
Philly.com: Gas Works v. Nutter: Mayor owed $507 gas bill
Philly.com: Pa. tops nation in firearms lost or stolen from gun dealers
Philly.com: Nutter, other mayors: No using food stamps to buy soda
PhillyClout: Philly Traffic Court elections off November ballot
PhillyClout: City: Private demolitions left to police themselves
Heard in the Hall: Much Less Oversight on Private Demolitions, Committee Hears
Daily News: Germantown High closure angers, saddens community
Daily News: Expeditor for permits before collapse owed city back taxes
SEPA
Phillyburbs: Bucks DA to eye potential health insurance fraud by county workers
Phillyburbs: $8.5M bond taken out for projects, upgrades and equipment
Phillyburbs: CR reaches tentative agreement with administrators
Pottstown Mercury: Pottsgrove's choice between higher taxes or one less administrator forced by federal funding cut
Pottstown Mercury: Ex-Schuylkill Twp. supervisor found guilty of running neighbor, children off road
Montgomery Media: Abington School District anticipates zero tax increase
Pittsburgh
Tribune Review: City police investigation whether officer who gave ride to mayor's ex-bodyguard broke any department regulations
Tribune Review: Pittsburgh council rejects expansion of Mexican War Streets historic district
Tribune Review: Cecil residents take bus to Capitol to protest Rep. White's online attacks using false names
Post-Gazette: Commonwealth Court panel hears arguments on NCAA's $60 million Penn State fine
Post-Gazette: Judge to consider making public confidential document from 2011 Marcellus drilling settlement
Early Returns: Another bad Corbett poll
Southwest
Beaver County Times: Midland school taxes will increase 2.7 percent
Beaver County Times: Officials: Seismic testing using thumper trucks doesn't require DEP permits
Altoona Mirror: Lawyers: AASD probe flawed
South Central
Lancaster Intelligencer: Lancaster train station repairs speed up
Lancaster Intelligencer: Brubaker leads Senate bid for pension reform
Carlisle Sentinel: New traffic system to make travel safer, more efficient in Shippensburg
Patriot-News: 25-year-old cites violence, youth as core issues during Harrisburg mayor's race campaign kickoff
Patriot-News: Ron Buxton, county engineer V.P. named to new Dauphin County authority
Patriot-News: Harrisburg police contract vote a key step toward resolving city debt
Patriot-News: Public official reacts to proliferation of porn, strip clubs and adult entertainment in Reed Township, Dauphin County
NEPA
Times-Tribune: Environmental groups call for water pollution disclosure
Times-Tribune: House approves Scranton vet pension bills
Times-Tribune: Abington Heights High School to implement "open block" model
Times-Tribune: Flood-battered levee system repairs nearly complete
Times-Tribune: Luzerne County prison burning through overtime
Lehigh Valley
Express Times: Parkland School District final budget proposal includes 1.9 percent tax increase
Express Times: Parkland School Board hires law firm to represent district after library sues over tax rate
Express Times: Lopatcong Township school board interviews superintendent candidates
Express Times: Allentown leaders, residents rally for immigration reform – See photos
Express Times: Easton Area School Board approves list of 43 staff cuts
Express Times: Bethlehem's Eastern Greenway plans call for public spaces, pedestrian enhancements
Express Times: Northampton County Council will review sale of Gov. Wolf Building tonight
Morning Call: Bethlehem council accepts $3 million charter school grant
North by Northwest
Centre Daily Times: Judges to consider fate of Jake Corman NCAA lawsuit
Erie Times-News: Allentown mayor to visit Erie
Erie Times-News: Leaked GOP poll indicates trouble for Corbett
Opinions
Patriot News: Out of a deeply personal choice, a decision to support abortion rights
Tribune Review: Disserving Pennsylvania: Last call
Post-Gazette: Dowd's departure: The councilman takes on a worthy assignment
Phillyburbs: Tax and spend Republicans have no solutions
Delco Daily Times: Editorial: Bill targeting scammers of elderly lauded
Blogs
Keystone Politics: Charlie Dent: Please Primary Me
Keystone Politics: PennDOT Must Open Secret PA Transportation Projects Website to the Public
Keystone Politics: Eugene DePasquale on Act 44 and Turnpike Debt
Keystone Politics: Hundreds Oppose Drilling in Loyalsock State Forest at Public Meeting
Keystone Politics: Rep. Bob Freeman: Why Sprawl Is a Budget Buster
PA Budget & Policy Center: Momentum Builds for Delaying Corporate Tax Cut