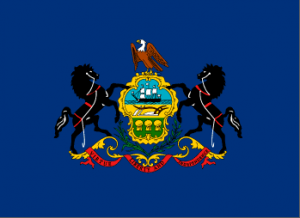 Fattah resigns, the budget debate heats up and we examine why Clinton isn't running ads in Pennsylvania. Good morning politicos, here's the Playbook!
BREAKING: Chaka Fattah Resigns: Chaka Fattah is resigning for Congress effective immediately.
Why Isn't Clinton Spending Money in Pennsylvania?: The Dems believe they'll win PA, could that be a fatal mistake?
Sabato Moves PA Back to "Lean Democratic": The commonwealth was previously rated as "Likely Democratic".
PA-2: Fattah Resigns…In October: The Congressman would like to stay on for the next three months, a proposition the Speaker isn't happy with.
PA-BGT: One Week to Cut Deals: The gloom that surrounded Harrisburg last summer has lifted.
Democratic Convention Preparations Reach Next Phase: Work is now being started inside the Wells Fargo Center to prepare for the July event.
Quinnipiac Poll: 49% Support Transgender Bathroom Rights: Pennsylvanians were also asked about the fears concerning the Zika virus.
Statewide
Capitolwire: Lawmakers not sold on Wolf's $34 million opioid treatment centers
Capitolwire: On-time budget becoming more difficult, though not impossible
PLS Reporter: Industrial hemp legislation gaining momentum in Senate
PLS Reporter: Pension reform headed for conference committee
StateImpactPA: Gov. Wolf signs bill that rejects conventional drilling regulations
StateImpactPA: Gov. Wolf signs bill that rejects conventional drilling regulations
WITF: Change would allow inmates to get Medicaid immediately after leaving prison
WITF: House GOP leaders call for special session to address opioid crisis
WITF: House leader says budget negotiations within "hundreds of millions of dollars"
Philadelphia
Inquirer: Soundgarden Hall evicted for unpaid debt
Inquirer: Memphis and L.A. firms together pay $82M for Shops at Valley Square in Warrington
Inquirer: Philly Pensions Board considers a less costly plan for retirees
Inquirer: Chesco judge rules gay couple can keep fence
Inquirer: Feds: Yuengling settles Clean Water Act violations
WHYY Newsworks: SEPTA stumbles across $33 million in savings, socks it away for a rainy day
WHYY Newsworks: ACLU sues city for protest permit denial
KYW Newsradio: ACME Clerk Suspended For Wearing Patriotic Dress Back At Work
Business Journal: Phila. hosts first-ever Better Bike Share Conference
SEPA
Pottstown Mercury: Effort to expand number of supervisor seats fails in Upper Providence
Daily Local News: Local advocates praise House sit-in
Montgomery Media: Pennridge School Board approves 2.4 percent tax hike
Montgomery Media: Suit pending over water contamination near former Willow Grove naval base
Pittsburgh
Tribune Review: US Rep. Fattah steps down after racketeering conviction
Tribune Review: Service agency advocates rally in Greensburg for on-time passage of state budget
Post-Gazette: Life on the waiting list: The struggle to receive intellectual disability services in Pennsylvania
Post-Gazette: Rep. Tim Murphy says his mental health bill will get a vote after July 5
Post-Gazette: Pittsburgh school board adopts transgender policy
Post-Gazette: Wolf plans to call special session to address opioid crisis
Post-Gazette: Gun-control sit-in continues a second day; GOP refuses to yield
Pittsburgh Business Times: New look at LGBT 'health disparities'        
Southwest
Altoona Mirror: Commissioners: Budget mishandled
Altoona Mirror: Sandusky accuser seeking protection
Beaver County Times: Economic Development secretary visits Aliquippa manufacturing plant to tout living wages
Beaver County Times: GOP U.S. House members blast Democratic sit-in as "political circus"
Beaver County Times: Legislative special session called to tackle Pennsylvania's opioid crisis     
NEPA
Times Leader: Crestwood School Board expects to adopt a balanced budget
Times Leader: Health services professionals air issues to Democratic PA House hopeful Bob McDonald
Times Leader: DEP plans to build fence around hole on Hubber Breaker property
South Central
Patriot News: Most DNC money for Philly convention going to businesses owned by women and minorities
Patriot News: Pennsylvania lawmakers among those taking to the floor for gun control
Patriot News: Addict-turned-mayor eye a new kind of drug war
Patriot News: 'A perfect storm': Most central Pa. school districts approving tax hikes to weather rising costs
Carlisle Sentinel: Vance introduces bill to change Medicaid policy for prisoners
Carlisle Sentinel: House OKs gambling on Web, not in bars
Lehigh Valley
Capitol Ideas: Ryan Costello resigns from role as GOP convention delegate
Morning Call: US Rep. Fattah steps down after racketeering conviction
Morning Call: Public hearing set on proposed 22 percent water rate hike affecting one Northampton County community
Express Times: Appearance postponed in Nazareth mayor's $8K theft case
Express Times: Easton council considers friendlier parking meter rules
North by Northwest
Erie Times-News: County appeals ruling that awarded legal fees to candidate left off ballot
Williamsport Sun Gazette: Loyalsock school board gives nod to 0.3-mill tax increase in final budget
Williamsport Sun Gazette: Council agenda mostly housekeeping item
Opinion
Williamsport Sun Gazette: Finally, Wolf takes some correct steps toward state budget
Carlisle Sentinel: A logic-free zone
Express Times: Pa. bill goes too far in restricting abortion
Inquirer: Fattah guilty verdict isn't just about him
Inquirer: Inquirer editorial: More homes should be tested for lead
Patriot News: The Dialogue: 'Our political culture is more about the quick response than the right one'
Post-Gazette: Seeking gun sanity: The Dems' sit-in was a stunt that got notice
Post-Gazette: Success in the water: Pitt students' know-how boosts aquaponics
Blogs
Keystone State Education Coalition: Pension reform bill provides zero short term relief to school districts and taxpayers
Keystone State Education Coalition: Governor Wolf Makes Significant Compromises to Reach Agreement on 2016-2017 Budget
Keystone State Education Coalition: Senate To Take Up Pension Reform Bill Today
Citified: Meet the DNC Host Committee's "Donkeys Around Town"
Citified: Fattah Resigns Effective Immediately