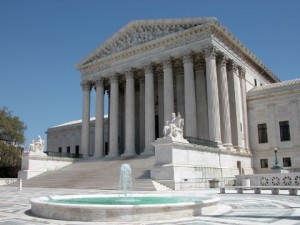 Good morning politicos, here's the buzz. The world awaits a SCOTUS decision on the health care law; and a new poll shows Casey maintaining a wide lead over Smith as Smith contemplates a big self-donation.
Poll: Casey Maintains Wide Lead; Corbett Approval Stays Negative: Sen. Bob Casey maintains a solid lead over Republican rival Tom Smith 49 to 32 percent, according to the latest from Quinnipiac. Meanwhile Gov. Tom Corbett's approval rating continues its negative trend.
PA Mayors Call Romney a "Pioneer of Outsourcing": Michael Nutter of Philadelphia and Ed Pawloski of Allentown attacked Mitt Romney's claim of being a "job creator" during a conference call Wednesday. The two mayors blasted Romney's record of outsourcing jobs as CEO of Bain Capital and governor of Massachusetts.
Matthews Calls PA Dems Chair Burn Obama's Best Surrogate: During last night's Hardball, Chris Matthews called Pennsylvania Democratic Party Chairman Jim Burn the best Obama surrogate he's had on the show after his keen comments on Mike Turzai, Voter ID and Mitt Romney.
Smith to Make "Substantial" Campaign Contribution: With summer campaign season heating up, and the quarter set to end this weekend, Republican Senate candidate Tom Smith has announced that he will make a "substantial" personal monetary contribution to his campaign.
Blue Dog Dem Group Airs Pro-Platts Ad (Watch Video): Center Forward, a PAC that typically boosts Blue Dog Democrats, this week began a television campaign lauding Republican Rep. Todd Platts for his support of moderate policies to balance the budget.
Congressional Dems' PA Problem: Stu Rothenberg takes a look at the steep hill PA's Democratic congressional challengers have to climb.
Legislative Election Updates:
SD-47:Kim Villella, the businesswoman challenging Elder Vogel (R-Beaver), slammed the Senator for offering too little in incentives for Shell to build its cracker plant in the county. From her release: "Last week Senator Elder Vogel also introduced his own plan, calling for a tax credit that will need to be reintroduced in the Pennsylvania Legislature every year, taking away the guaranteed credit of the Corbett plan and forcing the credit to be subject to the whims of legislators in Harrisburg."
"'Unfortunately, Senator Vogel's plan showcases his lack of real-world business experience,' continued Villella. 'As someone that has spent my entire career running successful businesses, I understand that we must present a competitive incentive plan to Shell Oil or risk losing their investment to other states.'"
National
Pennsylvania Ave: Quinnipiac: Obama maintains edge over Romney in Pennsylvania
National Journal: Swing State Storm Clouds for Obama and Romney Alike
Washington Post: Poll Suggests Obama swing state attacks working
The Hill: Obama to visit Ohio, Pennsylvania on first '12 campaign bus tour
USA Today: Twenty states have shale gas wells; what to expect for PA
Statewide
AP: Former Democratic state representative convicted of corruption
AP: Winner bidder tapped for Harrisburg's incinerator
AP: Democrats begin attack on Pa. GOP's spending plan
Capitol Ideas: Pa. Budget clears committee, heads to the House floor for debate
Capitol Ideas: Sen. Daylin Leach talks Voter ID on MSNBC
Capitol Ideas: Early Evening Budget Update: House delays Pa. budget debate until Thursday
State House Sound Bites: Quick links: Budget bill poised for House committee vote
State House Sound Bites: House tees up budget bill for vote as soon as Thursday
PA Independent: Pension accounting rules change, makes unfunded liability seem larger
PA Independent: PA business groups speak out against ACA
PA Independent: ACA decision could affect Pennsylvanians young and old
PA Independent: Budget Roundup: Education reform measures being vetted by legislature
State Impact: Ethane prices "Collapsing," according to WSJ
State Impact: "Airborne methane plume found near Bradford County gas migration site"
State Impact: A closer look at the initial ethane cracker tax break
State Impact: Marcellus Shale Boom Could Breath New Life into Idled Refinery
New York Times: A chem­istry pro­fes­sor from Ohio says he's stum­bled upon a new way to treat frack water
Capitolwire: House GOP plans to make welfare-funded non-profits reveal exec salaries
Capitolwire: House readies to debate state budget bill
Capitolwire: OFF THE FLOOR: EITC Voucher plan capped at $50 million. A look at the final issues
Capitolwire: House OKs bill to allow state system universities to collect royalties for natural gas drilling
Capitolwire: Human Services block grant will be pilot program at most as 2012-13 DPW budget plan emerges
Capitolwire: Budget deal largely hews to Senate-passed budget
Philadelphia
Philadelphia Daily News: Q-Poll: Obama leading Romney in PA, FL and OH
Philadelphia Inquirer: A top Republican's remark about voter ID brings him under political fire
Philly Now: Newton, Mass. Mayor Setti Warren on What Pennsylvania Should Know About Mitt Romney
Philly Now: Nutter, Other PA Mayors Send Open Letter to Mitt Romney
Fox Philadelphia: Highway bill deal could include student-loan measure
SEPA
Pottstown Mercury: Former head of House Democratic Campaign Committee found guilty of corruption
Pottstown Mercury: Vereb, Bradford weigh in on Supreme Court immigration ruling
Pittsburgh
Tribune Review: Cracker tax credit to require minimum standards
Tribune Review: State pegs cracker jobs at 10K, give or take 10K
Post-Gazette: Obama campaign comes to western Pennsylvania next week
Post-Gazette: Poll shows Obama with lead in key states
Post-Gazette: House approves drilling on state college campuses
Post-Gazette: Pa. Senate sends correction bill to Corbett
Post-Gazette: House committee moves forward with 'responsible' state budget
Post-Gazette: Pennsylvania budget debate begins
Post-Gazette: Congress OKs ban on 'bath salts'
Pitts­burgh Post-Gazette: Law­mak­ers in Har­ris­burg took a step toward allow­ing drilling at state col­leges and prisons
Early Returns: Politics: Forever a boy's club?
Early Returns: Whither contempt for Critz, Congress?
Early Returns: Smith puts more $$$ into Sen campaign
Early Returns: Q Poll: Prez race closer in Pa; Obama visits WPa
Southwest
AP: Tax experts question credits for Pa. Shell plant
Beaver County Times: Potter Township: The forgotten player in bringing Shell Oil to PA
Beaver County Times: Local officials impressed with Shell plants in Louisiana
Altoona Mirror: Task force will review Pennsylvania abuse laws
Altoona Mirror: GOP plan aids area districts
Lehigh Valley
WFMZ: Residents in Easton take action to change neighborhood
WFMZ: School official: Central Bucks East teacher Natalie Munroe fired for poor performance, not her blogs
WFMZ: Delta Thermo signs agreement with Allentown for waste energy plant
WFMZ: Pa. Legislature moves toward end of fiscal year
WFMZ: Easton Area School District begins search for new Superintendent, does not renew McGinley's contract
WFMZ: Foreclosure rate down slightly in LV, still above Pa., US
South WhiteHall Patch: Parkland Calls for Changes to 'No Child Left Behind'
Express Times: Easton considers using proposed parking meters to fund cleanup group Express Times: Delaware River Joint Toll Bridge Commission appoints new executive director
AP: Pa. Legislature hurtles toward Saturday deadline
The Morning Call: State budget details emerge, state universities spared deep cuts sought by Corbett
The Morning Call: Guilty verdict in latest Pennsylvania legislative corruption case
NEPA
Daily Review: Michael Arcesi sets the stage for a September Primary contest; will run for Tioga County Judge seat
Daily Review: Trustees push back vote on secondhand dealer law
Daily Review: Final state budget bill faces first vote
Daily Review: State police accused of brutality in video
AP: Obama to make first campaign bus trip to Pa. next week
Pocono Record: State budget details emerge, state universities spared deep cuts sought by Corbett
Standard Speaker: Final budget bill faces first vote
Standard Speaker: Shenandoah looking for new mayor and police chief
Standard Speaker: Insurance companies, hospitals, health advocates wait for court ruling
Standard Speaker: Tax delay affects Rice Twp.'s finances
Daily Item: Planning chairman resigns
Daily Item: Shoch questions Clausi on hard drive disposal
Citizens Voice: Key House panel passes budget bill
Citizens Voice: Districts to see mostly flat funding under negotiated budget deal
Citizens Voice: Council to discuss same-sex benefits
Citizens Voice: Pittston Area School Board passes $42M budget
Citizens Voice: Rice Twp. earned income tax money coming in slowly
Times-Tribune: Scranton Mayor Chris Doherty's lawsuit against City Council to get court first hearing
Times-Tribune: Some tout bankruptcy as Scranton's way out, others say it's no picnic
Times-Tribune: Federal government no longer probing NEPA school bus contracts
Times-Tribune: Short on cash, Doherty slashes wages
Times-Tribune: Final budget bill faces first vote
Times-Tribune: Districts to see mostly flat funding under negotiated budget deal
Times-Tribune: Key House panel passes budget bill
Times-Tribune: Dunmore School District passes budget with no tax increase or furloughs
Times Leader: Jury finds ex-Rep. Stetler guilty of all counts
TImes Leader: Casey hails bath salts ban
South Central
Chambersburg Public Opinion: Chambersburg Fire Dept. receives $1.6m grant to keep 8 firefighters
Chambersburg Public Opinion: Pa. has great disparity in granting human service funds to counties
Chambersburg Public Opinion: Sen. Casey asks CDC to help with West Nile Virus in Pa.
Chambersburg Public Opinion: Latest Pa. budget proposal keeps cuts to human services, ditches county block grants
Harrisburg Patriot News: Weatherization program could end amid funding cuts, Dauphin County commissioner says
Harrisburg Patriot News: Federal judge hands Harrisburg Authority defeat in $19 million court battle with creditor
Harrisburg Patriot News: Former Harrisburg Mayor Stephen R. Reed's Wild West artifacts inspire a new state law
York Daily Record: Stetler guilty on all charges
York Daily Record: York City School Board to hold emergency meeting on budget
AP: Pa. budget goes down to the wire
York Dispatch: Commissioners debate auditor contract
York Dispatch: Steve Stetler found guilty on all charges
Carlisle Sentinel: Pa. lawmaker wants vote on Sandusky probe review
Carlisle Sentinel: Tax experts question credits for Pa. Shell plant
North by Northwest
Williamsport Sun Gazette: Commissioners to consider agreement with consulting firm
Courier Express: Little change in jobless rates
Sharon Herald: Pension costs going way up for city
Times-News: Poll: Obama leads in three swing states
Times-News: Sinnott, other Pa. Mayors talk Romney's record regarding business, government
Opinion
York Daily Record Editorial: Our take on Stephen Stetler: A good guy goes bad in Harrisburg
Express Times: EDITORIAL: Indicting grand juries important tool for Pa. prosecutors
Reading Eagle: 'Citizens United' decision was Right Call
Reading Eagle: Elected tax collectors are a throwback to 18th century
Tribune Review Editorial: Minority contracting: paying lip service
Post-Gazette Editorial: Look down the line: T stop woes are the least of transit trouble ahead
Times-News: Bertke: Nuns tour, express opposition to Ryan budget
Williamsport Sun Gazette: The false high-fives on energy policy
Williamsport Sun Gazette: Liquor privatization off the front burner?
Blogs
Keystone State Education Coalition: Budget Updates and Rep. Christiana's "Different Money"
PA Budget and Policy Center: Details of 2012-2013 Budget released
John Hanger: Motor Trend Raves About Volt's Performance
John Hanger: Marcellus Dry Gas Profitable At $1.90 But Barnett & Haynesville Shales Lose Money
John Hanger: Texas Wind Sets New Records: 17.6% Of ERCOT's Demand On June 19th
Keystone Politics: Hooray for the Fattah Neuroscience Initiative!
Keystone Politics: How Much Is Tom Smith Willing to Spend to Close the 17-Point Gap With Bob Casey?
Keystone Politics: Corbett Approval Rating Still Upside Down 35-50
Keystone Politics: Here Are the Philly State Senators Who May Sell Out on Payday Lending
Keystone Politics: $3 Billion in Fossil Fuel Subsidies vs. Kindergarten
Keystone Progress: PA Events Planned In Response to Tomorrow's Supreme Court Decision on Obamacare
Keystone Progress: Everything you need to know about fracking
Above Average Jane: Your tax dollars at work