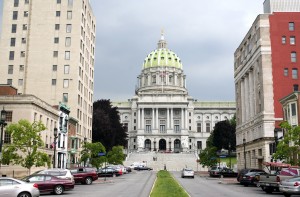 Another step in the budget battle, congressional updates and the booze battle continues. Good morning politicos, here's the Buzz.
Senate Dems Release Rival Budget: It includes projections on liquor "modernization" and Medicaid expansion which were absent from Gov. Corbett's proposal and the House GOP plan.
PA-13 Roundup: Hardball, Guns, Auto Workers and… Deer Meat? The past few days have seen eventful developments in the race to replace departing Rep. Allyson Schwartz.
PMA Poll: 55% Support Liquor Privatization: Most Pennsylvania voters want to see state liquor stores privatized according to a Susquehanna Polling & Research poll commissioned by the conservative Pennsylvania Manufacturers' Association.
Cantor to Fundraise for Dent: The event with the House Majority Leader will take place at the Hershey Country Club on June 20th.
Statewide
Politico: Ex-lawmaker who opposed ACA now supports it (Altmire)
AP: PA Senate rejects changes to anti-abortion bill
AP: Schedule shows Governor Corbett's working on re-election
AP: State House gets 2 new members
AP: Call for PA lawmaker to resign over online attacks
AP: Senate advances bills on teacher misconduct
AP: Hundreds turn out in opposition to Pa. drilling
AP: Health secretary won't help in transplant case
AP: Sebelius: I can't step into Newtown Square girl's transplant case
PA Independent: Pennsylvania sales tax exemptions may expand to logging industry
PA Independent: WATCHBLOG: Report says Pennsylvania's war on marijuana is racist, but at least it's expensive too
State Impact: Report Cites Natural Gas for Reduced Emissions, But Cautions Against Longterm Solution to Climate Change
Capitolwire: With hearings over, McIlhinney starts to form alcohol sales bill
Capitolwire: Gloves come off during Senate liquor hearing
Capitolwire: Senate poised to send transportation bill to House
Capitolwire: House Education Committee moves sweeping charter reform package to House floor
Philadelphia
Inquirer: Blackwell, activists call for elected school board
Inquirer: Nutter, Butkovitz push Pa. for more school funding
Inquirer: Two parties, two state budget plans
Inquirer: Phila. property reassessment protests meet reality
Philly.com: State House approves legislation to abolish Philadelphia Traffic Court
Philly.com: ACLU: Black Americans targeted for marijuana arrests
Philly.com: Philly's Jill Kelley sues feds over Petraeus scandal
Philly.com: Council wants $1.8 more annually from PGW
Commonwealth Confidential: Put up your dukes
Heard in the Hall: Budget Pieces Could Move Wednesday
News Works: Pa. schools join Philly in call for more state money
CIty Paper: In PA, a payday-lending bill disguised as consumer protection effort
PhillyNow: Anti-abortion coverage bill passes state Senate committee
PhillyNow: For Rosalind Applewhite, the fight for Medicaid is personal
PhillyNow: Bill to kill traffic court passes House
CBS: Phila. Mayor and Schools Chief Visit Harrisburg To Plead For More School Funding
CBS: Boisterous and Tense Moments at Pa. Liquor Store Privatization Hearing
SEPA
Daily Local: Residents put gas company on the grill
Pittsburgh
Tribune Review: Unionized liquor store clerks cheer Ferlo opposition to Corbett privatization plan
Post-Gazette: North Hills approves 2013-14 school year budget
Early Returns: Chelsa Wagner: Stepping into her uncle's former shoes?
KDKA: Pa. Senator Pushing Bill To Take DNA From Those Arrested For Serious Offenses
KDKA: State Senators Get Much To Mull In Alcohol Debate
KDKA: State Senate Holds Last Hearing On Liquor Privatization
Southwest
Beaver County Times: NRC: Nuke plant reactor still down, another problem being addressed
Observer-Reporter: Washington Hospital bears brunt of health system cuts
Altoona Mirror: AASD probe results coming
Altoona Mirror: ABCD?Corp. closing on business park land
South Central
Carlisle Sentinel: South Middleton School board member warns of future 'fiscal cliff'
Carlisle Sentinel: Cumberland County write-in candidates certified at special meeting
Carlisle Sentinel: Cumberland Valley School District approves balanced budget, holds the line on taxes
Harrisburg Patriot News: Senate rejects changes to bill banning abortion coverage in health insurance exchange
Harrisburg Patriot News: Dauphin County to introduce 2013-2014 budget Wednesday
Harrisburg Patriot News: DePasquale and McCord warn of electoral college switch
Harrisburg Patriot News: Future funding for human services headed for fight in Harrisburg
York Daily Record: Kevin Schreiber sworn in as York County's newest state House member
York Dispatch: York County politician finds creative use for old campaign signs
Lancaster Intelligencer/Era: Repair funding for state bridges, roads could drive up gas prices, fees
Lancaster Intelligencer/Era: Former human resources chief, county in court
Roxbury News: Pennsylvania School District Funding by County
NEPA
Times-Tribune: Scranton board authorizes boundary exception changes
Times-Tribune: Scranton tax sale brings in $623,000
Times-Tribune: Carbondale school race may have recount
Citizens Voice: Ex School director will plead guilty to sending explicit texts to teens
Citizens Voice: Election board urged to fix flawed primary
Pocono Record: Hess proposes ban on second, paid jobs for Pocono Township supervisors
Lehigh Valley
Express-Times: Upper Nazareth supervisor gains write-in nod to run in November election
Express-Times: Former Lehigh County Executive Bill Hansell has died
Express-Times: Bethlehem justified in firing firefighter who drove drunk while on sick leave, arbitrator says
WFMZ: C-SPAN bus rolls into town to honor Conrad Weiser students
WFMZ: Parents protest proposed education funding cuts in Reading
WFMZ: Julian Stolz dropping out of Emmaus mayor's race
North by Northwest
Sun Gazette: Many at public hearing plead to keep state forest drill-free
Sun Gazette: Gas company hit with $150,000 fine for violations
Citizens Gazette: Citizens voice frustrations
Sun Gazette: Oil, gas wastewater treatment proposal delayed by commission
Erie Times-News: Teamsters union files grievances over city workers' firings
Erie Times-News: Erie Redevelopment Authority receives $3M lead abatement grant
Center Daily: Write-ins carry Union Township resident to victory in primary election
Opinions
Rep. Lou Barletta, USA Today: The immigration threat can come from within
Tribune Review: Corbett is right: Tax reform means jobs
Post-Gazette: UPMC-Highmark: An unusual cause for the next health director
Express-Times: EDITORIAL: Nonprofits can take steps to prevent fraud, theft and embezzlement
Blogs
Commonwealth Foundation: Time is Ticking
Lehigh Valley Ramblings: RIP Former Lehigh County Executive Bill Hansell
Lehigh Valley Ramblings: Disgruntled Caseworker Jim Gregory Gets Three Days Off
Lehigh Valley Ramblings: O'Donnell Beats Wallace in Official NorCo Tally
Keystone Politics: Rand Study: PA Taxpayers and Uninsured So Screwed Without Medicaid Expansion
Keystone Politics: American Street and the Trouble With Use-Based Zoning