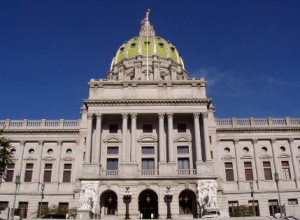 Another big shakeup in the Corbett administration. And we name the fundraising winners and losers for the 2nd quarter. Good morning politicos, here's the Buzz.
Q2 Fundraising: Winners & Losers: The numbers are in! Here's how the incumbents and challengers running for Congress fared this quarter.
Corbett Admin Shakeup: COS Aichele is Out: For the second time in fourteen months, Gov. Corbett will get a new Chief of Staff. Two reports indicate Steve Aichele will soon be replaced by Leslie Gromis-Baker.
If Corbett Didn't Run, Who Might Republicans Nominate? Following rumors that some officials are making calls about 2014 in case Gov. Corbett decided not to run, we give a look at some of the names on the GOP's shortlist. (Note: Corbett is running.)
PAGOP Dings Kane on Process But Not Gay Rights (With Video): The PAGOP highlighted a video of candidate Kathleen Kane saying an Attorney General couldn't pick and choose which laws to enforce – days after she did just that on the issue of same-sax marriage. But the PAGOP avoided the underlying topic.
Q2: Toomey Raises $946K: Senator Pat Toomey raised nearly a million dollars in the second quarter this year, bringing his cash on hand to to $3.1 million.
Q2: Rothfus Outraises Opponent 5-to-1: Rothfus brought in $227,623 in April, May and June and has $380,404.43 cash on hand.
Q2: $89K for Naughton in PA-8: The candidate's haul is significantly lower than her primary opponent Kevin Strouse and incumbent Congressman Mike Fitzpatrick.
Voter ID Goes Back to Court: After months of waiting, the trial resumed Monday over PA's controversial voter ID law. Opponents say a Corbett administration memo acknowledges that the requirement could disenfranchise voters.
Hanger: Legalize Marijuana by 2017: Of Democrats running for Governor, former DEP Sec. John Hanger cemented his position as the most progressive the issue of marijuana reform.
PA House Ties Up Loose Ends on Budget: The state House returned to session Monday to put the final budget piece in place.
Reader Poll: Which Dem for Guv Will Go Negative First? Lots of Democrats have wonderful things to say about their own records, but which one is likely to take the first shot in the primary? Vote here.
Reader Poll: Shuster Most Vulnerable to GOP Primary: PoliticsPA readers said Rep. Bill Shuster (R-Blair) is the Republican congressman most vulnerable to a primary challenge. He took 233 of the 763 votes cast (31%).
Statewide
National Journal: Pennsylvania Republicans Looking to Push Out Their Governor
Capitolwire: House GOP announces anti-poverty initiative
Capitolwire: Civil rights groups, state lawyers back in court over Voter ID law
Capitolwire: House passes Fiscal Code, final part of state budget
StateImpactPA: Newfield Exploration Says Low Natural Gas Prices Led to Wayne County Lease Terminations
StateImpactPA: Radio Smart Talk Looks At New Gas Lease Pooling Law
StateImpactPA: Gas Companies Drop Wayne County Leases
PA Independent: Rolling dole: Number of PA residents getting disability up 50 percent since '03
PA Independent: Off the leash: PA's dog law lacks enforcement, audit finds
AP: Updating: Trial over Pa. voter ID law
Philadelphia
Inquirer: Corbett staff shakeup 2.0: Steve Aichele out
Inquirer: June revenue up 4.2 percent at Pa. casino tables
Inquirer: Trial on Pa. voter-ID law gets underway
Inquirer: Legalize weed, says Dem Pa. gubernatorial candidate
Inquirer: Plaintiffs' expert: Half a million don't have voter ID
Daily News: Corbett's response to Kane's mutiny
SEPA
Daily Local: Uwchlan cuts funding for school-based police officer
Daily Local: Easttown banks on experience with new manager
Daily Local: Oxford council backs Good Samaritan law
Philly Burbs: Bucks County courthouse 13 months behind schedule
Delco Times: Delco enacts 'heat plan' as temps soar; no relief in sight this week
Pittsburgh
Early Returns: Ravenstahl discourages Harris indy run
Early Returns: Gross gets more endorsements in D7
Early Returns: Hanger: Reform Pa weed laws
Early Returns: D7 Dem cmte vote this Sunday
Early Returns: Aichele's out
Post Gazette: Armstrong County man who promoted terror attacks against U.S. in online forums sentenced
Post Gazette: Former attorney for Westmoreland Municipal Authority claims politics led to firing
Tribune Review: Diocese to close Masontown school
Tribune Review: Lawmaker wants to give Pennsylvania's loggers a break
Tribune Review: Pittsburgh encourages youths to eat healthy
Tribune Review: Company predicts compressed natural gas growth, opens South Side station in Pittsburgh
WPXI: Pittsburgh mayor makes rare appearance to accept grant for 'Green Up' program
WTAE: Judge sends 6 Pennsylvania Turnpike defendants to trial
WTAE: Pa. wannabe terrorist sentenced in in FBI attack
CBS: Region's First Energy Center To Open Next Week
CBS: Ravenstahl Weighs In As Darlene Harris Shows Interest in Mayoral Run
Southwest
Beaver County Times: Drill and ditch? Report outlines state's shortcomings to protect oil, gas leaseholders
Beaver County Times: Group concludes statewide illegal dumping survey
Observer-Reporter: North Strabane supervisors consider oil and gas lease on township property
Observer-Reporter: Mourners seek justice
Observer-Reporter: Flaring stopped at Marcellus Shale processing plant
Altoona Mirror: Aide gets probation for role in neglect
Tribune-Democrat: Jail retains health care
Tribune-Democrat: Loan to replace sewer line OK'd
Tribune-Democrat: N. Cambria board OKs funds for repairs
Tribune-Democrat: Grant to keep YouthBuild going
NEPA
Times Leader: Annual gross revenues flat at Pennsylvania's casinos
Times Leader: Hearings set on proposed PA American Water rate increase
Times Leader: Money continues to flow for Cartwright
Times-Tribune: Scranton attorney appointed federal magistrate judge
Times-Tribune: State plans support for gas line to Sanofi
South Central
Patriot-News: Pa. Turnpike corruption defendants' optimism ended quickly, with all 6 headed to trial
Patriot-News: Zayd Issah's counterfeit cash case is being revived by Dauphin County prosecutor
Patriot-News: Voter ID: Statistician claims hundreds of thousands lack ID to vote
The Sentinel: Mechanicsburg Borough Council limited to 5 seats
The Sentinel: Carlisle and South Middleton Twp. homes selling faster than in years
Lehigh Valley
Express-Times: Bethlehem to step up road-paving efforts
Express-Times: South Warren Regional Police Department Commission moves on without Greenwich Township
Express-Times: Demolition underway for some flood-prone Harmony Township properties along Delaware River
WFMZ: Reading Superintendent Carlinda Purcell back to work after 5 day suspension
Reading Eagle: New distribution site in Lehigh to being 126 jobs
Reading Eagle: Penn State completes most Freeh reforms
Reading Eagle: Don Spatz: Councilman's city budget countdown
Reading Eagle: Reading names new acting fire chief
Reading Eagle: Decision on new police chief unlikely to be soon, West Reading officials say
Reading Eagle: Reading School Board confirms suspension of superintendent
North by Northwest
Erie Times-News: Audit: Poor management, oversight in Millcreek schools
Erie Times-News: Erie City Council poised to approve new cable agreement
Erie Times-News: Millcreek supervisors unanimously deny housing rezoning (updated: 10:40 a.m.)
Centre Daily: Philipsburg approves borough manager's salary, residency
Opinions
Inquirer: Inquirer Editorial: Don't make situation worse
Daily News: DN Editorial: Half-cocked
Post Gazette: ID check: The court again takes up a case of dubious motives
Tribune Review: Liquor 'reform': The big fail
Observer-Reporter: Voter ID law should be overturned
Blogs
John Hanger: Hanger Marijuana Reform Plan Released Today
Keystone Politics: #PA8: Red State Picks Up Kevin Strouse's Raunchy College Column
Keystone Politics: Rep. Lou Barletta invites PAC donors on yacht cruise
Keystone Politics: #VoterID Now About "Future Fraud"
Keystone Politics: #PA8: Shaughnessy Naughton Has $89K
Keystone Politics: Trash Hauling Should Be a Municipal Service