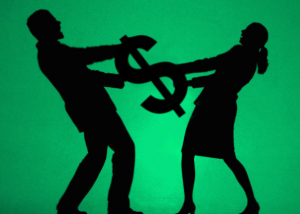 Good morning politicos, here's the buzz.
An anti-Tom Smith group spent tons to defeat him in the primaries, but months later the source of that money is still a mystery; Smith keeps busy by going after "Senator Zero" Bob Casey; Corbett holds a Romney-RNC fundraiser; and ICYMI, check out our Q2 Fundraising: Winners and Losers.
Anti-Smith Ad Funding Still Unknown: The super PAC Freedom Fund for America's Future spent $175,000 in a futile attempt to beat Tom Smith in the GOP primary. But months later, it's still not possible to find where the money came from.
Smith Website Calls Casey "Senator Zero": GOP Senate candidate Tom Smith has launched a new website blasting Sen. Bob Casey for having "zero" accomplishments during his first term. Namely, that he sponsored 324 pieces of legislation since 2007 and none have become law. Casey says Smith doesn't understand how the Senate works.
Corbett Holds Joint Romney-RNC Fundraiser in Pittsburgh: After a long day of stumping in Westmoreland County, GOP presidential nominee Mitt Romney traveled to Pittsburgh for a joint fundraiser with the Republican National Committee held by Gov. Tom Corbett.
Opponent Says Leach "Demagogues at the Synagogue": GOP state Senate candidate Charles Gehret went after his opponent Sen. Daylin Leach this morning, criticizing him for comments made at a synagogue Monday. Gehret claims Leach called Republicans anti-Semitic, but the Senator shot back, saying the accusation was "defamatory and unhinged."
YG Network Ad Calls for Sequestration Transparency: The conservative leaning group YG Network has announced a six-figure digital ad buy focused on five national congressional race media markets. The ad, "Secret," encourages Reps to support the Sequestration Transparency Act, requiring the disclosure of across-the-board spending cuts
Legislative Election Updates
HD-55: The PA GOP announced last night that Latrobe attorney John Hauser will be the party's nominee for the House seat. State Party Chairman Rob Gleason said he is confident than Hauser will "fight hard for the best interests of the people of Westmoreland and Armstrong counties," and help Gov. Corbett bring jobs to the state and keep taxes low. Hauser will face incumbent Rep. Joe Petrarca (D-Westmoreland).
HD-156: Democratic candidate Bret Binder said he opposes the $6,800 increase in benefits to House members, which they received as part of the 2013 budget – a $1.4M cost to taxpayers, on top of a 3 percent cost of living increase given in December 2011. Some members returned their pay increases to the State Treasury, but Dan Truitt (R-Chester) did not. Binder said he wants Truitt to return the pay raise and join him in pledging to not accept further increases. "It is the right thing to do," Binder said.
National
Politico: Dem voter edge shrinks in Pa.
Politico: Study: Millions in voter ID nightmare
Politico: Romney camp: 'Not true' he paid $0 in taxes
Roll Call: ID Laws Signal Need for New Voting Rights Act
National Journal: Pennsylvania in Play?
National Journal: Obamacare Vs. Obamascare: Will Health Care Swing the Election?
The Washington Post: Can Romney survive the summer storm?
The Caucus: Barrier to Romney Tax Disclosure Is the Candidate Himself
The New York Times: Economic Fears Hurting Obama, Poll Indicates
The Wall Street Journal: House Vote Requires Detailing of Budget Cuts
LA Times: Romney challenges Obama in blue-collar areas of PA
Statewide
PA Independent: Corbett says Moody's on target for blaming pensions for lower bond rating
PA Independent: State universities next in line for credit downgrade
PA Independent: Supreme Court ruling could be a pyrrhic victory for transparency advocates
Capitol Ideas: New report details the six gravest threats to states' fiscal stability.
Capitol Ideas: Report: How PA would be affected by the expiration of the Bush tax cuts.
StateImpactPA: Susquehanna County Residents Weigh In On Pipeline Route
Philadelphia
Phillyclout: GOP Commissioner alleges voter fraud, but colleague questions findings
Phillyclout: First Lady talks about anti-obesity efforts
PhillyTrib: Obama needs better than '08 black turnout
Fox Philly: Michelle Obama talks fitness in Philly
Philly Now: New Brennan Center Report Shows Worse Voter ID Picture
KYW Newsradio: Philadelphia's Top GOP Election Official Alleges Widespread Voter Fraud in City
WHYY Newsworks:  Philly elections crooked? Officials disagree
WHYY Newsworks: Taxpayers help pay for renovations at new home of Inquirer and Daily News
WHYY Newsworks: Bill Green is smart enough to be mayor — but will anybody like him?
SEPA
AP: First lady in Philly to discuss healthy eating
AP: ACLU: 1 million Pa. voters lack valid photo ID
AP: Study finds voter irregularities in Philly primary
Pottstown Mercury: Rep. Meehan takes huge lead in 7th District fundraising
Daily Local: Pa. high court denies Orie Melvin request
Pittsburgh
Post-Gazette: Pennsylvania Supreme Court rules no out-of-county judge for Joan Orie Melvin trial
Tribune Review: Pittsburgh firm to spread word about new voter ID law
Tribune Review: Romney tells Trib it's unlikely Obama's negative ads will stop
Early Returns: New Tom Smith web video characterizes Bob Casey as ineffective
Early Returns: Smith official for 37th; Raja responds
KDKA: Bill Exempts Newer Vehicles From Emissions Test
KDKA: Romney: Americans are waking up to Obama's views
Southwest
Indiana Gazette: County planners lay out their blueprint for future
WJAC: Cambria Co. looks to make criminal system more efficient
Tribune-Democrat: High-tech farming: Ag secretary observes manure-to-methane process
Daily Courier: Fayette commissioners debate access to solicitor
Lehigh Valley
Express Times: Allentown officials discuss audit that finds $1.2 million deficit, reduced fund balance
Express Times: Allentown strengthens laws prohibiting downtown skateboarding, bicyclists on sidewalks
Reading Eagle: County property tax to rise 5 to 8 percent
Pennsylvania Ave: RNC Chair Reince Priebus to campaign in Philadelphia Thursday
Pennsylvania Ave: Smith's unveils first major hit on Casey
Morning Call: Allentown council continues quality of life effort
NEPA
Wayne Independent: Citizens question school taxes
The Times-Tribune: Democratic National Committee Chair visits Wilkes-Barre for Obama rally
Pocono Record: Study finds voter irregularities in Philly primary
AP: ACLU: 1 million Pa. voters lack valid photo ID
South Central
AP: ACLU: 1 million Pa. voters lack valid photo ID
AP: Legal arguments due in challenge of voter ID law
Harrisburg Patriot-News: Pennsylvania NAACP to hold protest of new state voter ID law
York Dispatch: York County Dems hold ice cream fundraiser
Lebanon Daily News: Hopefuls' campaign coffers filling
North by Northwest
Sharon Herald: Kelly fundraising dwarfs Eaton's
Opinion
Morning Call: David Freed op-ed: Pa. must eliminate statute of limitations on child sex-abuse cases
Harrisburg Patriot-News Op-ed: Voters can demand change in government
Lancaster New Era Editorial: Doing away with school taxes
Courier Express Editorial: Other areas get ban on drilling, but we have to live with fears
Chambersburg Public Opinion Op-ed: Transport P3 legislative oversight will be sufficient
Altoona Mirror: Editorial: Obama, IRS need to disclose
Reading Eagle: Private Romney event disservice to campaign
Blogs
2 Political Junkies: How The Trib Is Covering (For) Romney
Keystone Progress: Did Mitt Romney Pay ZERO Taxes In 2009?
Keystone Progress: Patriotic Millionaires Demand Mitt Romney Release Tax Returns
Pennsylvania Progress: Pa. Budget: Failing to Invest in a Stronger State Economy
Pennsylvania Progress: Democracy 101: Don't Block the Student Vote
Pennsylvania Progress: Voter ID is Working: Suppressing the Vote
Keystone Politics:Build More Apartments to Stop Illegal Apartment Conversions in Allentown
Keystone Politics: Sorry Spanish Speakers
Keystone Politics:  Who Will Be Most Affected By #VoterID
Keystone State Education Coalition: Does 5 weeks of training make a teacher 'highly qualified?' U.S. House panel to vote
The Liberty Blog: Senator Pat Toomey exposes the cost of flood insurance in  highway bill
The Liberty Blog: Republican Giving Millions to Billionares: JanneyMontogomnery Top Money Manager – $10 Million for Republican General Assembly and Governor
Citizens' Call: New Keystone Test Requirements Shake Up Cheltenham and Other School Districts
John Hanger: Stunning Facts: Power Plants Use 53% Of Water Withdrawn In US and Gas Production Less Than 1% In PA
John Hanger: Global Electricity Storage Systems Increase 8%: Pursuit Of Energy Holy Grail Continues
John Hanger: Massive Drought May Hinder Electricity Generation: Water Is An Achilles Heel For Power Systems