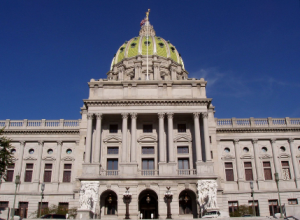 A new voter ID controversy, and Bill Clinton gives a shoutout to one of the Dems running for Governor. Good morning politicos, here's the Buzz.
Don't forget to visit later for this week's Ups & Downs.
PAGOP Chair Says Voter ID Focus Helped in 2012: Pa. Republican Chairman Rob Gleason said last week that focus on the issue of Voter ID helped the party cut President Obama's margin of victory.
McGinty Gets a Clinton Shoutout: The former President said during a ceremony to name the EPA building after him that McGinty was just as deserving of the honor.
Meet Tom Wolf (With Video): York County businessman gubernatorial hopeful Tom Wolf introduces himself to Democratic voters in a new web video.
Q2: Casey Gets Back on the Horse, Raises $210K: After essentially taking the first fundraising quarter off, the state's senior Senator is back on the money trail.
Q2: A Closer Look at PA-13 Reports: With the full financial reports now released, here's where the Democrats in the four-way contest stand – and where each one drew his or her biggest support.
Statewide
Capitolwire: Bond rating agency downgrades rating on at least $10.9 billion in PA debt
Capitolwire: Rohrer, conservative pastors blast Kane over not defending DOMA
StateImpactPA: EPA Fines XTO Energy for Lycoming County Frack Water Spills
StateImpactPA: Corbett Administration Ignoring Pennsylvania's Climate Change Law
PA Independent: PA lawmakers want to lock away info from prisoners
PA Independent: WATCHBLOG: Gov. Corbett's re-election speculation sensation
Philadelphia
AP: Some Pa. voter IDs were inaccessible, lawyer says
Inquirer: Pa. high court blocks closing state health centers
Inquirer: SEPTA budget maneuver to keep transit running
Daily News: City, Council at odds over fatal building collapse
Daily News: Philly's most bitter labor war? Signs
PhillyClout: Council Committee eyes administration communication prior to building collapse
SEPA
Phillyburbs: Township to take out $4.65M bond
Phillyburbs: Montco names new director of voter services
Phillyburbs: Montco to sell human services center
Daily Local: Jury to continue deliberations in murder trial
Daily Local: Coatesville Rotary Club selects president
Pittsburgh
CBS: Protesters Post Signs, Letter At Mayor's House
CBS: Pa.'s Stand Your Ground Law Different From Florida's
WTAE: Former Apollo police chief sentenced in gun theft
WPXI: Protesters hold 'speen-in' at City-County Building, take message to Ravenstahl's home
Tribune Review: Highmark forms alliance in bid to cut health costs
Tribune Review: Southmoreland to receive $16,697 in state budget allocations
Tribune Review: Pittsburgh controller optimistic city will end year with surplus
Tribune Review: Protesters leave signs outside Ravenstahl's home, hold 'sleep-in' at office
Tribune Review: Pennsylvania Supreme Court halts Corbett plan to close health centers
Tribune Review: More than 100 people urge City Council to require Pittsburgh police to live in city
Post Gazette: Trustee says Penn State has $60 million in tentative settlements
Post Gazette: Speakers at Pittsburgh City Council hearing voice concerns over police relations with black residents
Post Gazette: Patrols to increase around Mayor Ravenstahl's home
Post Gazette: State unemployment rate holds at 7.5 percent in June
Post Gazette: Deal reached to reduce college student loan rates
Southwest
Beaver County Times: Independence residents voice concerns over flooding, road issues
Beaver County Times: Natural gas manufacturer seeking building permits
Beaver County Times: Beaver hiring assistant borough manager
Observer-Reporter: Transit agencies looking toward consolidation
Observer-Reporter: Canton Township moves forward on park expansion
Altoona Mirror: Housing Authority settles discrimination lawsuit
Altoona Mirror: SAPD director to retire this year
Tribune-Democrat: Voter ID ado aided GOP, Gleason says
NEPA
Times Leader: Delay in employing caseworkers frustrates Luzerne County officials who favor new system
Times Leader: Feds plan to close mining office in Wilkes-Barre
Times Leader: Kane taps Scranton native for communications post
Times Leader: Lawmakers want block grants off the chopping block
Times-Tribune: Government recalculates Cordaro restitution
Times-Tribune: Lakeland pushes back start of school
South Central
Patriot-News: Pa. Lottery privatization costs don't cut profits, Revenue spokeswoman says
Patriot-News: Palmyra School Board shuffles administrators, leaves principal opening
Patriot-News: Pa.'s Sunday hunting ban unconstitutional, sportsmen's group claims in federal lawsuit
The Sentinel: Procter & Gamble project will bring nearly 1,000 new jobs to Shippensburg area
The Sentinel: Craighead Bridge closed until 2015 due to safety issues
Lehigh Valley
Express-Times: Northampton County Council approves $19.6 million bond for bridge project improvements
Express-Times: Forks Township $4.8 million public works building project delayed because of leaks
North by Northwest
Erie Times-News: Audit: Taxpayers lost in Millcreek-Otters agreement
Erie Times-News: Crews investigating water main break in Erie
Centre Daily: Penn State trustee Brown: $60 million approved for payments to Jerry Sandusky's victims
Centre Daily: Jerry Sandusky scandal costs nearing $47 million for Penn State
Centre Daily: Centre County municipalities seek federal aid after June storms
Opinions
Inquirer: Inquirer Editorial: Senate doesn't have to fear filibusters
Joe Sestak, Times Leader: Joe Sestak: Rural job retention, growth depend on Net access
Patriot-News: Northern York still has time to do the right thing with exchange student: Editorial
Blogs
Keystone Politics: Crime is Down in Philly
Keystone Politics: Shared Prosperity Plan for Philadelphia Poverty Punts on Lowering the Cost of Living
Keystone Politics: Local Transit and Land Use Reforms Would Have a Greater Impact Than LV Passenger Rail to NYC
Keystone Politics: What Do the Other Democrats Running for #PAGov Want to Do About Marijuana Laws?
Commonwealth Foundation: Drilling Moratorium Handcuffs Landowners, Stunts Economy
Commonwealth Foundation: Inaction on Pensions Leads to Downgrade for Pennsylvania