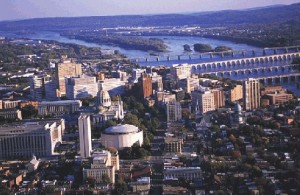 Lawmakers hit the road out of Harrisburg, finally, and House Republicans killed a provision to expand Medicaid. Good morning politicos, here's the Buzz.
DCCC Hits Fitzpatrick for Student Loan Rate Increase: The web ad features students explaining what effect doubling the student loan rate would have on their lives. But the real friction on the issue is within the Democratic party.
House Committee Kills Medicaid Expansion: House Republicans voted down the Senate's version of Medicaid expansion in the Rules Committee Monday in a bill that went on the pass the House. The debate over Medicaid expansion is effectively dead in the legislature
Stevens Confirmed to Pa. Supreme Court: After months of vacancy, all seven seats on the Pennsylvania Supreme Court will finally be filled.
Reader Poll: Budget Passed on Time, as Expected: PoliticsPA readers predicted – correctly – that the 2013-14 Pa. budget would be signed by Gov. Tom Corbett before July 1st.
Statewide
Philadelphia: War in the Supreme Court: Ron Castille and Seamus McCaffery Just Can't Get Along
AP: House GOP moves to kill Medicaid provision
State House Sound Bites: Medicaid expansion hangs in balance of remaining budget bills
PA Independent: UPDATED: Whose call? PA House committee blocks Medicaid expansion, wants Gov to decide
State Impact: Landowners Angered Over Bill Giving Drillers Power To Combine Leases
Capitolwire: Medicaid expansion provision won't become state law, Turzai says.
Philadelphia
Inquirer: Rescue plan for Phila. schools: Many ifs, but…
Inquirer: Williams H. Gray 3rd, pillar in Congress and city, dead at 71
Daily News: Guv's rescue package for schools funded largely through borrowing
City Paper: Corbett to Philly: Fix your own schools
PhillyNow: Gov. Corbett signs Pennsylvania budget. Here's what's in it.
PhillyNow: Medicaid expansion killed in House — now what?
CBS: Pennsylvania Legislature Divided Over Medicaid Expansion
CBS: Former U.S. Rep. Bill Gray Has Died at 71
CBS: As SEPTA Fare Hikes Take Effect, Transit Agency Looks Beyond Tokes
City Paper: Nutter suffers in H'burg: Cig tax tabled, AVI measures uncertain
NewsWorks: Germantown's 'City Hall' is officially closed to visitors but for how long?
NewsWorks: Plan to force Corbett to accept Medicaid expansion in Pa. falters
NewsWorks: With no new funds from Harrisburg, SEPTA sidetracked on budget
NewsWorks: Former Philly Congressman Bill Gray dies in London
NewsWorks: Nutter: Philly school funding still in flux
PhillyClout: Corbett's school funding package has some elected officials feeling disappointed
Commonwealth Confidential: Medicaid expansion teeters on the brink
SEPA
Daily Times: Marple Newtown's final budget calls for tax hike
Daily Local: What same sex marriage means in Pa.
Montgomery Media: Local representative to introduce bill to provide civil marriage equality
Montgomery Media: SEPTA fare increases take effect
Montgomery Media: Montgomery board honors successful students, teams
Pottstown Mercury: Chester County officials warn against home improvement fraud
Pittsburgh
Post-Gazette: UPMC, Highmark join to ask for dismissal of antitrust lawsuit
Post-Gazette: Pittsburgh councilman to push bill to combat blight
Post-Gazette: Construction to restrict inbound Route 28 traffic through Aug. 2
Post-Gazette: 150 years on, re-enactment of first shot fired at Battle of Gettysburg 'the place to be'
Tribune Review: State House approves bill to rework Port Authority board
Tribune Review: Pennsylvania Legislature's bill allowing easier pooling of gas well drilling leases draws criticism
Southwest
Altoona Mirror: AG sides with school board on raises
Altoona Mirror: Corbett signs off on latest budget
Altoona Mirror: Hospital becomes UPMC Altoona
Observer-Reporter: Corbett signs budget as larger agenda crumbles
Observer-Reporter: Mon River Industrial Park seeks manufacturers
Tribune-Democrat: Pols: Balance protection, privacy
NEPA
Times-Tribune: Corbett signs new state budget
Times-Tribune: Throop Cow Flop still a big event after 25 years
Times-Tribune: NLRB: Lackawanna College not breaking labor law
Times-Tribune: Local McDonalds to alter controversial pay practices
Times-Tribune: Senate confirms Stevens
Standard Speaker: After marriage decision, Pennsylvanians have new hope but not new rights
Standard Speaker: Crestwood approves 1% tax bump
Standard Speaker: Kanes gets $2.5M for mobile street crime unit
South Central
Carlisle Sentinel: House reps say budget is fair, responsible
Harrisburg Patriot News: Liquor reform in Pennsylvania: Consumers say get it done
Harrisburg Patriot News: Five things to ponder on liquor privatization's next act in Pennsylvania
Harrisburg Patriot News: For Pennsylvania's state workforce; it's generally a winner of a budget
York Daily Record: York County schools will see more money from state
Lebanon Daily News: Lebanon County reps: State budget 'functional'
Lebanon Daily News: Sen. Mike Folmer among Senate GOP to oppose Medicaid provision
Roxbury News: House Democratic Leaders Respond to Governor Corbett's Budget
Lehigh Valley
Morning Call: Bethlehem may get a shot at NIZ-like tax zone
Morning Call: Should common pleas judges have the power to toss jury convictions and acquit defendants?
Express-Times: Nazareth police chief's future uncertain as borough council rebuilds force
Express-Times: Coordinated Health expanding services in Bethlehem Township
North by Northwest
Centre Daily: Rep. Hanna seeks disaster declaration after Clinton County flooding
Centre Daily: Centre Area Transportation Authority further details 'aggressive' service expansion options
Sun Gazette: LEGISLATIVE TALLY
Capitolwire: Medicaid expansion provision won't become state law, Turzai says.
Opinions
Post-Gazette: Help for EMS: Higher fees are needed to keep the service strong
Tribune Review: Chilling questions: Don't bet on answers
Harrisburg Patriot News: With $28.4b budget, lawmakers and Corbett do the minimum expected: editorial
Blogs
PA Budget and Policy Center: House Derails Medicaid Expansion But Fight Goes On
Above Average Jane: Fitzpatrick, Gerlach, and Meehan Key on Immigration
Commonwealth Foundation: Disappointing Budget Shows Need to Keep Fighting
Lu-Lac Political Letter: Corbett's Three for Three