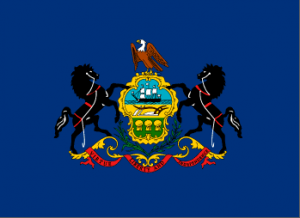 Another same-sex marriage fight in PA, a congressional challenger in NEPA and more. Good morning politicos, here's the Buzz.
Montco Will Issue Marriage Licenses to Same-Sex Couples: Another front has opened in the battle over same-sex marriage in Pa. Montco Register of Wills Bruce Hanes said Tuesday that he will issue marriage licenses to any couple that requests one.
Schuylkill County Coroner to Challenge Cartwright: Freshman Congressman Matt Cartwright has a new challenger in PA-17: Schuylkill County Coroner Dr. David Moylan.
Bumsted's 'Keystone Corruption' Coming Soon: There are so many examples of corruption in Pa. politics, they could fill a book. A book written by Pittsburgh Tribune-Review reporter Brad Bumsted.
Reader Poll: Which Democrat is Most Vulnerable to a Primary Challenge? Which of Pennsylvania's Democratic members of Congress is most vulnerable to a primary challenge next year?
Reader Poll: Schwartz Will Go Negative First: PoliticsPA readers think Rep. Allyson Schwartz will be the first Democratic Gov candidate to knock a primary opponent.
Statewide
Capitolwire: Republican lawmaker proposes using existing tax to fund transportation infrastructure needs
Capitolwire: OFF THE FLOOR: Speaker Smith told colleagues Fiscal Code mess arose from untrustworthy Senate
Philadelphia
Inquirer: Unions join in push for charter change
Inquirer: Three say getting voter ID was onerous
Inquirer: Forum looks at funding, needs of Pa. schools
Commonwealth Confidential: PA Democratic party chief says McCord bid is "an inevitability"
PhillyClout: ZBA votes against Ori Feibush' Point Breeze project
CapitolInq: Lott says he'd allow a House immigration vote
WHYY Newsworks: Voter ID trial focuses on available transportation to PennDOT centers
WHYY Newsworks: Troubling silence from Pa. on stores of ammonium nitrate
WHYY Newsworks: Pa. court showing support for more transparency at Penn State, others
Phillynow.com: Voter ID: How did we get here? Part IV
CBS Philly: Plaintiffs Call Last Witnesses In Voter-ID Trial
CBS Philly: National Urban League Conference In Philadelphia Adapts To Recent Events
SEPA
Delco Times: Public Schools Hearing Trust meets in full for first time
Delco Times: Upper Prov discusses widening of Route 252
Delco Times: SEPTA Regional rail ridership sees increase of 2.2 percent in 2012-13
Daily Local: E. Whiteland residents upset with office building sign plan
Montgomery Media: Montgomery Media executive editor named Montgomery County director of voter services
Pottstown Mercury: Monto official halts issuance of first-ever same-sex marriage license
Pittsburgh
Tribune Review: Some city contractors to be required to offer benefits to same-sex couples
Tribune Review: Pittsburgh voters to decide in November on police residency requirement
Tribune Review: Pittsburgh councilwoman introduces bill requiring baby-changing tables in city-owned restrooms
Tribune Review: Skyline-defiling signs targeted by council chief
Post-Gazette: Darlene Harris may enter Pittsburgh mayoral race
Post-Gazette: Burgess submits bill to help Pittsburgh police-community relations
Post-Gazette: Pittsburgh mayoral candidates take to tweeting
Early Returns: Anti-union group starts Pgh ads
Early Returns: Harris camp fundraising letter
Southwest
Beaver County Times: Economy Borough names new councilman to replace Trecha
Beaver County Times: Moon Area school board president urges residents not to worry about possible closures
Johnstown Tribune-Democrat: Welfare spending options: Counties get more leeway in how they use social service funds
Johnstown Tribune-Democrat: Education reform touted by candidate
NEPA
Times Tribune: South Abington supervisors say wastewater plant officials should find infiltration source
Times Tribune: Honesdale councilman Mike Slish resigns
Times Tribune: Court sets deadlines in Scranton union pension boost case
Times Tribune: Dunmore hires councilman to $7,500-a-month post
Standard Speaker: Mahanoy Twp. mulls quality of life ordinance
Pocono Record: Park Service seeks agent to buy land for Delaware Water Gap National Recreation Area
South Central
Carlisle Sentinel: East Pennsboro welcomes two new school board members
Patriot-News: Harrisburg Wild West artifacts auction: five takeaways
Patriot-News: Harrisburg declares Wild West auction a success, but take falls far short of payout
Patriot-News: Is warehouse industry's love for midstate too much of a good thing?
York Dispatch: Voucher program expands pick-up locations
York Dispatch: Rally in York City to promote legal use of marijuana
Lancaster Intelligencer: Pitts helps draft reform of Medicare pay
Lancaster Intelligencer: Elizabethtown Area School District axes policy on same-sex relationships
Lancaster Intelligencer: Lancaster County gun retailers weigh value of NRA-led show where firearms can't be sold
Lehigh Valley
Morning Call: Allentown picks City Center to develop Colonial Theater lot
Morning Call: Northampton County deputy charged in leak applies for ARD
Morning Call: Point/Counterpoint: Will a version of Allentown's NIZ help rebuild other Pa. cities?
Reading Eagle: Mayor wins first suit against city Charter Board
WFMZ: Abe Atiyeh's reps challenge legality of Allentown zoning law
Express Times: Easton City Council interviews two candidates for open seat
Express Times: Bethlehem redesigns water bills to make them more readable, save money
Express Times: OSHA to inspect Whitehall Township business following forklift accident
Express Times: Former William Allen High School principal quit over poor working relationship with superintendent
North by Northwest
Centre Daily Times: NCAA: Paterno lawsuit 'baseless,' should be dismissed
Centre Daily Times: Suspended Bellefonte principal tries to keep job through due-process hearing
Centre Daily Times: Former Centre County district attorney pleads guilty to selling marijuana
Centre Daily Times: County: Centre Crest should be converted to nonprofit facility by Nov. 1
Erie Times Campaign '13: Pundits: Corbett will run for re-election
Eric Times Campaign '13: Beeman nominating petitions rejected by Erie County Voter Registration Office
Opinions
Bucks Intelligencer: Blind Faith? (Slams Kevin Strouse)
Johnstown Tribune-Democrat: Rob McCord | Pa. 529 plan can dampen pain of tuition hikes
Observer-Reporter: Fall is coming, with increased college costs
Blogs
Keystone Politics: Upgrade SEPTA Regional Rail to Rapid Transit Standards
Keystone Politics: This is Your State on Republican Economic Policy: PA Ranked 45th in Job Creation in June
Jon Geeting: A Political Loophole in Allentown's Zoning Code
Jon Geeting: Upzone Broad-Hanover to Connect Bethlehem and Allentown
ACLU: Voter ID Trial Day 7: Real Voters, Real Barriers
Lehigh Valley Ramblings: Newsworks: Penn State Says Cities Safer than the 'Burbs -kevin
Lehigh Valley Ramblings: Pawlowski Really is a King
John Hanger's Facts of the Day: Stunning Fact: Gas Industry Has Paid $500 Million To Repair Roads in PA
Above Average Jane: Brandon Neuman Runs for Lt Gov