7/30 Morning Buzz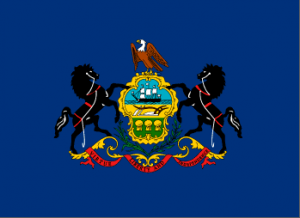 Pa. lost a statesman this week. The FEC gives Sestak an ultimatum. And a new wrinkle in the same sex marriage debate. Good morning politicos, here's the Buzz.
Former Governor William Scranton Dies at 96: Scranton was perhaps the most popular PA politician of the 1960's.
FEC to Sestak: Declare Candidacy, or Disavow: The Federal Election Commission says Joe Sestak has passed the threshold of exploring a run for Senate in 2016 and must declare himself a candidate – or disavow his bid.
Leach Loves Gays So Much He Marries Them: The state Senator and congressional candidate officiated a same-sex wedding Monday. He voiced his support for a renegade local official who has given the couple a marriage license despite Pa.'s ban.
Progressive Site Names Dems Who Deserve a Primary: PA Reps. Chaka Fattah and Mike Doyle both made the list of Democrats who vote too conservatively for their districts.
AFL-CIO Analysis: Voter ID Confusion Cut Turnout By 35,000: Confusion over a voter ID requirement kept at least 35,000 people from coming to the polls in November, an analysis by the Pa. AFL-CIO found. It impacted Democrats more than Republicans 2.5 to 1.
Statewide
State Impact: AP: Gas Industry's Troubles Stem From Arrogance
CapitolWire: OFF THE FLOOR: Why do Democrats want to bring on tax debate?
PA Independent: Toll ahead: Cost to use PA Turnpike goes up — again
PA Independent: WATCHBLOG: PA will allow state attorney's column about liquor laws
Philadelphia
Philly.com: Pa. Turnpike tolls to rise again
Inquirer: Former congressional aide gets house arrest in tax case
Inquirer: McQueary says Paterno warned him he would be made a 'scapegoat'
Big Tent: FEC asks Sestak to say whether he's running for Senate
The Notebook: Philly lags behind other cities in school funding
NewsWorks: Philadelphia City Controller sees good news from revenue numbers
NewsWorks: Pa. Turnpike Commission announces 2014 toll increase
NewsWorks: Pa. Turnpike will cost a little more for those who pay cash
NewsWorks: Legislators seeking to rewrite tax code visit Philadelphia
City Paper: 'Dump Russian Vodka' protest coming to Philly
PhillyNow: Protests continue at Horsham Air Guard Station
PhillyNow: Philly's only domestic-violence housing unveils expansion
CBS: Former Pa. Governor William Scranton Dies at 96
CBS: Star Witness Testifies at Hearing for Three Penn State Officials Snared in Sandusky Scandal
SEPA
Daily Local: McQueary: Paterno worried about being scapegoat
Montgomery Media: Norristown council vice president, long-time partner take out a marriage license
Pottstown Mercury: Local Korean War veteran travels to D.C. for armistice anniversary
Pottstown Mercury: Survey: Chester County residents upbeat but hate traffic, high taxes
Pittsburgh
Post-Gazette: U.S. Steel reports second-quarter loss
Post-Gazette: Audit: West Penn Allegheny Health System lost $84.75 million in fiscal year
Post-Gazette: Pennsylvania Turnpike tolls to rise in January
Post-Gazette: In the Northeast, only Pa. lacks law on discrimination by sexual orientation
Tribune-Review: Former Pittsburgh Public Schools police officer found guilty of molesting four boys
UrbanMediaToday: Black Law Enforcement Officers to Convene in Pittsburgh
UrbanMediaToday: Health Department Urges Getting Rid of Mosquito Breeding Sites
West Nile Virus and Aggressive Asian Tiger Mosquito Prompt Warning
UrbanMediaToday: Mayor Ravenstahl Expands Cool Roofs Program To Nonprofits
Southwest
Beaver County Times: Pa. lawmakers not giving up on Medicaid expansion
Beaver County Times: Head Start reveals six more county sites
NEPA
Times-Tribune: Scranton chamber names new president
News Item: Clausi warned about issues with City Hall
Standard Speaker: Cartwright: WIC funding cut could affect local families
Standard Speaker: Sen. Casey pushes to alter "Observation Status" model
Standard Speaker: Cuts hit federal public defender offices hard
South Central
Carlisle Sentinel: Turnpike to increase tolls for 2014
Harrisburg Patriot News: Ridge remembers 'renaissance man' Scranton
Harrisburg Patriot News: Gov. Tom Corbett remembers Scranton as a "man of humility, honesty, dignity and integrity"
Harrisburg Patriot News: Casey extols 'extraordinary' public and private Scranton
Harrisburg Patriot News: Harrisburg settles on start date for debt hearings
York Daily Record: York County figures remember former Pa. Gov. William Scranton Jr.
Lancaster Intelligencer/Era: Unopposed, but still on trail: Council candidates coming to home near you
Lehigh Valley
Pennsylvania Ave: Casey outlines specific tax reform goals
Reading Eagle: State school subsidy for Reading district tells only a partial story
North by Northwest
Onward State: Mike McQueary Begins Testimony in Curley/Schultz/Spanier Preliminary Hearing
Onward State: Former Police Chief Harmon Concludes Morning Testimony
Onward State: Schultz Told Assistant To Never Look At 'Sandusky, Jerry' File
Onward State: Schultz Assistant Testifies About Delivering Confidential Sandusky File
Opinions
Post-Gazette: Token reform: The House wine shipment bill is little progress
Times-Tribune: Area scores on upward mobility but then, what?
Harrisburg Patriot News: Pa. beer distributors help the state's economy: As I See It
Daily News: DOWN BY LAW: Big-time crime has dropped remarkably in Philly. Thank smart policing.
Blogs
Keystone Politics: Hanger wins Keystone Politics Facebook poll; Schwartz and McGinty take 2nd and 3rd
Keystone Politics: Analysis: PA Has the 4th Most Hotels with Labor Law Violations of all 50 States
Keystone Politics: Matt Cartwright is the Most Valuable Democrat in PA
Keystone Politics: What Detroit Means to Pennsylvania
Above Average Jane: Kevin Strouse's College Newspaper Column
Lehigh Valley Ramblings: Luzerne Co DA May Sue For More Staff
Lehigh Valley Ramblings: The Lehigh County Bagmen
John Hanger's Facts of The Day: Sun Power: Utilities Notice Solar Is Destroying Their Distribution/Grid Monopoly