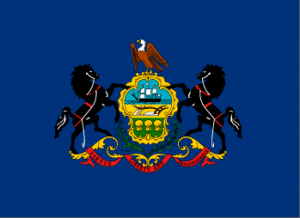 Trump makes PA a battleground, Toomey resists talking to or about his party's nominee while revealing his second quarter fundraising haul. Good morning politicos, here's the Playbook!
Trump Puts Pennsylvania on Battleground State List: The Trump campaign will target PA and 16 other states for the general election.
PA-Sen: McGinty to Kenney: Change Philly's Sanctuary City Policy: The Democratic Senate candidate "respectfully urged" the Philly Mayor to open a dialogue between local and federal law enforcement officials.
Shapiro Picks Up GOP Endorsement: Jim Martin, a Republican DA from Lehigh County, is backing the Democratic nominee for Attorney General.
PA-Sen: Toomey Attends Meeting with Trump: The Senator was among several dozen GOP lawmakers who attended the gathering with the presumptive presidential nominee.
PA-Sen: Q2: Toomey Announces $3.1 Million Haul: The incumbent did not reveal his cash on hand total.
AFL-CIO Targets PA With Pro-Clinton Direct Mail Piece: America's largest labor union is sending out fliers in support of Hillary Clinton.
Statewide
Capitolwire: Gov. Wolf signs seven bills into law
PLS Reporter: As spending plan turns a week old, differences remain on supporting revenue plan
PLS Reporter: Budget loop remains open
PLS Reporter: Pittsburgh City Council poised to address issue of affordable housing in the city
PLS Reporter: DePasquale discusses DMVA issues
StateImpactPA: EPA raises concerns about Atlantic Sunrise pipeline
PA Independent: Philly schools hire hundreds of teachers, union not impressed
State House Sound Bites: No easy answers as second budget deadline approaches
State Impact Sound Bites: PA Senate race spotlight falls, temporarily, on sanctuary cities  
Philadelphia
Philadelphia Business Journal: Secret Service announces DNC road closures
Philadelphia Business Journal: DNC Host Committee pinning sales on donkey, not candidates
KYW Newsradio: Hillary Clinton Expected To Address Recent Shootings At African Methodist Episcopal Conference On Friday
KYW Newsradio: Mayor Kenney Shares The Importance Of Knowledge With Young Students In Germantown
KYW Newsradio: Protests Take Place In Philadelphia After Sterling And Castile Deaths
Inquirer: City seeks vendors to continue tax lien sales
Inquirer: Pa court: GOP right to challenge ballot question on judges' retirement age
Inquirer: 2017 NFL draft will be in Philly, says U.S. Rep. Bob Brady
SEPA
Pottstown Mercury: Pottstown council president refutes payroll comments
Bucks County Courier Times: Congressmen want to see feds pay for health screenings stemming from contamination
Bucks County Courier Times: Congress passes passes mental health reform
Pittsburgh
WTAE: Allegheny County hires election officials with criminal records, investigation finds
KDKA: Wolf To Sign Bill Requiring Insurance Parity For Chemo Pills
WESA: Toomey's Anti-Sanctuary City Bill Shot Down In Wake Of Partisan Election
Pittsburgh Business Times: Rivers Casino sues state over local share tax
Post-Gazette: Toomey among Washington Republicans to meet with Trump
Tribune-Review: Murphy's mental health bill approved by House
Tribune-Review: Democrats squelch Toomey's 'sanctuary city' legislation
Southwest
Tribune-Democrat: Councilman says sale of conference center should be an option
Tribune-Democrat: Grant helps richland township firm partner with cambria county universities
Altoona Mirror: Snyder Twp. hikes privilege tax
Altoona Mirror: Citizenship marks a 'turning point'
Observer Reporter: Judge: Cosby's accuser doesn't have to testify before trial
Beaver County Times: Medical marijuana applications available
Beaver County Times: U.S. Rep. Tim Murphy sees his mental health legislation pass in House
NEPA
Wayne Independent: Drug & Alcohol supports task force
Citizens' Voice: W-B officials discard plan to privatize ambulance service
Times Tribune: Jermyn introduces penalties, including jail time, for proposed curfew ordinance
Times Leader: Legislators expect ignition interlocks to significantly reduce DUI offenses
Times Leader: Clinton's speech in Scranton expected to focus on Pennsylvania jobs
South Central
Lebanon Daily News: EPA: Vet other routes for Atlantic Sunrise pipeline
Lebanon Daily News: County to send letter on Sunoco pipeline to DEP
Lancaster Era: Uber pickups at Harrisburg International Airport now allowed under new agreement
Lancaster Era: Manheim Township school board to interview 7 for open seat; Candidates' names withheld
York Dispatch: Newberry board chairman, residents at odds over warehouses
Patriot Times: Dauphin County taking steps to counter opioid abuse
Lehigh Valley
Express Times: Valley site invoked in '12 presidential race gets revival plan boost
WFMZ: Wehr's Dam could cost South Whitehall taxpayers at least $600K
WFMZ: Easton Planning Commission looks to eliminate 'hoops' startups must jump through
Reading Eagle: Welcome surprise: Berks County has nearly $3 million to use for transportation projects
North by Northwest
Erie Times: Erie veterans' home fares well in audit
Erie Times: Grants to improve green space in Erie County
Erie Times: Erie City Council OKs comprehensive plan
Opinion
Lebanon Daily News: Reforms through the courts
Reading Eagle: City summer lunch program keeps kids fueled for fun
Erie Times: Peak's golf event puts Erie region on national stage
Post-Gazette: Clinton's complicity: The FBI rebuke over insecure email is deserved
Bucks County Courier Times: Where will new revenue come from?
Inquirer: Airport workers won't rule out strike out during DNC
Patriot News: Coming Friday on PennLive Opinion: Is Pa. a 2016 presidential player?
Blogs
Lehigh Valley Ramblings: NorCo Poised to Increase Vehicle Registration Fees $5
Above Average Jane: Call for LGBT Non-Discrimination Bill
Keystone State Education Coalition: Balance PA budget or we'll boost your borrowing costs
Keystone Crossroads: Toomey's 'sanctuary city' crackdown falls short in U.S. Senate vote
Citified: Catholic League Head: Mayor Kenney Is "Un-American"