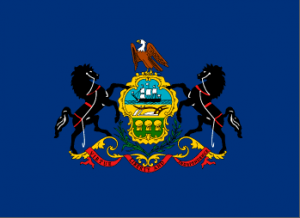 The DCCC launches new websites and Google search ads against Fitzpatrick and Meehan, Jess King jumps in the race in the 16th, and our new reader poll asks if you support a bill suspending legislators' pay during a budget stalemate.  Good morning politicos, here's the Playbook!
DCCC Launches Google Ads and Websites Against Fitzpatrick and Meehan: The DCCC is launching Google search ads directing to individualized websites against Congressmen Brian Fitzpatrick and Pat Meehan as part of a national push against targeted Republicans.
Lancaster Native Enters Race to Challenge Smucker: Lancaster native Jess King jumped into the race to challenge Congressman Lloyd Smucker next year.
Reader Poll: Do You Support a Bill Suspending Legislators' Pay During a Budget Stalemate?: With the current budget stalemate ongoing, we want to know if you think there should be a bill suspending the Legislature's pay during a stalemate.
Statewide
State House Sound Bites: Three Arapaho boys who died at Carlisle Indian School will soon return home
StateImpact: Judge approves deal to step up protection during Sunoco pipeline construction
City and State: Game, Fish and Boat Commissions await authority to set licensing fees
PLS Reporter: House lawmakers put SRBC oversight in fall agenda's crosshairs
Capitolwire: New state tax credits hanging on revenue package
Philadelphia
Inquirer: Waiting on tax appeal? First, the BRT has to take a vacation
Inquirer: AP Fact Check: Trump's unjustified boast about US nuke power
Inquirer: As Pa. looks to fill budget gap, your utility bills could rise
Inquirer: Pa. legislators eye $200M from nonprofit malpractice insurer
Inquirer: Court reinstates damage case against ex-AG Kathleen Kane
Inquirer: A push to end the SRC – but is Kenney on board?
Inquirer: Pennsylvania gaming board gives the OK – again – to a proposed South Philadelphia casino
Inquirer: Pa. Supreme Court sides with SRC in charter school case
WHYY Newsworks: Driller files $5M suit against Pa. resident, lawyers
WHYY Newsworks: Group urging end to SRC control of Philly schools
KYW Newsradio: A Nuclear Attack. The Liberty Bell? Evacuated. You? No such luck.
Philly Voice: Democrats launch new group aimed at Republican strongholds
Philly Magazine: Lyft Lands Amtrak Deal, Philly Taxis Feel Shut Out
SEPA
Pottstown Mercury: Activists chide Rep. Costello for clean air vote
Bucks County Courier Times: New Pennsylvania law helping home sales close more quickly
Bucks Local News: Senators push school choice plan to get students out of poor performing schools
Daily Local News: Pipeline protestors, state and Sunoco strike safe drilling deal
Pittsburgh
WESA: Some Towns Losing Money Over Legislative Inaction On Casino Fees
WESA: Lawmakers Advocate For Flexibility In Public School Funding
Post-Gazette: Pennsylvania lawmakers want you to help pay for $2 billion budget gap
Post-Gazette: Pennsylvania House Speaker Mike Turzai is taking heat for the budget stalemate
Post-Gazette: Shaler school board to vote on name for new school next week
Pittsburgh Business Times: Exclusive: Why business bankruptcies are up sharply in Pittsburgh
Tribune Review: Parents visit Turzai, free financial ed and more vaccination news: 5 things to know today
KDKA: Ex-Worker Sues Allegheny Co. Retirement System Over Disability Standards
Southwest
Altoona Mirror: Groups push back against energy tax legislation
Altoona Mirror: City could exit Act 47 within 10 days
Altoona Mirror: Pipeline drilling to resume with more oversight
Johnstown Tribune-Democrat: Driller files $5M suit against 'Gasland' resident, lawyers
Beaver County Times: Local efforts to combat opioid epidemic continue despite Trump's refusal to declare emergency
NEPA
Times-Tribune: Voters challenge third-party mayoral candidates' ballot status
Times Leader: DEP chronicles story of Susquehanna River on new interactive website
Times Leader: Residents, county council discuss Luzerne County female inmate deaths
Standard-Speaker: Luzerne eyes debt refinancing
South Central
Patriot News: Pa. attorney general, 32 others, settle with Nationwide over 2012 data breach
Patriot News: Fate of West Creek Hills Elementary unclear as committee mulls options
Patriot News: East Pennsboro superintendent leaving for another post
Patriot News: Sunoco agrees to state review on 'high-risk' sites for pipeline
Patriot News: Second Philadelphia casino clears licensing hurdle; further appeals still could follow
LNP: Staking of Atlantic Sunrise pipeline route to begin Monday in Lancaster County
LNP: Rep. Sturla's annual Back to School Giveaway available to city students this weekend
LNP: Lancaster to get $1.4M state grant — eventually — for traffic signal controller upgrades
LNP: State government committee will hold meeting in Lancaster city to talk blight
Lehigh Valley
Morning Call: Prosecutors signal long road to trial in Allentown pay-to-play case
Morning Call: Lehigh County commissioners prepared to select Cedarbrook's fate
Morning Call: Court: charter schools cannot unilaterally change contracts with school districts
Morning Call: Lower Nazareth Township manager to retire
Reading Eagle: Looking at Pennsylvania's 153,661 regulations
Reading Eagle: Mariner East settlement allows drilling to resume
North by Northwest
Centre Daily Times: Prothonotary's actions are the focus of whistleblower suit filed against Clearfield County
Centre Daily Times: SCASD could implement new online learning management system
Erie Times-News: Union, GE to bargain over layoff plan
Erie Times-News: Governor's visit highlights growth, challenges for Erie
Opinion
Post-Gazette: The toxic bargain our state lawmakers have struck
Observer-Reporter: LETTER No state budget, no paychecks
Reading Eagle: Editorial: It is (past) time to make ends meet in Pennsylvania
Reading Eagle: Column: Protecting Pa. from a significant federal encroachment
Daily News: Oh, you silly Pa. pols
Daily News: Harrisburg 'bipartisanship' hurts residents in Pennsylvania
Inquirer: Close bad Philly charter school; it isn't fit to educate city's children
Inquirer: Independents' movement hits Philly, walking in footsteps of the Founders
Inquirer: Penn Station project shows Amtrak's efficiency, and need for infrastructure investment
Inquirer: Uber, Lyft may provide avenue for city to replace Parking Authority
Inquirer: Keep nuclear in the nation's energy mix
WHYY Newsworks: Sometimes winning means being smart enough to work together
WHYY Newsworks: What Ben Franklin would've said about Mike Pence
York Daily Record: We have an alternative to Pa. tax hikes (column)
Bucks County Courier Times: Another View: Why tax reform is so difficult
Patriot News: Don't let war of words escalate into the real thing: Editorial
Patriot News: PLCB's price increase and how the General Assembly can improve Pa.'s liquor system: Opinion
LNP: The use of eminent domain, while legal, seems eminently unfair in pipeline cases