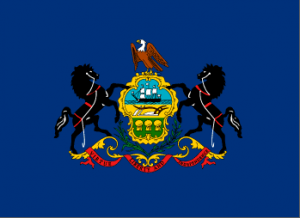 Pa. Dems push GOP candidates on Charlottesville, some Republicans say they are exploiting a tragedy, and Chrissy Houlahan continues to solidify national Democratic support.  Good morning politicos, here's the Playbook!
Pa. Dems Push GOP Candidates to Say More on Charlottesville: The party urged opponents to denounce white supremacy, and later President Trump. Some Republicans are accusing Democrats of exploiting a tragedy.
Chrissy Houlahan Endorsed By End Citizens United: End Citizens United endorsed Chrissy Houlahan for her pledge to reform the campaign finance system and get Big Money out of politics.
Statewide
State House Sound Bites: As economy changes, lawmakers look to make sure Pa. jobs keep up
State House Sound Bites: State treasury may stop loaning money to struggling general fund
StateImpact: PennEast foes say company is making false statements in bid for public support
StateImpact: PA environmental regulators to consider health limits for PFOA
Philadelphia
Philly Voice: Pennsylvania lawmaker wants to ban guns at public demonstrations
Philadelphia Magazine: More Than 18,000 People Have Signed a Petition to Keep the Rizzo Statue
Inquirer: Pennsylvania lawmaker waives hearing in drunken-driving case
Inquirer: After rejecting one deal, Philly principals have a tentative contract
Philadelphia Business Journal: After merger, local company plans new $10M HQ in West Philadelphia
Philadelphia Business Journal: SEPTA debuts new mobile app allowing riders to text tips to transit police
SEPA
Bucks Local News: Bucks County Commissioners take steps to address prison space issues; approve Silver Lake Park land acquisition
Bucks Local News: Bill Tracker: Increasing penalties for the "knockout game"
Bucks Local News: Leach pushes state Senate to condemn white supremacists, violence
Bucks County Courier Times: Fitzpatrick, Boyle speak out against Trump on social media
Bucks County Courier Times: Bristol Township School District makes several administrative appointments
Pottstown Mercury: Montgomery County commissioners differ on reaction to Charlottesville and other matters
Pittsburgh
Tribune Review: Trump attorney jumps into racial fray
Tribune Review: University of Florida says no to white nationalist event
Post-Gazette: Activists expect hundreds for Pittsburgh demonstration against hate
Post-Gazette: State names Teresa Miller acting secretary for Human Services
Post-Gazette: W. Pa. members of Congress react to Trump remarks
Pittsburgh Business Journal: How the new DOL rules will impact your small-business retirement plan
WESA: Wolf Taps Insurance Commissioner To Lead New Proposed Combined Health Agency
KDKA: Rep. Doyle on N. Korea: 'Never Thought I Would Find Myself In Agreement With Steve Bannon
KDKA: Trump Calls Removal Of Confederate Statues 'Sad' & 'Foolish'
WTAE: Confederate monuments to stay at Gettysburg
Southwest
Beaver County Times: Shapiro joins letter seeking change in law to prosecute online sex traffickers
Observer-Reporter: Wolf praises innovative traffic pattern
Altoona Mirror: Confederate monuments removed overnight in Baltimore
Johnstown Tribune-Democrat: 'We need to start it in Johnstown': Rally-goers stand in solidarity against racism, violence
NEPA
Pocono Record: Council OKs hiring of attorney to push for mayor's ouster
Pocono Record: State Rep. John Maher waives hearing on DUI charges
Times-Tribune: Lackawanna County commissioners approve reassessment ballot question
Times-Tribune: Wolf's insurance chief to take over at human services agency
Citizens Voice: Larksville mayor doesn't want DUI patrols
Citizens Voice: Councilman faces harassment charges
South Central
Patriot News: Gov. Tom Wolf announces change at state Department of Human Services
Patriot News: Rep. Costello holds quiet town hall meeting, small rally held outside of venue
Patriot News: Highmark reports record financial gain
Patriot News: Ruling says public officials' Facebook pages are public record in Pa.
Patriot News: Allegheny County State Rep. John Maher waives hearing on suspected drunken driving charge
LNP: Leader of Lancaster County's Republican party said President Trump was correct when he blamed 'both sides'
LNP: UPMC seeks $750M in tax-exempt bonds for uses including planned affiliation in Lancaster County
LNP: 4 candidates emerge for GOP nomination to replace former Lancaster Sheriff Mark Reese
Lehigh Valley
The Morning Call: Pennsylvania lawmakers want stolen money repaid to non-human 'victims'
The Morning Call: Lehigh President receives petition to rescind Trump's honorary degree
Reading Eagle: Under fire – from GOP – Trump digs in on Confederate icons
Reading Eagle: PennDOT may release data on Real ID costs
WFMZ: Lehigh Valley businesses react to NAFTA negotiations
Express Times: Confederate monuments to stay at Gettysburg battlefield
North by Northwest
Centre Daily Times: Centre County educators react to new state plan to limit standardized test time in 2018
Erie Times-News: Councilman wants public meeting on code sweeps
Opinion
Inquirer: Jane Golden: Now is the time for a public conversation about the Rizzo mural
Inquirer: That Rizzo statue is history! (No, seriously…put it in a museum)
Inquirer: As Pa. considers anti-abortion bill, Casey's pro-life credentials come under scrutiny
Inquirer: Two Philly teachers: If we are overpaid and underworked, why is there a teacher shortage? | Opinion\
Daily News: In the streets of Philadelphia, Trump creates a time for choosing
Delco Daily Times: The Heron's Nest: Echoes of Charlottesville in Delco; keep the conversation going
Citizens Voice: Lawmakers failed to reform pension plans
Pocono Record: My Turn: Our students deserve fairly funded schools
Tribune Review: Pa.'s M.I.A. budget: Any day now?
Tribune Review: Hazards in student-loan forgiveness
Tribune Review: Not the America I know
The Morning Call: Democrats should study GOP path before making health care promises
Express Times: Is Trump right about 'many sides' to blame?
Bucks County Courier Times: Helping municipalities get justice
Post-Gazette: Digging in: The combative president hurts his own cause
Patriot News: Given the choice to confront hate, Donald Trump folded: Editorial