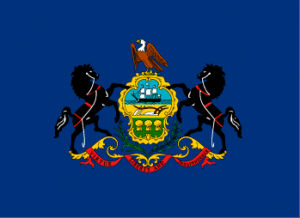 Reactions to Kane's resignation, Trump to launch first PA TV ads and Paul Ryan is coming to campaign in the commonwealth. Good morning politicos, here's the Playbook!
Reactions to Kathleen Kane's Resignation: Elected officials and candidates respond to the AG's decision to step down.
Philly NOW: Williams Should Prosecute Alleged Sexual Assault: The DA's office had announced it would not pursue charges over the alleged incident.
Trump to Launch First TV Ads in PA: The commercials will hit the airwaves on Friday.
PA-8: Paul Ryan to Campaign for Fitzpatrick: The Speaker of the House is coming to the 8th Congressional District.
PA-Sen: Toomey Turns Against TPP: Senator Toomey denounces the trade deal in a new op-ed.
Clinton Holds Rally And Voter Registration Event In Philly: Hillary Clinton is back campaigning in Philadelphia, asking voters to register and supporters to volunteer.
Statewide
PLS Reporter: Women in Pennsylvania Government: Rep. Mary Jo Daley (D-Montgomery)
PLS Reporter: Pittsburgh Profiles: Meet Pittsburgh City Controller Michael Lamb
State House Sound Bites: AG's office looks to move past Kane
State House Sound Bites: Bill aims to curtail PA gerrymandering
StateImpactPA: Air pollutants from Pa. oil and gas sites continue to rise
Philadelphia
Inquirer: Gifts to Seth Williams create conflicts for DA
Inquirer: Will highway project bring prosperity for Norristown?
WHYY Newsworks: Injury-causing 'pole stumps' represent costly stumbling block for Philadelphia
WHYY Newsworks: Activists push Philly police for hearings on body-camera policy
KYW Newsradio: The Death Of Jewelers' Row? Residents React To City's Approval Of Luxury Apartments
KYW Newsradio: Delco School District Under Fire Following Upper Darby Superintendent's Departure
Business Journal: PHL Airport buying 20 acres
Business Journal: New business improvement district proposed for South 9th Street
SEPA
Pottstown Mercury: Limerick explores sale of sewage facilities to fund $22M in capital projects
Bucks County Courier Times: Interim principal appointed to Neshaminy's new Tawanka Elementary School
Montgomery Media: Local connection helps US field hockey team make history
Bucks Local News: Newsweek ranks nine public high schools in Bucks and Montgomery counties among Top 500 in U.S.
Pittsburgh
Tribune Review: Trump to begin buying ads in swing states
Tribune Review: Pa.'s new attorney general declined to charge Bill Cosby in 2005
Post-Gazette: Pennsylvania's Senate race is most expensive in U.S.
Post-Gazette: Governor likely to appoint acting AG after Kane resigns
Pittsburgh Business Journals: Independent bar, restaurant owners upset over new liquor license fees
Pittsburgh Business Journals: 5 things to know about Trump's new campaign manager
WESA: AG's Office Looks To Move Past Kane
WESA: Toomey, In Fight For Political Life, Abandons TPP Trade Deal        
Southwest
Beaver County Times: Ambridge Area school board cuts Performing Arts Academy
Altoona Mirror: Ag Progress under way
Johnstown Tribune-Democrat: AG's office will not appeal order granting new trial for convicted murderer
Johnstown Tribune-Democrat: Trump turns to conservative flame-thrower as campaign CEO    
NEPA
Times Leader: Federal court filing challenges reactivation of Avoca environmental lawsuit
Times Leader: 'Hillary for Pennsylvania' opens 10 new coordinated offices across state
Times Leader: Wilkes-Barre's budget balance shrinks in July
Times-Tribune: Kane faces probation to years in prison
Times-Tribune: Aetna quits Pennsylvania Obamacare  
South Central
Patriot News: Lou Barletta went to national security meeting with Trump: Here's what happened
Patriot News: York County Democrats recommend candidate for open 95th state House District seat
Patriot News: Does Kathleen Kane's exit change the race to succeed her in the Pennsylvania Attorney General's office?
Lancaster Intelligencer: New Pennsylvania AG was prosecutor who didn't charge Cosby
Lehigh Valley
Morning Call: Proposed lost/stolen gun law tabled indefinitely by Allentown Council
Morning Call: Castor takes attorney general oath; Kane: 'I have no regrets'
Morning Call: Pat Toomey announces opposition to TPP trade deal
Morning Call: Kathleen Kane says last day as attorney general is bittersweet
Express Times: Group sues over cross in Lehigh County seal, flag
Express Times: City council is excited about this West Bethlehem project
Express Times: What's new Pa. attorney general's College Hill connection?
North by Northwest
Erie Times-News: Citizens address Erie City Council again about police conduct
Williamsport Sun Gazette: Council committee questions deputy chief position, learns that Foresman out 3 weeks for health reason
Williamsport Sun Gazette: Residents express concern about waste-to-energy business proposal
Williamsport Sun Gazette: Mayor issues statement about domestic issues
Opinion
Inquirer: Who needs a DA that's a hypocrite?
Daily News: Kane's gone, but other scandals are on the horizon
Morning Call: Kathleen Kane joins long list of convicted Pa. politicians
Patriot News: Stating on Megan's Law registry for life not appropriate for all sex offenders
Post-Gazette: The Kane shame: The state AG's crimes deserve serious punishment
Post-Gazette: Palestinians at the polls: A round of local elections could build credibility
Post-Gazette: Vile history: The memorial to lynching victims is necessary
Blogs
Lehigh Valley Ramblings: Bethlehem Officials Take Reservoir Break-In Seriously
Commonwealth Foundation: Understanding Your School District's Labor Contract
Keystone State Education Coalition: Can Policymakers Fix What Ails Online Charter Schools?
Keystone Crossroads: For states, there may be good reason to stop cities from going bankrupt
Citified: This Portrait of Seth Williams Is a Superb Symbol of Philly's Self-Important Pols