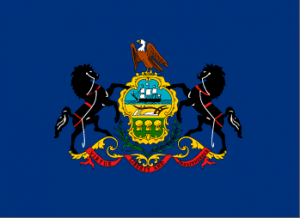 Beemer makes new hires, Trump Jr. is in hot water and Clinton is set to visit Philly once again. Good morning politicos, here's the Playbook!
Beemer Announces New Hires in AG Office: Two attorneys are getting promotions.
Trump Jr. Makes Holocaust Comparison in Philly Radio Interview (AUDIO): The GOP nominee's son was speaking to Chris Stigall on 1210 WPHT.
Breakdown of Congressional Vote on Guantanamo Bay Prison: See where Pennsylvania's representatives came down on Gitmo.
Clinton to Campaign in Philly on Monday: The Democratic nominee is coming back to the City of Brotherly Love.
Fattah Received $29,000 in Campaign Contributions from Lobbyists After Indictment: Not even a trial could stop the flow of cash.
Statewide
Capitolwire: Quinnipiac's new national presidential poll shows tightening – potentially a toss up – contest
State House Sound Bites: FEMA gives Harrisburg $1.6 million or sinkhole work
State House Sound Bites: Two different school districts, two different policies for transgender students
State House Sound Bites: Canonsburg Volunteer Center's opening gives Trump Jr. a chance to campaign in PA
State House Sound Bites: Lancaster school district wants to limit refugee enrollment order
PLS Reporter: Municipal pension reform likely to hold until next session
PLS Reporter: Pittsburgh Councilwoman wants to see development slow down in the strip district
StateImpactPA: DEP gives Sunoco long to-do list on Mariner East 2 pipeline plan
City and State: Bills to expand, regulate tax-free zones speed through City Council
Philadelphia
Inquirer: Pa. approves beer sales for Delco Wawa
Inquirer: U.S. House races in Pa. highlight lack of women candidates
Inquirer: Taxpayers to pick up tab for DA's lawyer in connection with federal probe
Inquirer: Pa. touts improvements to child-abuse hotline
Daily News: SRC delays vote on closing charters
WHYY Newsworks: Philly archbishop lambastes presidential candidates, Biden in Notre Dame speech
WHYY Newsworks: With second big ad buy, Bucks congressional race heads into home-stretch spending spree
SEPA
Bucks County Courier-Times: Council Rock South senior shares the crazy life of a teen political organizer
Bucks County Courier-Times: Horsham calls on military to pay for water costs
Bucks County Courier-Times: Bristol Township hires five new cops
Pottstown Mercury: Phoenixville official moved out of ward he represents
Pottstown Mercury: Montgomery County commissioners pass $5 vehicle registration fee
Pittsburgh
Post-Gazette: Rosemary Brown defends restrictions on opioids
Post-Gazette: Nuclear secrets: The ex-Westinghouse employee accused of helping a foreign power
Post-Gazette: Hodgepodge of self-driving vehicle laws raises safety concerns
Post-Gazette: Forget stuffing the ballot box – new concern is hacking voting machines
Tribune-Review: Companies aid recovery effort from flooding in Connellsville, Bullskin
WTAE: Trump claims Obama was born in the United States
Southwest
Beaver County Times: Human Services secretary notes improved operations of child-abuse hotline
Beaver County Times: Casey calls on Republicans to address Zika virus funding, gun violence before recess
Tribune-Democrat: Clinton back on the campaign trail after release of health information
NEPA
Times Leader: Wolf's administration delivers promise
Times-Tribune: Trumps signed improper check to charity that supported Florida Attorney General Pam Bondi
Citizens Voice: Pence show might in Dunmore, PA
South Central
Patriot-News: York resident will receive White House honors for his work with refugees
Patriot-News: Billy Graham's son says neither Republicans nor Democrats will be able to restore America  
Carlisle Sentinel: Carlisle debates non-discrimination ordinance
York Daily Record: Governor Wolf gives nonunion workers the largest raise they've received in decades
York Dispatch: York County female representatives don't want to see Clinton become president
Lebanon Daily News: Lebanon County voter registration has been increasing since April  
Lehigh Valley
Capitol Ideas: Clinton will focus on millennials during her visit to Philadelphia
Morning Call: Trump supporting birth control without a prescription
Morning Call: Clinton regrets Iraq War vote
Reading Eagle: Berks County considering installing a public fee for local bridge repair  
North by Northwest
Centre Daily Times: Trump signed improper charity check for Florida AG
Williamsport Sun Gazette: White House aims to take in 110,000 refugees
Erie Times-News: Braddock Mayor protests Senator Pat Toomey  
Erie Times-News: Sinnott backing away from Erie City Hall hiring dispute  
Opinion
Patriot-News: Philly senator wants Muslim professor's tenure revoked over alleged hate speech
Patriot-News: 50 years later, the things The Beatles still say to us today
Tribune Review: Congress continues to avoid any accountability
Post-Gazette: Gaming the system: Another breach shows need for state ethics reform
Post-Gazette: The Malheur misfits: The anti-government group will get justice
Inquirer: Time is ticking to fix a ballot question that would raise the retirement age for Pennsylvania judges
Daily News: Stakes are high for Clinton in Philadelphia this election
Blogs
Keystone Crossroads: Philadelphia is trying to make its buying faster and cheaper
Commonwealth Foundation: Teachers' Union Deceives on Dues Donation
Commonwealth Foundation: Teacher Shortages Haunt Philly Students
2 Political Junkies: Fact-Checking Donald Trump Jr (In THE TRIB!) – UPDATED!