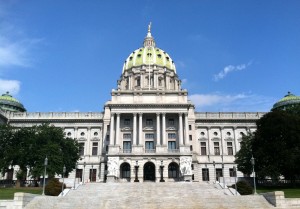 Good morning politicos, here's the buzz. Tons of Pa. polls this morning, a Tea Party group threatens judges over voter ID, and new TV ads hit the air – including a doozy against Kathleen Kane.
And don't forget to check back later for the Ups & Downs.
PAGOP Poll: Prez, Senate Races Within the Margin of Error: If a pollster took a poll of Pennsylvania polls, he or she might conclude that today's from Susquehanna Polling and Research is an outlier. Commissioned by the Pa. Republican Party, the survey shows both the presidential and the U.S. Senate races within the margin of error.
We Ask America Poll: Obama 48, Romney 42: We Ask America released a poll today showing the President 6 points ahead of his Republican challenger Mitt Romney in the Keystone State, with each candidate leading within their respective parties and Independents favoring the former Governor.
Tea Party Group: No Voter ID in 2012, No Retention in 2013: Races for judicial retention typically are among the most boring in the world. But one conservative group says it will contest Republican judges of the Pa. Supreme Court should they decide (eventually) to block the state's new Voter ID law.
Updated with Video: National GOP Group to Target Kane on Philly TV: A national group aimed at electing Republican state officials will unleash an attack ad against Kathleen Kane starting Thursday, two media-buying sources tell PoliticsPA. Updated with the ad.
PAGOP, Romney Camp Mailers Land in Pa.: They may not be on TV, but Republicans are spending money on voter contact in Pa. We've got copies of the latest mail pieces from the Romney campaign and the PAGOP.
Dent TV Ad Goes Negative Because, Why Not? (Watch Video): Republican Congressman Charlie Dent is on TV for the first time in 2012, and half of his introductory spot blasts his low-profile opponent Rick Daugherty.
Philly Protesters Drown Out A Calm Tom Corbett: Voters wanted to talk to Gov. Tom Corbett about education, Voter ID and Marcellus Shale drilling. But Wednesday, several town hall meeting attendees didn't ask questions. They yelled, loudly and for so long they forced an early end to the event.
PA is Keystone to Dem Hopes at U.S. House: Democrats need to pick up at least 25 seats to win a majority in the U.S. House, and they won't get there without a strong showing in Pennsylvania. So far, their chances here are shaky.
PA Senate Race Overtaken by… New Jersey: After months at number 18 in the National Journal's rankings of the most competitive U.S. Senate races in the country, Pennsylvania has dropped a spot. Overtaking the Tom Smith v. Sen. Bob Casey contest? New Jersey.
Sabato Upgrades Critz in PA-12: Larry Sabato has stared intently into the "Crystal Ball" and checked Rep. Mark Critz's (D-Cambria) life line. His divination says Critz stands a good chance at outlasting his fourth tough contest in PA-12.
MCall Poll: Corbett Numbers Holds Steady: Despite being a continual target of the PA Dems, a new Morning Call/Muhlenberg College poll shows Gov. Tom Corbett's approval and disapproval ratings holding steady over the past month.
Reader Poll Results: Santorum Gave Best Convention Speech: Convention time is over, but memories of the speeches (and maybe even primary season, it seems) linger. In a landslide win, PoliticsPA readers picked Rick Santorum's address to the RNC as the best from a Pa. politico.
Reader Poll: Who Will Win Pa., And By How Much?: Poll after poll has said Obama pretty much secured Pennsylvania. Ads were pulled, and people started to move on. But the Pa. GOP says the state is still in play for Romney. What do you think?
Legislative Election Updates
Attention animal lovers! The Humane USA PA PAC has its 2012 endorsements for (what looks like) every state House and Senate races in Pa. The group also backed Kathleen Kane for Attorney General and, unsurprisingly, John Maher for Auditor.
SD-49: YourErie did a profile of Janet Anderson, the Republican running to replace retiring Sen. Jane Earll (R-Erie). Anderson faces Democrat Sean Wiley.
HD-22: The Pittsburgh Post-Gazette ed board endorsed Erin Molchany in the race for Chelsa Wagner's old seat. Molchany is involved in many non-profits in and around the South Hills, Pittsburgh district. She lost her bid in a special election for the seat earlier this year to Marty Schmotzer, who lost the primary to her. Chris Crastley is the long-shot Republican candidate. A Dem win may be short lived; redistricters will move the seat to eastern Pa. for 2014.
HD-73: Rep. Gary Haluska (D-Cambria) won re-election by 22 points in 2010, but he's not taking any chances: he's kept open a campaign office continuously since 2009. But there's an issue: he's using campaign funds to pay rent… to himself. $400 per month, totalling $16,000 so far. "The campaign office is within the offices of Fix-It Shop Automotive, an auto repair garage owned solely by Haluska", reports the PA Independent. It's completely legal, if questionable. "It doesn't matter if I pay rent here or pay rent somewhere else," he said. "The office space is not being used, so rather than go somewhere else, we have everything over here."
HD-89: Rep. Rob Kauffman (R-Franklin) says thanks but no thanks to a debate with plucky Dem challenger Susan Spicka. He says he never received an invitation to a debate at Shippensburg University in the district, but wouldn't agree to one anyway. "This is just another publicity stunt by my opponent and a few of her friends at Shippensburg University," Kauffman wrote. "My opponent's husband is an SU professor. Many of her campaign volunteers are SU professors and the professor's union has formally endorsed her liberal agenda." He said the pair's July debate was the only one he would participate in.
HD-131: The PAC of the Pa. Business Council has endorsed Rep. Justin Simmons (R-Lehigh) in his re-election bid against Dem Kevin Deely. "During his first term, Representative Justin Simmons has kept his promise to work for the improvement of Pennsylvania's overall tax and businesses climate, which is crucial to allowing companies to compete on both a national and global scale, and create jobs for Pennsylvanians," said David W. Patti, PBC president & CEO.
HD-171: Tim Potts of The Majority Project – the group that wants legislators to agree to support policy that consistently enjoys wide support in public polls – Thursday praised the challenger to Rep. Kerry Benninghoff (R-Centre). Dem Christopher Lee (not that Christopher Lee). "Year after year, voters have said they want to clean up Harrisburg," Lee said. "And year after year, my opponent has been content to do nothing but talk while Pennsylvania has suffered from the most criminally prosecuted legislature in America." Such policy positions include taxing Marcellus shale, selling state liquor stores and, one presumes, voter ID.
HD-177: The Philly City Paper has a big feature on Rep. John Taylor, the last Republican legislator from Philadelphia. The main point: Taylor keeps winning in a Democratic district because he gets stuff done. Read the whole piece.
In other 177th news, Planned Parenthood's PAC endorsed Taylor's Democratic opponent William Dunbar, a former staffer to Rep. Chaka Fattah. "A woman should have the right to use birth control and choose whether or not she wants to have children without government involvement," said Dunbar. "Those who vote for legislation that restrict a woman's right to make decisions about her reproductive health seek to deny all women of their constitutional right to privacy."
National
USA Today: Unproductive Congress earliest to adjourn since 1960
USA Today: 8 of 13 forecasts say Obama wins popular vote
National Journal: New Voting Laws Get Dems Fired Up
National Journal Hotline: DCCC Outraised NRCC in August
The Hill: House votes to block Obama's change to welfare requirement
New York Times: Struggling Young Adults Are Question Mark for Campaigns
Statewide
Capitol Ideas: PA court officials warn of jury duty hoax
Capitol Ideas: Sept. 25 hearing scheduled for Voter ID case
State House Sound Bites: Capitolwire: GOP trying to salvage turnout
State House Sound Bites: GOP says stay tuned for Romney ads in PA
PA Independent: Democratic lawmaker has paid himself $16,000 in campaign cash
PA Independent: Fake Facebook profiles could be criminalized
StateImpactPA: Shale Gas Insight: Corbett Praises Gas Drillers And Slams Critics
Capitolwire: GOP guru Karl Rove shifts PA from 'lean Obama' to 'safe Obama'
Philadelphia
Inquirer: Anti-Latino racism alleged at meeting in Norristown
Inquirer: GOP-commissioned poll puts Romney 1 point back in Pa.
Inquirer: Pa. Turnpike board hires compliance chief
Inquirer: Montco may issue voter IDs through county nursing home
Daily News: Democrats at 30th Street Station blast GOP Amtrak platform
Daily News: Colleges offering voter ID
Daily News: City Commission meeting gets ugly
Heard in the Hall:Commonwealth Court schedules more hearings on Voter ID
PhillyClout: City Council blasts Mitt Romney after 47 percent speech
PhillyClout: PA GOP chairman claims presidential race tied in state
Phillynow: Gov. Corbett's Meeting at the Art Museum Is Met With Angry Philly Protesters –
Andrew
Phillynow: Romney Slammed in Philly Over Train Platform
Phillynow: State Rep. Metcalfe Says Voter ID Opponents 'Too Lazy to Get Up and Get Out There'
Phillynow: DAILY GRINDER: Corbett Repeats Fake, Discredited Welfare-to-Work Smear on Philly Visit
Philly Tribune: Study: City's tax burden falls
AP: Judge to review Pa. voter ID law next week
KYW Newsradio: Shale Gas Conference in Center City Philadelphia Draws Protesters
WHYY: Shale Gas Outrage: Organizers See Civil Disobedience on the Horizon
WHYY: Shale Gas Insight: Corbett Praises Gas Drillers And Slams Critics
City Paper: Mayors Conference takes hard line against teachers unions but Nutter flees Philly controversy
City Paper: Philly's last GOP legislator woos Democrats one favor at a time
SEPA
Pottstown Mercury: Lindley stuns Pottstown School Board with immediate resignation as superintendent
AP: Corbett drills Pa. drilling foes as 'unreasoning'
AP: Voter ID challenge now lands back in lap of judge who already upheld it once
Delco Daily Times: Pa. court warns of prank jury duty phone calls
Pittsburgh
Post Gazette: New GOP group hits Critz
Post Gazette: PA GOP Prez race a tie
Post Gazette: Sabato moves PA12 to Dem lean
Tribune Review: Romney's son exhorts Butler crowd
Tribune Review: Allegheny County to issue voter IDs through CCAC Kane Centers
Tribune Review: Cheney rues Obama's lack of action in foreign affairs
KDKA: Allegheny Co. Executive Outlines Plan To Allow Registered Voters To Obtains ID
KDKA: City Councilman Introduces Bill to Allow Limited Marcellus Shale Drilling
Post Gazette: Allegheny County executive Fitzgerald announces new kind of voter IDs
Southwest
Tribune Democrat: Rothfus makes pitch in region
Daily American: Rothfus stumps for Romney in Somerset, blames Obama for coal industry woes.
NEPA
The Times Leader: PA's unemployment rate climbs to 8.1 percent in August
The Times-Tribune: North Pocono municipalities hear battle cry against Scranton's commuter tax
The Times-Tribune: Panel picks apart voter ID law
The Times-Tribune: Bipartisan push for child safety curriculum bill
Daily Item: Utility scam claims Obama will pay bills
Standard Speaker: Barletta's flood aid bill passes in House vote
South Central
Chambersburg Public Opinon: Report: Who in Franklin County is Contributing to the Presidential Campaign?
Chambersburg Public Opinion: Report: Top 10 Donors make up a Third of Donations to Super PACs  
Carlisle Sentinel: Report: Carlisle foundation plans to survey public support of $1.5 million Fundraising Campaign
Harrisburg Patriot News: Report: Candidates for the 4th Pennsylvania Congressional District offer differing views on economy
Opinion
Post Gazette: 22nd House District: Molchany has a strong understanding of the issues
The Times-Tribune: Consolidate local plans
Daily Item: Don't allow Voter ID quandry to serve as an excuse not to vote
USA Today: Joseph Stiglitz Column: Fallacies of Romney's logic
Wall Street Journal: Peggy Noonan column: Romney needs new CEO
New York Times: Robert Semple Jr. Column: 'Stop the War on Coal' Act
Inquirer: Court added to ID confusion
Daily News: DN Editorial: Suddenly, city's screwed-up tax system's looking good
Philly.com: Energy: Romney-Ryan plan is right one for Pa.
Indian Gazette: Women can make a difference in election
Tribune Review: Fast & Furious & Holder: Case not closed.
Tribune Review: Gov. Romney is correct.
Blogs
The Liberty Blog: Ahmadinejad Shakes Hands: American (Our) President Bows to King Abdullah of Saudi Arabia
Lehigh Valley Independent: Bring Back Bankruptcy for Student Loans