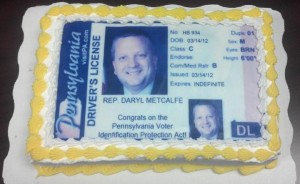 Good morning politicos, here's the Buzz. Voter ID is back in court today. The Kane TV ad saga continues; new polls on the presidential and U.S. Senate contests; Larry Maggi goes on TV; and the NRCC takes another swipe at Mark Critz.
GOP Group Releases Revised Anti-Kane Ad (Watch Video): After saying on Friday that it would edit a controversial ad, a Republican group has finally withdrawn a spot criticizing Attorney General hopeful Kathleen Kane. The organization removed two references to cases prosecuted during Kane's tenure after Kane's campaign successfully pushed back against the claim.
Mercyhurst Poll: Obama 48, Romney 40: Barack Obama leads Mitt Romney by 8 points according to the latest poll by Mercyhurst University, 48 percent to 40 percent. Those numbers are in line with his average lead in Pa.
Mercyhurst Poll: 44 Percent Undecided in Senate Race: A whopping 44 percent of likely voters are undecided in the U.S. Senate race according to the latest survey from Mercyhurst University. Democratic Sen. Bob Casey leads Republican Tom Smith 31 percent to 21. Also: Voter ID enjoys majority support.
Maggi On the Air Tuesday (Watch Video): Larry Maggi, the Democrat running against Rep. Tim Murphy (R-Allegheny) is going on television Tuesday. His ad casts him as a centrist and blasts both Democrats and Republicans.
NRCC: The Truth about Keith and China (Watch Video): The PA-12 congressional race continues to be an exchange of charges over China. Monday, the National Republican Congressional Committee hit Rep. Mark Critz over another commercial which was aired – then edited – by Democrats.
Clinton Coming Back to PA for Kane: Every Democrat's favorite surrogate is coming back to Pennsylvania. Former President Bill Clinton will keynote a rally for Attorney General hopeful Kathleen Kane on October 1st.
Anderson Fires Back at PSEA Mailer: Republican Janet Anderson's campaign blasted the PSEA over a mailer to its members accusing Anderson of supporting cuts to public education. She will, "support Tom Corbett's attacks on our pensions," and "support Tom Corbett's education cuts," it alleges.
3 Days Later, GOP Anti-Kane Ad Still Around (Watch Video): The Republican group whose ad against Attorney General candidate Kathleen Kane was refuted by her campaign says it has released a new commercial. The updated version omits a reference to a rape victim whose father rebuked the original ad.
Legislative Elections Update
SD-15: Rob Teplitz, the Dem running for the seat of retiring Sen. Jeff Piccola (R-Dauphin), boasted Monday of his endorsement from Education Voters Action Fund of Pa. "The only way to get Pennsylvania back on track is by fostering a strong public education system for all students that gives them the skills they'll need to confront the challenges we face," said Susan Gobreski, the Executive Director of EVA-PA.
SD-49: Here's a story that started out in the LEU, but grew too long for it. Here's the gist: Republican Janet Anderson's campaign Monday blasted the Pa. State Education Association over a recent mailer to its members accusing Anderson of supporting cuts to public education. She will, "support Tom Corbett's attacks on our pensions," and "support Tom Corbett's education cuts," it alleges.
HD-148: Mary Jo Daley, the Democrat running to replace outgoing Rep. Mike Gerber (D-Montco) boasted a quartet of liberal endorsements Monday: the Pennsylvania State Education Association (PSEA), Equality PA, the Sierra Club and Planned Parenthood. "I am honored to have received these endorsements from such important organizations and look forward to the work that lies ahead," Daley said.
HD-158: Democrat Susan Rzucidlo won the endorsement of The Women's Campaign Fund in her race against Rep. Chris Ross (R-Chester). "The Women's Campaign Fund is proud to stand with Susan F. Rzucidlo as she campaigns to represent Pennsylvania's 158th District. She has proven throughout her career that she is dedicated to serving her constituents while also possessing a fierce commitment to WCF values, thus making her an ideal candidate for Pennsylvania's House of Representatives," said WCF President/CEO Siobhan "Sam" Bennett.
Statewide
Capitol Ideas: Pundits Rove, Carville Spar In Hershey.
Capitol Ideas: Rendell: First POTUS debate is a must-win for Mitt Romney.
Capitol Ideas: Civil rights group: Changes to states' voter laws may deter Hispanic voters.
Capitol Ideas: Leach, Turzai debate #VoterID on Fox News.
Capitol Ideas: Report: GOP still airing error-filled Kane attack ad in AG's race.
State House Sound Bites: Rendell lays it on pretty thick
State House Sound Bites: Daily News: Unedited GOP ad critical of Kane aired through weekend
State House Sound Bites: Links: Act 47 turns 25, national GOP group revises Kane ad, Williams hearing continues today
PA Independent: State Rep: No movement on charter school bills over summer
PA Independent: Jobs proposal funnels income tax straight to employer
PA Independent: Former Gov. Rendell: Workers should pay more toward pensions
StateImpactPA: "House approves 'Stop the War on Coal' Bill"
Capitolwire: Capitolwire: Candidates commit to not seeking another office while holding the post of auditor general.
Capitolwire: OFF THE FLOOR: Zogby says forthcoming Corbett pension reforms 'might touch current employees.'
Capitolwire: DPW's plan to impose MA co-pays for families with special needs kids wasn't the original idea.
Philadelphia
City Paper: Corbett appoints Schmidt to Parking Authority, takes hammer to Philly GOP machine – Keegan
The Inquirer: FactCheck: Obama's campaign puffery
The Inquirer: FactCheck: Romney's campaign puffery
Heard in the Hall: Philadelphia opts not to issue Voter IDs
Philly Clout: GOP group edits Kane ad in AG race, adds new claim
Commonwealth Confidential: Gov. Rendell goes to Harrisburg
WHYY Newsworks: Philadelphia ranks among cities with most acts sector jobs
WHYY Newsworks: Former Governor Rendell weighs in on Turzai's role with voter ID
SEPA
phillyburbs.com: Economist says 'small businesses are in a funk'
Delco Daily Times: County to circulate Voter ID info
Pottstown Mercury: Pottstown Bethel AME group offering rides to voter ID seekers Pottstown Mercury: Montco commissioners take positive step on voter ID
Pittsburgh
Post-Gazette: Obama posting leads in Pa., other key states, polls reveal
Post-Gazette: Rendell talks politics at Press Club luncheon
Post-Gazette: Voter ID opponents, state file final briefs
Tribune Review: Health care still top issue in U.S. Senate race
Tribune Review: Some say Allegheny Co. plan to issue Pa. Voter IDs is flawed
Tribune Review: Pittsburgh budget proposal keeps taxes flat for 7th straight year
Early Returns: Corbett a fan of Hershey's output
Early Returns: 1st Maggi ad: pro natural gas and guns
Early Returns: New NRCC spot on Critz & China
NEPA
AP: Report: Judge who gave OK to Pa. voter ID law to review it
AP: Report: Jarbola disputes another claim by GOP's anti-Kane ad
South Central
AP: Battleground states see tiny numbers in voter fraud search
Harrisburg Patriot News: Partisan strategists take early swings at each other before the main event
Harrisburg Patriot News: Former Pennsylvania Gov. Ed Rendell blasts state cuts in school funding, but lauds Gov. Tom Corbett for sticking to his guns
Harrisburg Patriot News: Obama and Casey hold comfortable leads in latest Mercyhurst poll
Harrisburg Patriot News: Students urge Pa. state lawmakers to pass charter school reform bill
Harrisburg Patriot News: Former Pennsylvania Gov. Ed Rendell calls first debate Romney's 'last, best chance' in presidential race
Harrisburg Patriot News: Former Gov. Ed Rendell talks about unemployment, education, NCAA sanctions on Penn State and more during chat
York Daily Record: York County congressional candidates agree on Medicare problem, disagree on solutions
York Daily Record: State auditor general wants to consolidate municipal pension plans
Lehigh Valley
The Morning Call: Pundits Rove, Carville Spar In Hershey
The Morning Call: Erroneous ad aired in Pennsylvania attorney general race
Pennsylvania Ave: Eagles loss Sunday means Romney wins?
Pennsylvania Ave: Rendell: For Romney, debates are make or break
Pennsylvania Ave: GOP: Race just heating up in Pennsylvania
Opinion
Williamsburg Sun Gazette: Government Economic Engine Keeps Backfiring
The Inquirer: Inquirer Editorial: High suburban taxes make city more attractive
The Inquirer: Court extends election crisis
phillyburbs.com: Postal deal will hurt communities
Tribune Review: Election 2012: Obama falters
Altoona Mirror: Avoid new crisis in housing
Blogs
The Liberty Blog: Barry Rubin – Jerusalem's Capital and American Foreign Policy
The Liberty Blog: GM Going Bankrupt – Another Obama Bailout Forcibly Financed the The Productive Forgotten Taxpayer
Keystone Progress: Report: The Backstory on who "Doesn't Pay" Taxes
Jon Geeting: Jack Wagner Calls for Consolidating Municipal Pensions
Jon Geeting: Maybe Dave Hess Should Run for NorCo Executive
Keystone Politics: The Do-Nothing Congress in One Graph
Keystone Politics: One More Time: PA GOP did not increase Education Funding
Keystone Politics: Lehigh County Not so into #FitzID Workaround for #VoterID
Keystone Politics: White Working Class Voters: The South and the rest
Keystone Politics: Jack Wagner calls for Consolidating Municipal Pensions
Keystone Politics: Rape Victim's Dad says GOP Ad Lying about Kathleen Kane
Keystone Politics: Voters Trust Obama More on Medicare
Keystone Politics: The Briem Challenge