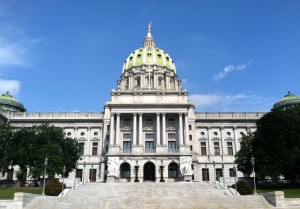 Good morning politicos, here's the Buzz. Obama opens a big lead in not 1 but 2 Pa. polls. Voter ID went back to court. A Keith Rothfus poll shows the PA-12 race a tie. Tom Smith is on the air again, and Kathleen Kane outraised Dave Freed.
The first day of the latest Voter ID hearing is over, with the state unveiling its latest plan make obtaining ID easier. The presiding judge floated a possible injunction.
Obama Opens Big Pa. Lead in Quinnipiac, F&M Polls: Two independent polls paint a sunny picture for President Obama in Pa. He leads Republican Mitt Romney 54 percent to 42 percent among likely voters according to Quinnipiac, and 50 percent to 39 percent among registered voters according to Franklin & Marshall.
Rothfus Poll: PA-12 Race a Dead Heat: Pa.'s top congressional race is getting even closer. Keith Rothfus and Rep. Mark Critz are tied at 38 percent apiece, according to an internal poll commissioned by Rothfus's campaign.
U.S. Senate
Trib Poll: Casey 46, Smith 41: Tom Smith is gaining on Sen. Bob Casey according a poll commissioned by The Pittsburgh Tribune-Review. The Democratic Senator leads the Republican former coal miner 46 percent to 41.
New Smith Ad is Sunny and (Mostly) Positive. Watch Video: Tom Smith's latest television ad conjures up a bit of Jimmy Stewart. The every-man, mostly positive spot is slight departure (but not a total one) from the Republican's message in his race against Sen. Bob Casey.
Tea Party Group Drops $200K+ for Smith: In an effort to support Republican Senate candidate Tom Smith, a Tea Party super PAC has put $150,000 into voter identification phone calls. Their goal: gather more information on potential Smith voters in an attempt to get more potential ballots cast for Smith over Sen. Bob Casey.
Other Races
Kane Raises $1.77M, Freed $869K: Kathleen Kane, the Democratic candidate for Pa. Attorney General, has raised $1.77 million since the April primary. That includes $300K since the recent flap over a GOP attack ad. Kane has $1.44 million cash on hand. Update: Republican Dave Freed raised $869,000 and has $1.02 million on hand.
PennDOT: Your One Stop Shop for Voter ID: The Pennsylvania Departments of State and Transportation announced today that voter IDs will conveniently be available in one visit to PennDOT, a measure that could've spared proponents of the law some of the challenges they are facing today in court.
Politically Uncorrected: Candidate Romney: In this column, Terry Madonna & Michael Young suggest that bad candidates can win elections.
Is PA-10 Competitive? Pike County businessman Phil Scollo is battling both redistricting and the advantage of incubency. But the Democrat challenging freshman Rep. Tom Marino (R-Lycoming) says his race is among the more competitive in Pa.
Wiley Poll: Wiley 53, Anderson 37 in SD-49: Democratic state Senate hopeful Sean Wiley has released a new internal poll showing him with a 16 point lead in the race to replace retiring Sen. Jane Earll (R-Erie).
Legislative Elections Updates:
SD-49: An internal poll from Dem Sean Wiley shows him leading Republican Janet Anderson 53 percent to 37 percent.
HD-71: Police are investigating threats left at the home of GOP candidate Sherry Stalley, who is running against Rep. Bryan Barbin (D-Cambria). A former TV anchor, she's one of the party's top challengers this cycle. From the Tribune Democrat:
According to Detective Thomas Keirn, someone trespassed at the home of Sherry Stalley overnight Sunday and left behind more than one threatening letter. Barn doors on the property also were opened, releasing Stalley's animals into a fenced area.

"A woman's place is at home and not trying to be in politics," the letter read. The letter, which made threats against the candidate's children, warned Stalley to drop out of the race. "We will find a way to destroy you before the election. Drop out now," it letter said
HD-137 & 138: Incumbent Reps. Joe Emrick (R-Northampton) and Marcia Hahn (R-Northampton) will go face to face their respective opponents Joe Capozzolo and  Leslie Altieri on October 9th. The forum will be hosted by the Slate Belt Chamber of Commerce (h/t LV Ramblings).
Statewide
AP: Report: Pa. makes more changes to try to save photo ID law
Capitol Ideas: Democrat Kane outraises Republican Freed in Attorney General's Race.
Capitol Ideas: PA official grilled on #VoterID advertising and outreach efforts.
Capitol Ideas: Official: State again easing requirements to get #VoterID
State House Sound Bites: Judge says injunction "possible" in voter ID case
PA Independent: Survey says businesses optimistic despite recent uptick in unemployment
PA Independent: Income tax jobs incentive could go to even more businesses
StateImpactPA: Drilling Generates $160 Million In Bradford County Royalties
StateImpactPA: Plan For New Indiana County Coal Mine Draws Attention
Capitolwire: To increase funding, Zogby weighing 'weighted' funding approach.
Capitolwire: Capitolwire: DPW's plan to impose MA co-pays for families with special needs kids wasn't the original idea.
Capitolwire: GOP prez hopeful Mitt Romney needs first-debate win, says Rendell.
Philadelphia
The Inquirer: Romney to Philly on Friday for $3.5-4 mil fundraisers
The Inquirer: Outside groups spending millions on local elections
The Inquirer: FactCheck: Romney ad on China mangles facts
The Inquirer: Pennsylvania eases voter ID process
Capitol Inq: Coming soon to TV: local House campaigns
Philly Clout: State says it has met Supreme Court standard on Voter ID
Philly Clout: How did GOP group fund AG race TV ad? Ask Gov. Corbett
WHYY Newsworks: Commonwealth Court judge weighs new testimony in Pa. voter ID challenge
WHYY Newsworks: Lower court takes up Pa. voter ID decision
SEPA
phillyburbs.com: Judge: Injunction possible for voter ID law
Pittsburgh
Post-Gazette: Obama posting leads in Pa., other key states, polls reveal
Post-Gazette: Pennsylvania ID requirements change
Post-Gazette: Pittsburgh councilman Dowd proposes city 'mineral extraction districts'
Post-Gazette: Rally at Pittsburgh City Council chambers seeks better access to city jobs for ex-offenders
Early Returns: Smith ad touts reform plans
Early Returns: State: Voter IDs "liberally accessible"
Early Returns: Dem registration slips, but still leads GOP
Early Returns: Carville, Rove entertain biz crowd
Early Returns: Corbett a fan of Hershey's output
Southwest
Johnstown Tribune-Democrat: Threats left at the home of Republican state house candidate
NEPA
The Times Leader: Report: Pittston Township Changes Tax Collector
The Times Leader: Report: Home rule reform or not, Petrilla-Griffith clashes just go on Jennifer Learn-Andes Luzerne County Beat
Times-Tribune: Report: Scott sewer authority calls on congressman to help slash sewer bills
Citizens Voice: Report: County refuses to release Pizano emails
North by Northwest
Campaign '12 Blog: Wiley's internal poll shows lead in Senate race
Centre Daily Times: Report: Centre Region leaders to weigh how to alter growth boundary
Williamsport Sun Gazette: Tax Hike, Layoffs possible without Union Concessions
South Central
AP: Protesters urge elimination of Pa. property taxes
AP: Kane holds fundraising lead in AG's race
AP: Pa. makes more changes to try to save photo ID law
Harrisburg Patriot News: Judge mixes praise for his work in with former state Rep. Stephen Stetler's sentence
Harrisburg Patriot News: Voter ID hearing to resume on Thursday but judge tips hand as to a possible outcome
Harrisburg Patriot News: PennDOT license centers to be open the day before Election Day
AP: PennDOT makes changes to voter ID card procedure for registered voters
AP: Voter ID court hearing today to focus on access to identification cards
Harrisburg Patriot News: Ease of getting voter IDs at the center of Commonwealth Court hearing
AP: Changes made to try and save Pennsylvania's Voter ID law
Lehigh Valley
Reading Eagle: Activism leads to state award for library trustee
Reading Eagle: State's voter ID law is back in court
Morning Call: Voter ID process altered again
Morning Call: PA US Senate race AdWatch
Morning Call: Former Pennsylvania lawmaker sentenced to prison
Pennsylvania Ave: PA Dems to Romney camp: Bring it on
Opinion
Inquirer Editorial: End confusion now by voiding voter-ID law
Daily news: DN Editorial: We can't eliminate poverty if we don't talk about it
phillyburbs.com: Extremist position on abortion conflicts with most women
Pottstown Mercury: It's time for America to heal thyself
Johnstown Tribune-Democrat: Jim Scofield column: Getting ahead and sharing the bounty
Blogs
Lehigh Valley Ramblings: Jenny's Kuali – Allentown's loss is Bethlehem's gain
Lehigh Valley Ramblings: State House Candidates to debate in Wind Gap
Lehigh Valley Ramblings: CACLV's Alan Jennings: We are a nation divided
Liberty Blog: Democratic 1% of 1% – New York Times Hires CEO – $4,000,000
Liberty Blog: Using Social Security to pay student loans – An idea whose time has come
Jon Geeting: It's the prices
Jon Geeting: How Parking minimums make housing more expensive
Keystone Politics: RSLC hits Kathleen Kane for calling out RSLC's false claims
Keystone Politics: How to do Philly-NYC high speed rail at a lower cost
Keystone Politics: GOP #VoterID Strategy also about wasting Dem resources