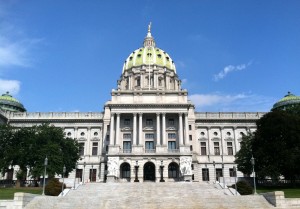 Good morning politicos, here's the Buzz. The PAGOP has launched a TV ad today, just in time for state committee this weekend and Romney's visit to SEPA. The Voter ID hearing is wrapped up. A GOP group is on the air against Kane – radio, this time. McCord leads Irey Vaughan in Pa. Treasurer fundraising, and Republicans play the Abu-Jamal card against Boockvar.
PAGOP Goes on TV to Knock Obama (Watch Video): The drought of presidential television ads is over. The Pa. Republican Party this morning launched a TV spot blasting President Barack Obama.
Republican State Committee Preview – Fall 2012: It's that time of year again. Republicans from around Pennsylvania will congregate in Camp Hill for their fall State Committee meeting. There, they'll discuss the GOP game plan for the final few weeks of the election. Here's what they're up to.
They're Back: RSLC Debuts Familiar Radio Ad Against Kane: The Republican State Leadership Committee continued to push its narrative of Kathleen Kane in a new radio ad released today, accusing Kane of being dishonest about her record.
McCord Maintains Wide Lead in Treasurer Fundraising: Dem Rob McCord has a wide lead over challenger Diana Irey Vaughan, a Washington County Commissioner and Republican. The incumbent raised over $200,000 in the recent fundraising period and has over $2 million on hand; Irey Vaughan raised $100,000 and has about $40,000 on hand.
Oh Mumia! NRCC Plays the Abu-Jamal Card Against Boockvar: As part of its continuing effort to paint challenger Kathy Boockvar as a liberal extremist, the National Republican Congressional Committee Thursday launched a new attack: robocalls that link the Democrat to convicted killer Mumia Abu-Jamal.
Rothfus Ad: Critz is Obama's 'Yes Man' (Watch Video): The Rothfus campaign released a scathing yet catchy new ad today, mocking Congressman Mark Critz for his support of President Obama's policies.
Peduto in for Pittsburgh Mayor; Fitzgerald Endorses Him: 2013 isn't slated to be a blockbuster year for Pa. politics, but one race worth watching is the Pittsburgh mayoral primary. Today, City Councilman Bill Peduto filed paperwork to challenge Mayor Luke Ravenstahl and got an instant endorsement from Allegheny County Executive Rich Fitzgerald.
Romney Coming Back to PA: At long last, Pennsylvania's drought is over! A presidential candidate – Republican Mitt Romney – will campaign in the state on Friday. It's the first trip to the state by either candidate since early July, when Romney and President Obama both visited Pittsburgh.
Critz 52, Rothfus 41; Dems Rebut GOP With Their Own PA-12 Poll: The DCCC has released an internal poll in PA-12, showing incumbent Congressman Mark Critz with a healthy lead over challenger Keith Rothfus, 52 percent to 41.
Legislative Election Updates
SD-15: GOP Senate hopeful John McNally marked First Responders Appreciation Day by announcing the formation of a coalition of police officers, firefighters and emergency medical technicians who support him. "Our volunteer firefighters and EMTs not only save lives, they save taxpayers millions of dollars a year in local taxes," McNally said. "Their contributions to public safety are priceless. Whether paid or volunteer, they are willing to enter into harm's way so that others can be saved.  One cannot put a price tag on that passion and service."
HD-96: The challenger to Rep. Mike Sturla (D-Lancaster) got a boost this week. In a fundraising letter for his GOP opponent, Tom Garman, several legislators and both Commissioners said that it's a winnable race thanks to the entrance of a liberal third party candidate. "Voters agree Sturla has spent too long loving off taxpayers without furthering the interests of those he purports to represent. They get it that the City has 15 failing schools even though Sturla claims education is his priority," they wrote.
National:
Washington Post: 5in5: A conversation with Mark Critz
Statewide
AP: Report: Voter ID Horror Stories Shared
AP: Report: Voter ID Law in Pa. Has Solid Support, Poll Shows
AP: Report: Obama Stretches Lead in PA
Capitol Ideas: Witnesses speak of long waits, multiple trips to obtain #VoterID at PennDOT offices
State House Sound Bites: Links: Papers sue for more execution access & Freed camp calls out Kane for touting absent endorsement
PA Independent: Voter ID law changes come as latest court hearings wrap up
PA Independent: Municipalities don't want their pension funds raided to help those in need
PA Independent: Report: More credit downgrades on the way for PA municipalities
StateImpactPA: Who's Filing Local Zoning Challenges Against Southwestern Towns?
StateImpactPA: Lycoming County Frack Truck Crash: 3,600 Gallons Spilled
StateImpactPA: Drill Bits: More Info. on Pavilion, and Range Resources to Ship Gas East
Capitolwire: Capitolwire: Judge Simpson offers 'pep talk' to lawyers in Voter ID case.
Capitolwire: Capitolwire: State judge says 'tailored' injunction of Voter ID law could change use of
Capitolwire: OFF THE FLOOR: Debt limit authorization on fast-track, but RACP reform bill faces uphill climb.
Philadelphia
The Inquirer: GOP tries to link Bucks Democrat Boockvar to Abu-Jamal
The Inquirer: Romney, visiting Philly area, hopes to raise $4M
The Inquirer: FactCheck: 'Soft' on Rape? Nonsense
The Inquirer: No close call here: NFL's political donations tilt GOP
The Inquirer: Pa. judge may allow most of voter-ID law
Heard in the Hall: Coming to Your Newsstand: More Ads?
WHYY Newsworks: Judge Simpson hears final testimony in Pa. voter ID case
WHYY Newsworks: Local female business owners show support for Sen. candidate Tom Smith
Pittsburgh
KDKA: Congressional Race Between Tim Murphy, Larry Maggi Heats Up
KDKA: Critz & Rothfus In Close, Expensive Congressional Race
Post-Gazette: Wondering where Rich Fitzgerald is? There's a tweet for that
Post-Gazette: Smith closing gap on Casey in U.S. Senate race
Post-Gazette: Judge crafting a way to keep voter ID law and allow people to vote
Post-Gazette: Pennsylvania justices reject effort to fund courts
Post-Gazette: School drilling lease bill heads to Corbett
Post-Gazette: Poll shows Obama with big leads over Romney in Pa., Ohio and Florida
Early Returns: Rothfus attack ad: Critz yes-man for Obama
Early Returns: Peduto running for mayor w/Fitz support
Early Returns: AG race: $$, ad war continues
Tribune-Review: Allegheny County elections board votes to allow cameras at polls
Tribune-Review: Fitzgerald says Bill Peduto filed to run for mayor, donates to campaign
Tribune-Review: Pennsylvania voter ID mastermind says law too relaxed
North by Northwest
Campaign '12 Blog: A buzz about the debate
Williamsburg Sun Gazette: Report: Commissioners Seek Tax Exemptions for Former Tannery Site
South Central
AP: Judge suggests striking part of Pa. voter ID law
Harrisburg Patriot News: Judge in Pa. voter ID case mulling option to throw out the law for the upcoming election
Harrisburg Patriot News: Pa. voter ID hearing focuses on hardships encountered in obtaining identification cards
Harrisburg Patriot News: Judge has until Tuesday to rule on voter ID law in Pennsylvania –
Andrew
Harrisburg Patriot News: Voter ID: Hearing resumes today; study shows some are having trouble getting photo cards
Lehigh Valley
Pennsylvania Ave.: Gloves clearly off in Bucks County Congressional race
Pennsylvania Ave.: Romney campaigns in Valley Forge Friday
Morning Call: Romney here for money, and votes
Morning Call: Pennsylvania's U.S. Senate race
Opinion
Johnstown Tribune-Democrat: 112th Congress performance equals Dereliction of duty
Morning Call: Voter ID law ensures integrity of election
Daily News: Is today the beginning of the end of the voter-ID nightmare?
phillyburbs.com: Don't go back; move forward with President Obama
Pottstown Mercury: Rep. Joe Pitts: Dropping Out is Not Succeeding
Harrisburg Patriot News: Public must comprehend urgency of pension mess
Blogs
Liberty Blog: Democrats Can't Be Trusted With Money – More Evidence – Philadelphia Mark Cohen's Per Diems
Liberty Blog: The Socialist Obama Administration's Vision For Us – The Life of Julia
Jon Geeting: Bill White on Tom Corbett's Disastrous Education Record
Jon Geeting: Bethlehem Zoners Reject Awesome Apartment Plan to Please 5 NIMBYs
Jon Geeting: Lower Macungie Board Rejects Sprawl Critic Ron Beitler for Parks and Rec Board
Jon Geeting: Pro-Sprawl Legislation Moving Forward Below the Radar in Harrisburg
Jon Geeting: How Bethlehem Zoners Are Holding Back the Economic Recovery
Jon Geeting: You Fight Gentrification By Building More Housing, Not Less
Keystone Politics: The Fallout From Mike Fitzpatrick's "47%" Moment
Keystone Politics: Nuisance Properties and the Power of Shame
Keystone Politics: PBPC Says State #VoterID Implementation Not Ready for Prime Time
Keystone Politics: Bill White on Tom Corbett's Disastrous Education Record
Keystone Politics: PA-8: Mike Fitzpatrick's "47%" Moment
Keystone Politics: Susan Spicka Blasts Rob Kauffman's Cowardice on Transportation Funding
Lehigh Valley Rambling: Volunteer at Housenick Park This Sunday
Lehigh Valley Rambling: Bethlehem Zoners Nix 46-Unit South Side Development
Lehigh Valley Rambling: There Go Our Parks
Lehigh Valley Rambling: Poresky on Allentown's WaterWorld