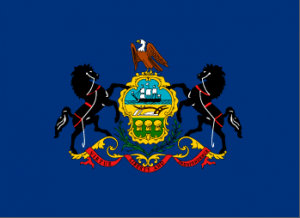 Clinton and McGinty lead the new PPP poll, Trump is coming to Lancaster and our latest voter registration update. Good morning politicos, here's the Playbook!
PPP Poll: Clinton 49% Trump 44%: The Democratic nominee leads the latest presidential survey.
PA-Sen: PPP Poll: McGinty 44% Toomey 42%: The Democratic nominee holds a narrow advantage over the GOP incumbent.
Voter Registration Update – GOP Continues to Chip Away: After some Democratic progress, the Republicans begin to narrow the gap once again.
Trump To Visit Lancaster on Saturday: The GOP presidential nominee is set to return to the Keystone State.
Michelle Obama: Vote Hillary or Else: The First Lady headlined a rally at LaSalle University in Philadelphia on Wednesday.
Statewide
Capitolwire: Auditor General report shows flaws in oversight of welfare payments
Capitolwire: General Assembly floor action recap for Wednesday, Sept. 28, 2016
State House Sound Bites: Anti Trump establishment in York at Pence event
State House Sound Bites: Municipalities deal with casino tax ruling
StateImpactPA: Court orders legislature to fix gas law
PLS Reporter: Philadelphia lawmakers speak out on municipal gun ordinance preemption law
PLS Reporter: Supreme Court casino tax ruling expands on gaming expansion reform
Philadelphia
Inquirer: Parking Authority board reverses itself: It was told of 2006 sexual harassment complaint
Inquirer: Councilman wants new fund for criminal justice reform
Inquirer: Pa. auditor: State paid welfare benefits to 2,000 dead people
Inquirer: Safety system cited in Philly Amtrak derailment faces new scrutiny after Hoboken crash
Inquirer: Good Sundays have everyone living on Wentz Street
WHYY Newsworks: In Philadelphia, officials urge halt of Pa. measure allowing NRA to sue over gun laws
WHYY Newsworks: Parking Authority scandal prompts calls for review
WHYY Newsworks: Drowning in political fundraising email?
SEPA
Bucks County Courier-Times: Potential loss of casino host fees 'devastating,' Bensalem mayor says
Bucks County Courier-Times: Petri and Dougherty agree on energy, spar over budgeting at forum
Bucks County Courier-Times: Central Bucks, New Hope-Solebury score high marks on PSSAs
Pottstown Mercury: GOP eyes Chester County's only blue state Senate seat: London challenges Dinniman
Pottstown Mercury: Spring-Ford board OKs high school expansion first step
Pittsburgh
Tribune-Review: Report: 14 drinking fountains in Pittsburgh schools tested positive for elevated lead levels
Post-Gazette: Faculty union resumes bargaining with Pa. State System
Post-Gazette: Pa. Supreme Court says casino taxing method unconstitutional
Post-Gazette: Civil rights lawsuit claims Pittsburgh tolerates police who abuse, lie
Pittsburgh Business Times: 5 takeaways from Shale Insight 2016 Conference
Southwest
Beaver County Times: After funding vote, McClelland says Rothfus failing to meet 'basic job description'
Beaver County Times: Pennsylvania Supreme Court strikes down most of law that governs shale industry
Beaver County Times: Federal funding for Montgomery, other locks and dam project clears major hurdle
Altoona Mirror: Borough debates single hauler
Tribune-Democrat: Court expands right to sue counties over public defenders
NEPA
Citizens Voice: Split schedule approved for Wyoming Valley West
News Item: Gordner praises joint session, expects rally in Capitol
Times-Tribune: Geisinger acquisition opens doors for TCMC research, financial stability

South Central
Lancaster Online: West York mayor asked to resign for racist Facebook posts, mayor claims it's a witch hunt
Lancaster Online: Trump returning to Pennsylvania to campaign
York Dispatch: York Dems condemn Trump campaign ahead of Pence rally
Carlisle Sentinel: Pa. agency paid public assistance benefits to dead people
Patriot-News: Harrisburg looks to hire business administrator to manage daily activities
Lehigh Valley
Morning Call: What the Lehigh Valley loses if the casino host fee vanishes
Morning Call: Just Born workers returning to their jobs Friday
Reading Eagle: New law on red light raises red flag
North by Northwest
Sun Gazette: Congressional candidate: 'mood for change in the air'
Erie Times-News: Erie ready to hire new code enforcement officer
Erie Times-News: State Supreme Court casino ruling could have major financial effect in Erie County
Opinion
Patriot-News: GOP to Trump – keep Lewinsky out of it, report
Patriot-News: With the clock ticking, can lawmakers, Wolf get it together on opioid abuse bills?
Post-Gazette: Act now: Lawmakers still have time to address opioid crisis
Post-Gazette: Iraq folly: Obama errs in sending in more troops
Post-Gazette: His greatest role: Bill Nunn was an inspiration to local performers
Inquirer: Racial bias history undercuts Trump's plea for black votes
Inquirer: Worldview: Trump's laziness would endanger national security
Daily News: It takes a man to call out men who sexually harass someone
Blogs
Keystone Education Coalition: US DOE approves another $245 million for the privatization of public schools
Keystone Crossroads: Education funding forum: Top takeaways
2 Political Junkies: Um, You May Have Missed This (What With All The Trump Dishonesty And All) But The Atmosphere Is STILL Getting Carbon-ier
Lu-Lac Political Letter: Why Americans need to stop getting offended over Trumps comments