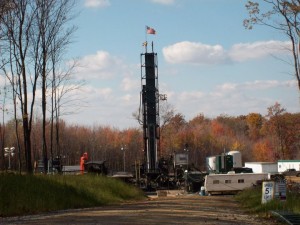 Allyson Schwartz proposed an extraction tax for Marcellus, the fate of same-sex marriage in Montco lies in court, and who do our readers think will be the next justice of the Superior Court. Good morning politicos, here's the Buzz.
Schwartz Plans Extraction Tax on Marcellus Shale: The gubernatorial candidate proposed the 5% tax to raise money for education and transportation.
Judge To Decide Fate of MontCo Marriage Licenses: A Commonwealth Court judge will decide the validity of Montgomery County's same-sex marriages.
Reader Poll: Should Rob McCord run for Governor?: As McCord moves closer to an announcement, we ask readers whether the State Treasurer should run for Governor.
Reader Poll: McVay Will Win PA Superior Court Race: Well you voted and our readers believe that Jack McVay will prevail over Vic Stabile in the race for a seat on the Superior Court.
Statewide
WHTM: Ex-Rep. DeWeese speaks from behind bars
Capitolwire: Schwartz announces shale tax plan. Team Corbett attacks, while rivals share view
Capitolwire: Judges say lawsuit against NCAA over $60 million fine can proceed
Capitolwire: McGinty makes first call for minimum wage increase, other Democrats follow
PA Independent: WATCHBLOG: Same-sex marriage lawsuit against PA clerk heads to court
StateImpactPA: Democratic Frontrunner for Governor Proposes Severance Tax On Shale Gas
StateImpactPA: Report: Drilling Boom Boosts Household Incomes by $1,200 A Year
Philadelphia
Philadelphia Magazine: Should Ed Rendell Run For Mayor of Philadelphia Again?
Inquirer: State judge leery of hearing 'complexities' in same-sex marriage case
Inquirer: Krajewski remembered for her common touch
Big Tent: Schwartz proposes 5 percent severance tax on shale gas
Big Tent: Gov candidate McGinty proposes minimum wage hike
Commonwealth Confidential: House transportation chairman in critical condition
Philly Clout: Nutter strikes back at teachers union ads with YouTube videos
Newsworks: Presidential panel meets in Philly as part of effort to improve voting experience
Newsworks: Philly teachers' union to pull new ad attacking Mayor Nutter
Newsworks: Melting pot of Philadelphians pay respects to Joan Krajewski
SEPA
Pottstown Mercury: Syria: Local politicians on possible military strike
Daily Local: Update: In Coatesville, questions but no answers
Courier Times: New Hope mayor asks Corbett to legalize same-sex marriage
Courier Times: Lack of transportation funding hits Bucks, Montco
Intelligencer: Bill would force PennDOT to prioritize fixing bridges
Pittsburgh
Post-Gazette: Lawyers argue jurisdiction in Pennsylvania gay-marriage license case.
Early Returns: Schwartz calls for fracking tax.
Early Returns: This resignation letter wasn't pre-signed.
Early Returns: Pittsburgh City Council heads back to work.
Times Tribune: Corbett, Schwartz spar in advance of 2014 gubernatorial campaign.
Times Tribune: Pennsylvania court considering arguments over same-sex marriage licenses.
Times Tribune: Thieves charge more than $30,000 to buy gas on Fayette County taxpayers.
KDKA: Pa. Congressman, Transportation Director Test Driverless CMU Car
City Paper: On the Record with Jack Brooks: The former Port Authority's board member sounds off on the panel's future.
WTAE: Former Pittsburgh mayoral candidate A.J. Richardson arrested.
WTAE: Braddock mayor weds men before same-sex marriage case goes to court.
Southwest
AP: Judge vows quick Pa. same-sex marriage case ruling.
Beaver County Times: State rep.: PennDOT must prioritize bridge repairs.
Observer-Reporter: AG gives Pa. Health written OK in same-sex case.
Altoona Mirror: Rep. Hess admitted to hospital.
NEPA
The Times Leader: Kingston council eyes improved insurance rating
Times-Tribune: Court: Lackawanna County officials have until end of week to fix prisoner-transport issues
News Item: Northumberland County commissioners to meet tonight on row office pay reduction
News Item: Northumberland County OKs tax-break ordinance
Citizens Voice: Cartwright, Barletta undecided on Syria action
South Central
Patriot-News: Gay marriage debate enters court as sides debate who has authority to stop court clerk from issuing marriage licenses to gay couples
Patriot-News: Dauphin County Commissioners review proposed Keystone Opportunity Zone parcels
Patriot-News: Harrisburg mayoral hopeful Mindlin files full appeal aimed at getting back on the ballot
Patriot-News: Christopher C. Conner takes over as chief judge of U.S. Middle District Court
Patriot-News: Treasurer Rob McCord pleased court case against NCAA will proceed
Lancaster Intelligencer: Police charge New Holland councilman with drunken driving
Lancaster Intelligencer: County takes small portion of private property in West Lampeter Township
Lehigh Valley
Express Times: Macungie councilman who once faced public urination charge resigns, says meetings left him 'depressed'
Express Times: Pennsylvania State Police probed Rendell administration during casino licensing process, book says
Morning Call: Court rejects NCAA challenge to lawsuit over Penn State sanction
Morning Call: Passions flare outside courtroom over Montgomery County issuing same-sex marriage licenses
North by Northwest
Gant Daily: Clearfield Commissioners Approve CDBG Funding Application
Express: $12M contract OK'd for mine reclamation
Bradford Era: Kane Police Chief Hillard Suspended
Times-News: Wiley responds to GE layoff notices
Opinions
Times-Tribune: Rearranging furniture isn't tax reform
Standard Speaker: Voter check boosts real registrations
Reading Eagle: Don Spatz: My wrong turn on Main Street
Blogs
Jon Geeting: J.B. Reilly is Committed to Good Urbanism in Allentown
Keystone Politics: Maybe We Shouldn't Wreck PA's Number One Economic Engine with Education and Transportation Cuts
Keystone Politics: #PAGov: Allyson Schwartz Rolls Out Muscular Natural Gas Severance Tax Plan
Keystone Politics: One More Reason to Support 100% Statewide School Funding