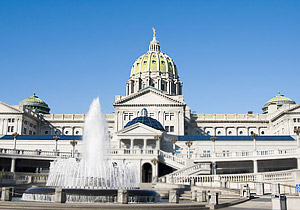 Good morning politicos, here's the Buzz.
The ads keep pouring in as the fall campaign season enters its third day, this morning from Rob Teplitz, the Dem running for state Senate in Harrisburg. The DNC is also in its third day, and President Obama will accept his re-nomination tonight.
Dem Goes on the Air in Harrisburg-Area Senate Race: Another state Senate candidate is on television this week. Rob Teplitz, a Democrat who works in the office of Auditor General, unveiled a positive, introductory spot on Wednesday. He faces Republican John McNally in the race to replace retiring Sen. Jeff Piccola (R-Dauphin).
New Website Tracks Public Sector Union Campaign $$: Happy Labor Day, please enjoy your campaign contributions. That's the message from the Citizens Alliance of Pennsylvania, a group dedicated to combatting the influence of organized labor in the state's public policy among other conservative goals.
Updated: SEIU Ad Takes Aim at Rothfus (Watch Video): Updated with ad details & Rothfus response. One of the state's largest labor unions is taking aim the top congressional challenger in Pennsylvania. SEIU will air a new television ad against Keith Rothfus, the Republican seeking to unseat Rep. Mark Critz.
Schwartz Talks Medicare at DNC (Watch Video): PA Rep. Allyson Schwartz delivered about 90 seconds of remarks at the Democratic National Convention Tuesday, stressing the importance of a strong safety net for seniors.
Legislative Election Updates:
SD-13: Dem Tom O'Brien dinged incumbent Sen. Lloyd Smucker (R-Lancaster) for being absent from the campaign trail. "[O'Brien] has invited Smucker to join him in six town-hall-style meetings before election day. The senator has said no, insisting he is too busy," said campaign spokesman Paul Hentz.
SD-15: Dem Rob Teplitz launched his first TV ad this week. He faces Republican John McNally in the race to replace retiring Sen. Jeff Piccola (R-Dauphin).
HD-141: Rep. Tina Davis (D-Bucks) will open her campaign HD this Saturday (Sept. 8) at 10am with phone-banking and canvassing the mission of the day. She faces Republican Anthony Sposato.