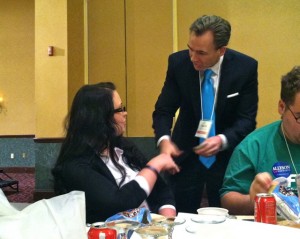 Harrisburg — Liberal activists of all stripes descended on Harrisburg this weekend to discuss ways to advance their myriad agendas. Meanwhile, prospective candidates worked the rooms and hallways to court their support.
They all share the same top priority: defeating Gov. Tom Corbett in 2014.
"We need to make sure that we budget responsibly, we cut wasteful spending, but at the same time we still care for people in need," said Montgomery County Commissioner and former state Rep. Josh Shapiro during a panel discussion on Corbett's budget proposals. "That's what the Governor clearly is not doing across the Commonwealth."
Shapiro has been mentioned as a possible candidate for Governor in 2014 or 2018, but has not yet shown any obvious signs of running.
The Pa. Progressive Summit is organized by Keystone Progress; this was its fourth year.
The highest-profile potential candidate to attend the summit was Pa. Treasurer Rob McCord, who keynoted the organization's lunchtime panel. It was originally scheduled to include Attorney General Kathleen Kane and Auditor General Eugene DePasquale, but both canceled on short notice.
McCord lambasted Corbett on everything from the lottery to Bonusgate.
"One person's privatization is another person's crony capitalism," he said, "which actually decreases efficiency."
But he trod lightly on the question of whether he was planning to run for Governor. The party would be best off, he said. "If we get somebody who actually has private sector experience creating thousands of jobs, doesn't just talk like they have it in the case of our current Governor."
"Very coy," joked state Sen. Daylin Leach (D-Montco). "You sound like my prom date."
McCord spent much of his career as an investor and entrepreneur, and has stronger business acumen than any other prospective gubernatorial candidate.
State Sen. Mike Stack (D-Phila) worked the lunch room, going table to table shaking hands and giving out business cards. It's also a possibility that he will to run for Congress rather than Governor.
Congresswoman Allyson Schwartz (D-Montco) did not attend the event, but her popularity among the activists was clear. She won the group's small straw poll, 36.6% to McCord's 16.9%, and 11.6% for former Rep. Joe Sestak. Activist Marc Stier circulated fliers declaring, "Draft Schwartz."
Former DEP Secretary John Hanger headlined a panel discussion on climate change.
Lieutenant Governor
State Rep. Brandon Neuman (D-Washington), who told PoliticsPA point blank at Democratic State Committee that he was running for LG, shook hands and talked to activists.
As did declared LG hopeful Brad Koplinski, the Harrisburg City Councilman. Bradford County Commissioner Mark Smith's campaign circulated literature.
PA-13 and Daylin Leach
The conference could have been called "The Daylin Leach Show." The legislature's most outspoken progressive was omnipresent and adored by the liberal crowd. He hosted an open bar reception Friday night, headlined a panel about comedy in politics, and emceed the lunchtime panel discussion.
He's also likely to run for Schwartz's congressional seat should she pull the trigger and run for Governor (he'd previous floated the possibility of an LG run). He joked during McCord's remarks, "We're not looking for an official declaration," of candidacy for higher office, "but we'd be happy to have one. Maybe we can trade."
During his comedy session, he said his prospective PA-13 opponents might not see his comedic side. "If I was in a debate, or responding to an attack or something, I wouldn't use humor. I'd go after things directly, to make the clear point," he said.
Finally, he said that Kim Ward (R-Westmoreland) was the funniest of his Senate colleagues, followed by Rich Alloway (R-Franklin) and John Wozniak (D-Cambria).
'Women on Top'
The self-named panel was led by Schwartz's Finance Director Aubrey Montgomery, a young but well established advocate for women's involvement in the political process.
State Rep. Erin Molchany (D-Allegheny), a former progressive organizer, also sat on the panel.
"I think it's awful that 33% of our legislators' time is spent debating regressive policies on reproductive issues," she said.
Pittsburgh Mayor Luke Ravenstahl has bowed out of the coming primary, but his campaign manager Aletheia Henry still made the journey to Harrisburg to participate in the discussion
"For the time being, that's still my title," she joked.
Plenty of politicos made the rounds, too – you can see a more full list in our preview of the event.