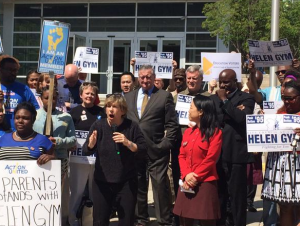 President of the American Federation of Teachers Randi Weingarten traveled to Philadelphia to attend a rally and press conference in support of Helen Gym's candidacy for City Council At-Large.
"Helen Gym has been reclaiming the promise of public education in Philadelphia for years. I would travel far and wide to stand with this inspirational parent and leader," said Weingarten. "Helen Gym belongs on City Council because she walks the walk and backs up her words with action when she advocates for Philadelphia's schools."
AFT's Philadelphia affiliate endorsed Jim Kenney in the mayoral race, and he, too, was in attendance for Gym's rally.
District Attorney Seth Williams also showed up for the event. "The number one crime prevention tool is early childhood education. I'm going to vote for the right person-I'm here to endorse education as a priority in our city," pushed Williams.
At the end of the rally, Gym spoke regarding education as she urged those in attendance to hold their government accountable in the way in which they vote.
"The groundrules of this election were defined by this grassroots education community-not by the political establishment," Gym stated. "Your voices have been heard, people are paying attention, and on May 19 we are going to hold our government accountable and usher in a new kind of politics in our city that prioritizes our families, our schools, and our neighborhoods."
Gym has been endorsed by several organizations (like Philly NOW and Neighborhood Networks) and various state legislators (including Representative Sims).