After Town Hall Drama, Barletta and Marino Ban Recording Devices
By Jamie Brackman, Contributing Writer
The offices of Rep. Lou Barletta and Tom Marino have banned the use of recording devices by non-media sources at their town hall meetings.  Barletta's Communications Director Shawn Kelly said that the ban was to make people attending the meeting more comfortable.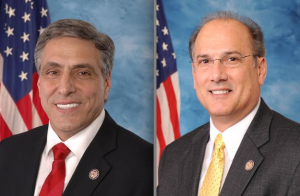 "Meetings are for the benefit of the people, and we don't want to discourage people from asking questions who might be timid to do so on camera."  Kelly said.
PoliticsPA wasn't able to reach Rep. Marino's office for comment.
Barletta's recording ban was issued after several meetings were interrupted by unruly citizens, some of whom the Congressman's office claimed were Democratic operatives.  Video of the resulting confrontations fed into a national narrative of Republicans facing town hall backlash over their vote for Rep. Paul Ryan's budget, which would make Medicare more like a voucher program for citizens 55 and younger.
And the PA Dems have indeed been watching. They've sent a paid, Harrisburg-based staffer to film at least of Barletta's town hall meetings, and posted the resulting video online.
Kelly specifically denied the suggestion that the policy change was a response to the activities of the PA Dems.
Naturally, the PA Dems have criticized the new policy.
"Lou Barletta and Tom Marino understandably do not want people to see their flimsy explanations for voting to end Medicare as we know it," said party spokesman Mark Nicastre.
"We believe it is important for the public to hear and see. If Lou Barletta and Tom Marino are afraid of being filmed explaining a bad vote, maybe they should rethink the way they vote." Nicastre commented.
Tim Potts, the President of a political watchdog group Democracy Rising PA, also criticized the policy.
"A no-recording policy benefits those who want to control the news, such as Cong. Barletta and Marino, and it disadvantages those who want to educate citizens as completely as possible. There is no justification for this policy in a nation that relies on an educated citizenry to direct their government," said Potts.
Potts also pointed out that if constituents were afraid of being filmed, they could submit their questions in writing.
"Of course there is the chance that recordings can be posted on the internet after unfair editing. If that happens, it can be corrected. But this is nothing more than what members of Congress do every day with their "spin" on events."
Boris Krawczeniuk of the Scranton Times Tribune interviewed Chris Borick, Ph.D., a political science professor at Muhlenberg College, on the subject. He said that following politicians to record their public moves is a longstanding practice in political campaigns.
"I don't know if the public is any more concerned about speaking at a public meeting if some guy has an iPhone up vs. an expensive camera from a TV station," Dr. Borick said. "I'm not sure that that's going to have a big effect on someone standing up and giving a statement at a town-hall meeting. But I do know … from a public relations campaign (standpoint), you don't want to have a lot of sound bites and comments and moments that might be taken out of context."
Keegan Gibson contributed to this report.