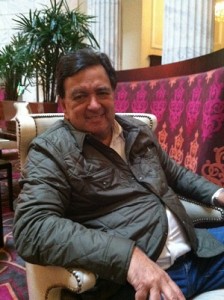 While in Philadelphia for a fundraiser he headlined for Katie McGinty, former New Mexico Governor Bill Richardson took some time to sit down with PoliticsPA.
The past head of the Democratic Governor's Association reclined in an armchair in the lobby of the Ritz Carlton, sipped coffee and held court with two McGinty staffers and this reporter. He smiled as he fondly remembered his time working with McGinty in the Clinton White House.
"She hasn't changed much," he said. "She's got this charisma and a gregarious personality…She was 29 years old and already had this incredible leadership quality."
The two politicos were both a part of the Clinton Administration — Richardson as the Energy Secretary from 1998 to 2001 and McGinty chaired the White House Council on Environmental Quality from 1993 to 1998. Now, they both sit on the board of the World Resources Institute.
Richardson wouldn't say what his favorite memory of McGinty during that time was, but chuckled and said that there were a lot of long cabinet meetings during the Lewinsky scandal.
"[Katie's] got a great sense of humor," he said cryptically of those meetings.
He endorsed her gubernatorial bid early on, and last night held a fundraiser for her at the Racquet Club, which drew nearly 150 people at a steep ticket price, though he wouldn't say what the total raised from the event was.
In addition to their personal relationship which they've maintained since their time in the White House, Richardson raved about her professional qualifications.
Before turning 30, McGinty was brought into the White House to run Al Gore's energy program, but according to Richardson, Clinton saw how talented the young advisor was and made her his go-to person for environmental policy because of her dedication to environmental protection and also the creation of green jobs.
Richardson acknowledged that he didn't know the other candidates for the Democratic nomination, saying that he had heard of Allyson Schwartz, but still his decision to support McGinty was a no-brainer.
"I know her. I served with her and she was always talking about jobs and the environment," he said. "I tried to steal her away to be my energy secretary [when I was governor], but New Mexico is a smaller state."
Richardson is an energy guru and praised McGinty's know-how in that area.
"She's the most qualified on the most important issues: the economy, jobs, the environment," he said. "She knows bureaucracy and can deal with decision makers because she's done it at the highest level, in the White House!"
He's so confident in McGinty that he's not only hosted a fundraiser for her, but made significant contributions to her campaign and pledged to stay involved through the primary, telling McGinty's campaign manager that he would come back to help her fundraise again.
"I think she'll pull off the upset, I really do," Richardson said.
If she wins, what advice would you give Governor McGinty?
"First, have a vision: where you want to end up on the big policy issues. Second, get a first rate staff that's able to disagree with you: not a Christie staff that's afraid to disagree. Third, get a singular issue that you'll be known for. You'll be the first female governor. Appoint more women, develop more women and minority owned businesses in the state," he listed.
"And four, try to get the Eagles to be a little better."