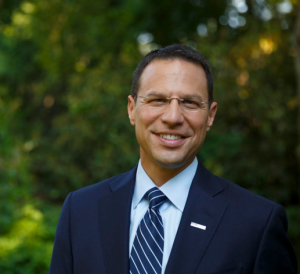 Josh Shapiro cruised past his opponents to win the Democratic Party's nomination for Attorney General at the end of April, with his latest campaign finance report revealing his help along the way.
The report runs from Apr. 12th to May 16th – two weeks before the primary to three weeks after – and details some of the Montco Commissioner's efforts down the homestretch.
Top-Line Numbers
Shapiro came into the last two weeks of the primary race with $1,066,051 and was able to bring in another $331,286 before voters cast their ballots on Apr. 26th.
As expected, Shapiro used almost every dime he raised on his race against Allegheny County DA Stephen Zappala and Northampton County DA John Morganelli.
Shapiro spent $1,382,280 in the final two weeks of the race with more than $1.1 million used on just four television ad buys.
After moving some money around, Shapiro reported having $7,375.74 in cash on hand on May 16th.
Contributions
Just over half of Shapiro's pre-primary contributions came from 28 political action committees who gave $171,250.
Nine PACs donated at least $10K to Shapiro and 18 kicked in at least $5K.
Using two separate PACs, the Service Employees International Union of PA (SEIUPA) gave $50K to Shapiro in the final two weeks of the primary campaign. The Bricklayers and Allied Craftworkers Local 1 PA/DE wrote two checks totalling $20K and the Democracy Fund contributed $7,500.
77 individual donors of at least $250 chipped in over $160K in the last two weeks of the primary.
Shapiro's biggest individual donor, former PA State Senator Constance Williams, wrote $10K and $15K checks to Shapiro's campaign on Apr. 12th and 18th, respectively.
Rhonda Cohen – wife of Comcast Executive VP David Cohen, Ross Myers – president of American Infrastructure, Todd Strine – CFO of Keystone Quality Transport and real estate developer Israel Roizman each donated $10K, while Shapiro picked up six contributions of $5,000 before the primary.
Pennsylvania has no individual contribution limits for statewide offices. The only limitation in the Keystone State is that contributions over $100 cannot be made in cash.
Shapiro has pulled in $39K from 22 donors in Philadelphia since Apr. 12th, though only one donor from Pittsburgh has backed him in the wake of his victory over Zappala.
Four employees of Cozen O'Connor pitched in $6,500 during the reporting period, while seven at Myers Brier & Kelly (including a former employee for current AG Kathleen Kane) contributed $6K and seven at Comcast contributed $5K.
On May 16th, the last day of the reporting period, Shapiro's campaign brought in $7,500, with $7K of it coming from Friends of Josh Shapiro. That last-minute money meant he would not finish the period with a negative cash-on-hand total. Shapiro reported having $7,375 at the end of the period.
Expenditures
Shapiro paid Philadelphia-based Shorr Johnson Magnus Media $1,147,728 for four advertising buys, plus another $30K for ad production.
Des Moines-based GPS Impact brought in $60K for digital advertising.
Shapiro spent $35,750 on 10 individuals and agencies for field work before the primary and another $35K on payroll for eight campaign employees during the five-week period.
Shapiro also contributed $54,575 to 13 Philly candidates and Ward Democratic Committees, with $29K going to Sen. Vincent Hughes' campaign.
The Democratic nominee for AG is sitting on over $114K in outstanding obligations and debts: Global Strategy Group – $64,500; Kennedy Communications – $37,741; and GPS Impact – $12K.
Shapiro will face State Senator John Rafferty in the November general election.