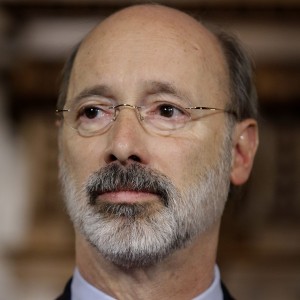 "I am determined to control events, not be controlled by them" – John Adams
After years of preparation and months of campaigning, Tom Wolf achieved his goal and will serve as the next Governor of the Commonwealth of Pennsylvania.
This is the first elective position for the York native and no statewide office has as many burdens.
It's tough to learn on the fly and not everyone is meant for the job. As Wolf said many times on the trail "I'm new at this."
In fact, it was this attitude and the symbols that went along with it that helped win Wolf the position in the first place. He portrayed himself as (and genuinely appears to be) a humble, mild-mannered businessman who doesn't need to take any perks.
Of course, his predecessor Governor Tom Corbett was described by supporters and even many detractors as a good man who disdained the dirtiness of politics. Many even considered Corbett a great Attorney General, but those skills didn't translate to the Governor's Mansion.
Suffice to say, Tom Wolf may find that his dream turns out to be a nightmare.
There are three factors that will acts as barriers to his success: 1. Pre-existing problems 2. Unforeseen Events 3. Institutional Gridlock.
Wolf must navigate all of these if he hopes to effectively govern in the next four years.
1. Pre-Existing Problems
Where to begin?
First of all, there is the state's fiscal situation. The lion's share of the Governor-Elect's time since the election has been spent preparing PA citizens for the issues that lie ahead.
There will be plenty of pressure on Wolf to cut spending but the core promise of his campaign was to restore the reductions Governor Corbett made to education. The Democrat also promised a 5% severance tax to bring in cash, but estimates of such a sum are rapidly dropping.
Additionally, pension reform and liquor privatization remain as leftovers from the previous administration, which couldn't accomplish either.
Finally, Governor-Elect Wolf has pledged to dismantle Gov. Corbett's private Healthy PA plan and adopt a full Medicaid expansion. A process that no one has quite figured out how to do yet.
2. Unforeseen Events
As overwhelming as that all may seem, those are just the issues we're currently aware of. It is perfectly possible that another event will find it's way into our discourse or even come to dominate it.
Governor Corbett had to deal with issues he never foresaw, like abortion and same-sex marriage, and it's likely his successor will as well.
Determining just what that "black swan" could be is the tricky part.
The Attorney General finds herself in the midst of a couple of issues, including feuds and investigations. It also wouldn't be surprising if State Treasurer Rob McCord and the new Governor don't exactly get along well.
Additionally, you can't discount a natural disaster or major incident that could come to define your tenure (just ask Governor Thornburgh).
3. Institutional Gridlock
Ultimately, though, the biggest roadblock may be the reality of divided government.
Come January, we'll be faced with a Democratic executive and a Republican legislature and if the situation in D.C. is any indication, that means we're in for some trouble.
Tom Corbett, a Republican, had difficulty getting Republican legislators to pass Republican priorities. Given that reality, how successful can a Democratic Governor really be?
In addition, the Republican caucus will be larger and more conservative after the results of the last election and the leadership battle in the Senate.
National Democrats often assert that the GOP refuses to consider anything President Obama supports. There is, in fact, evidence of this. At the dawn of the Obama Administration, Republicans decided to do their best to block everything they could.
Such a move made sense for a minority party but things didn't change after the 2010 elections brought a Republican majority to the House. Instead, the goal became defeating the President in 2012.
Once again, this strategy makes political sense. Any bipartisan move is likely to benefit the more well-known executive rather than any individual legislator. As Senator Mitch McConnell once put it:
When you hang the 'bipartisan' tag on something, the perception is that differences have been worked out, and there's a broad agreement that that's the way forward."
Given all this, it seems fair to ask what incentive Republicans legislators have to work with a Governor Wolf.
From their point of view, it is a perfectly legitimate question. After all, the GOP gained seats in the State House and State Senate and hold large majorities. Nationwide, their party swept the 2014 elections. In fact, Governor Corbett was the only statewide Republican incumbent to lose to a Democrat in the midterms.
Therefore, it would make sense for PA Republicans to view Governor Corbett as the problem rather than themselves or any of their policies.
With that being the case, why wouldn't Republicans do everything they could to stop Gov. Wolf and ensure a new Republican Governor is elected in four years who, unlike Tom Corbett, will be able to enact their agenda?
How does Tom Wolf convince Republicans he is not a fluke? How does he persuade them to work with him? How will he convey to Pennsylvania's politicos and journalists that he's the real deal?
Finally, and most importantly, how will prove to Pennsylvanians that he's doing a good job and producing results for them?
Put plainly, how does Tom Wolf govern?
The incoming Governor is obviously a smart man (they don't hand out MIT degrees to just anyone) and he's had a great deal of business success. Nevertheless, he is set to face his toughest challenge yet.
Will he shape events or will events shape him?