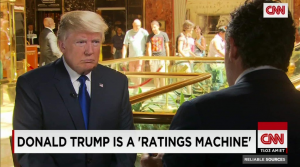 The invisible primary has become the ever-visible primary.
Media has always had a massive impact on how we view and evaluate presidential candidates. Newspapers, radio, TV, cable news, and the internet all shaped the culture in their time. Now they all exist at the same time. The result is chaos, nothing stays in the national bloodstream and the media can't capture the eyes and ears of the people for any extended period of time.
It's been quite shocking to find the person who most understands this reality is one Donald J. Trump.
When you really consider the issue, though, it should not be a surprise at all. Trump has been waiting for this moment a long time.
The Manhattanite has been flirting with presidential politics for decades, beginning in 1987, coming closest in 2000, until it all finally culminated in this campaign.
A brand and a reality TV star, the one thing Trump understands better than anything else is the media. His brilliance on this subject has been there for anyone to read for nearly thirty years now, in that silver medal of literature, The Art of the Deal:
"One thing I've learned about the press is that they're always hungry for a good story, and the more sensational the better. It's in the nature of the job and I understand that. The point is that if you are a little different, or a little outrageous, or if you do things that are bold and controversial, the press is going to write about you. The result is that the press has always wanted to write about me."
What he wrote is true.
It can be quite difficult to cover politics and government. Candidates and officials are so afraid of you they've become accustomed to saying nothing at all. So when a man like Donald Trump comes around, you just can't help yourself.
Every website needs traffic, and every TV show ratings, and the emergence of a man fervently beloved by some and passionately despised by others will always draw attention. If you need clicks, have no fear, Trump is here.
I've tried my best to only write about the man when necessary and not just chase clicks, and I feel like I have done alright under the circumstances. I would be lying to you and myself, though, to say I've always lived up to my own standards.
So, in a way, I know why the various TV shows have allowed Trump to set his own precedent when it comes to interviews.
If you're paying attention you'll notice Trump only has to call in to be granted air time. He never has to come in studio and is rarely even required to sit for a remote shot. For a long time, I believed this was some function of laziness on Trump's part but given his insatiable cable news appetite and his colossal ego it's entirely possible he wants to watch his own interview as it happens.
As fractured and territorial as the media landscape is, however, it usually rallies around those members who have been singled out and attacked by a candidate or official.
This tradition was put to the test during the first GOP Presidential debate. When Megyn Kelly confronted Trump with some of his own statements he lashed out at her. Suddenly the most successful woman in cable news was an menstruating bimbo.
Did the media rally around Kelly and denounce Trump? Not really, not in a way that would actually offend their golden goose. Even Roger Ailes, mastermind of Fox News, was overwhelmed.
Nonetheless, perhaps one thought physical violence would remain an unforgivable sin.
On Tuesday night a reporter from the website Breitbart, perhaps the most Trump-friendly place on the world wide web, was asking Trump a question about Justice Scalia's position on affirmative action.
At that moment, Trump's Campaign Manager Corey Lewandowski grabbed her by the arm and yanked her down.
Was Trump asked about this incident during CNN's presidential debate on Thursday? No. What about during their exclusive post-debate interview with the candidate, the one where Chris Cuomo allows Trump to immediately interpret how he thought he did. You know, the one no other politician, Republican or Democratic, has ever been granted. Of course not.
"Chaos is good for CNN" network President Jeff Zucker observed in 2014.
On Friday night, a riot nearly broke out in Chicago when Trump cancelled a rally.
Once more, he was allowed to call into every cable news network to offer his own analysis of why what was occurring was the fault of everyone but him. He talked to all three major cable networks for a total of 48 minutes. He was not asked about the incident with Lewandowski.
Last month, CBS CEO Les Moonves spoke about the presidential race at a media conference in San Francisco.
"Man, who would have expected the ride we're all having right now?," he stated. "The money's rolling in and this is fun. I've never seen anything like this, and this going to be a very good year for us. Sorry. It's a terrible thing to say. But, bring it on, Donald. Keep going."
"It may not be good for America, but it's damn good for CBS."