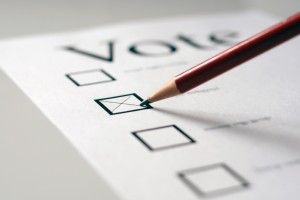 Election Day is nearly upon us once again.
With the 2016 presidential primaries in full force, though, you wouldn't be the only one to neglect the local races on this Tuesday's ballot.
Now, I could give you the same old spiel that everyone else does whenever November rolls around in an odd-numbered year. You know the whole routine. "These are the contests that really matter to your lives," they say. "Your local government impacts you much more than the people in Washington."
Sorry, but that school board election isn't going to affect foreign policy and your Comptroller isn't going to decide who the next Fed Chair or Supreme Court Justice will be.
Make no mistake, those local offices are very important and extremely neglected. They definitely deserve your time and your vote.  
In this piece, however, I want to analyze how the decisions you make on Tuesday will affect political calculations for years to come.
1. 2020 Vision
Of course, the biggest contest this year is the one for the three open seats on the PA Supreme Court.
After criticizing hyperbole just a few sentences ago, I will nonetheless state with conviction that this is a once-in-a-generation opportunity to shape the state's highest court.
The seven-member body currently has two Democrats and two Republicans and if either party sweeps the three seats (two out of three wouldn't be bad either) they'll likely have a majority for quite some time.
This is not only important because of all the crucial questions that routinely come before the court (voter ID and same-sex marriage are just two recent examples) but also because of the role this body plays in determining the state's political playing field.
In 2020, the next U.S. Census will be taken and from that our federal and state legislative districts will be redrawn. 2010 was a legendarily successful year for Republicans because they not only won the House of Representatives and State Houses across the country but also because they were able to draw the districts to insure majorities through the next decade.
The fact that PA has voted Democratic in six straight presidential elections but has only five Democratic Congressman out of eighteen has not gone unnoticed by progressives.
Furthermore, if the Democrats win control of the Supreme Court (and re-elect Governor Wolf in 2018) they'll have the tools to prevent the GOP legislature from monopolizing the process.
2. Referendum on Governor Wolf?
Speaking of Governor Wolf, it's been quite a tough year for him.
It looked at the outset that he would face a tremendous budget fight and he has. While it's too early to say he's losing that bout, he's definitely not winning.  
The budget standoff continues to drag on and it's taking Wolf's numbers with it.
At the heart of the dispute are two dueling claims of a mandate. The Governor believes that his landslide defeat of Tom Corbett (the first incumbent to lose in PA history) was a mandate for him and his budget ideas. Legislative Republicans, however, look at the historic gains they made and conclude that Corbett's loss was an isolated incident and that they are the true representatives of the people.
Whenever the executive and legislative branch find themselves at such a crossroads a special election can help turn the tide. When so many are making claims about what the people actually think and want, concrete results are taken as gospel by politicians and prognosticators like us.
Luckily, there is just such a contest taking place in the State Senate's 37th district. Democratic nominee Heather Arnet and Republican nominee Guy Reschenthaler are battling for the seat vacated by Matt Smith.
Now, every election is unique and the candidates and electorates will probably have a much larger impact than whatever is going on in Harrisburg. Nonetheless, the only people who'll be making that argument on Wednesday are the people that lost.
If the Democrats lose this seat and fall back to a 31-19 margin in the upper chamber, there could be hell to pay for the Governor and the party leadership.
3. 2016
At last, we've come to what you've all been waiting for.
Don't be fooled, 2015 will have an impact on 2016.
Political scientists have pretty well established that the Republican Party has become monolithic and highly motivated while the Democrats are much more diverse and much less likely to make it out to the polls.
As a result, Republicans have the advantage for three out of every four Novembers. The one drawback is the November where the GOP struggles is the November when they battle for the biggest prize of all.
In a way, this almost puts the pressure on the GOP as they're expected to win the 2015 elections much the way they won the 2014 elections. If they don't, though, then what does that mean for next year?
National Republicans, who suffered their one major defeat of 2014 in PA, may decide the Keystone State isn't friendly terrain for 2016.
In fact, there a lot of factors which suggests Pennsylvania would favor Democratic front-runner Hillary Clinton: she's leading the polls here, her husband won the state twice, she won her only competitive contest here by ten points, her father was born here, and the Democratic convention is taking place in Philadelphia.
The GOP path to 1600 Pennsylvania Avenue doesn't necessarily have to go through Pennsylvania. Remember, George W. Bush won twice without it. On the other hand, a Democrat hasn't won the White House without winning PA since Harry Truman in 1948.
Additionally, say you're Marco Rubio and you win the Republican nomination next spring. How many resources do you want to spend in the state where John McCain's and Mitt Romney's presidential dreams died? Especially when you can appeal to your home state of Florida and Democratic states in the Southwest (Colorado, Nevada, New Mexico) with larger Latino populations.
There's one man above all others, however, who will be watching this Tuesday's results very closely: Senator Pat Toomey.
Sen. Toomey is the only Republican incumbent that has to run statewide next year and the only public official in any real danger of defeat (the only congressional seat that the Dems have a chance at is the open PA-8).
Toomey is one of quite a few of his 2010 brethren (Kelly Ayotte of New Hampshire, Ron Johnson of Wisconsin, Mark Kirk of Illinois and Rob Portman of Ohio) that must win re-election in 2016 in states Barack Obama won three years ago.
It's very likely that the 2016 Senate contest will be very close. After all, Toomey beat Sestak by just two points in 2010 and there might be a rematch.
The nightmare for the state's junior Senator, though, is probably Katie McGinty.
If Hillary is indeed the Democratic nominee, she will likely win female voters who want to see the first women President. If enough of those women also press the button for McGinty it might tip the scales for her. Suddenly, all that across-the-aisle work from Sen. Toomey will be naught.
Therefore, it's imperative that the national Republican Party sees Pennsylvania as a major battleground state next year. Taking the state's Supreme Court on Tuesday would be proof that such a move would be worth it.
Tuesday's results will have far more implications than the ones listed above, so feel free to mention some more in the comments. Finally, make sure to take the time to vote on Tuesday and follow our election night coverage.