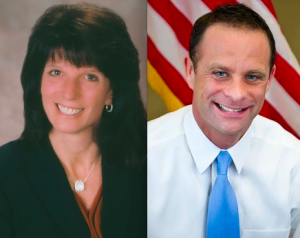 Republican Janet Anderson's campaign Monday blasted the Pa. State Education Association over a recent mailer to its members accusing Anderson of supporting cuts to public education.
She will, "support Tom Corbett's attacks on our pensions," and "support Tom Corbett's education cuts," it alleges.
"These attacks are wrong and [Democratic candidate] Sean Wiley and his campaign should denounce them as such," Anderson campaign manager Casey Contres said. "Janet supports increasing funding for public education and reforming the status quo to finally put students first."
Contres also said Wiley was wrong to suggest that retiring Senator Jane Earll (R-Erie) endorsed Anderson because both are Republicans.
"Wiley insinuating that it was party loyalty is insulting to Senator Earll, and shows that Wiley doesn't know the first thing about the independence the Senator has embodied for the past 16 years," Contres said.
It also bears note that Anderson used to work in Earll's district office.
Democrats around the Commonwealth have blasted Republicans over state budgets from the past two years. Though they increased state funding for K-12 education (excluding pensions), those budgets didn't replace expiring federal stimulus funds.
Every Republican Senator, including Earll, voted for the budgets in 2011 and 2012.
"Janet hasn't voted on any budgets," Contres said.
Aren Platt, a spokesman for the Democratic State Senate Campaign Committee, said Anderson was trying to distance herself from her party in order to win a district that favors Democrats.
"Janet Anderson is running away from the failed policies of Governor Corbett so quickly, the next thing you know she'll be putting a 'Rendell for Governor' bumper sticker on her car," he said.
Here's the mailer: