One of the perks of being the frontrunner in a race: you can sit back and air positive television ads. Pittsburgh mayoral hopeful Jack Wagner is doing exactly that with his latest television spot.
Titled "The Mission," the 30 second commercial features Wagner talking about his military service straight to camera.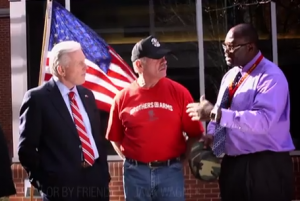 "When you survive something like that, you realize how valuable life is," Wagner says of his time in Vietnam. "It is one of the reasons that I believe I am in public service. To not only give back, but to fulfill a mission in life that the people I served with never could."
Wagner, the former Pa. Auditor General, is competing with City Councilman Bill Peduto for the office of outgoing Mayor Luke Ravenstahl. Wagner has lead in recent polls.
State Rep. Jake Wheatley and activist AJ Richardson are also on the Democratic ballot.
The spot was produced by Philadelphia-based Bronstein and Weaver. It's the second Wagner ad. Both of those and Peduto's first spot have all been positive.