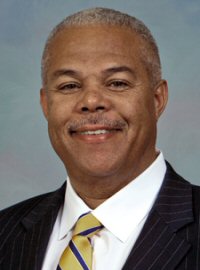 Last year, an email scandal (and a separate scandal) brought down Supreme Court Justice Seamus McCaffery.
Now, at least one prominent Democrat in Harrisburg thinks Justice Michael Eakin should also resign.
Eakin was first mentioned during the McCaffery episode but revelations by the Attorney General shows the Justice was exchanging numerous inappropriate emails.
Now Anthony Williams, the State Senate Minority Whip, is speaking out.
"I waited for about a week to hear the 'timber' moment, where people would be appropriately outraged and driving him from the court," Williams stated, "and I frankly don't think we've had one."
No Democrats have commented on Williams' remarks but the Philly GOP is not so shy.
"Yesterday, back bench State Senator and failed Mayoral Candidate attempted to jump into the political fray by calling on Supreme Court Justice Mike Eakin to resign his position," stated Executive Director of the Philadelphia Republican Party Joe DeFelice. "What we find laughable is where was Senator Williams' outrage and demand for resignation when Kathleen Kane was indicted. We didn't hear a peep from Senator Williams when Chaka Fattah was indicted; you could hear crickets when Reps Brownlee, Brown, Waters, Miranda, Bishop, and James were investigated, indicted or convicted and finally, the silence was deafening when his colleague, aka the birthday girl, Sen. Leanna Washington plead guilty to using her staff to throw her a birthday party."
"Sen. Williams' recent statement reeks of hypocrisy," DeFelice continued. "When he launched his abysmally failed Mayoral bid he did so with the slogan 'One City' meaning 'all of us working together, one city working together,' but what he meant was One City of Corruption, One City to benefit the few and One City that has the highest tax burden in the Country but it was this issue for which Williams broke his silence. Perhaps Williams should take a look at his own house and within his own caucus before trying to grab headlines."