April 28th Playbook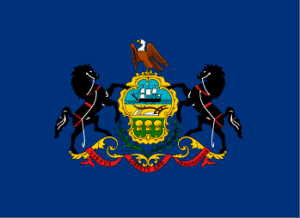 GOP gubernatorial candidates square off. Daniels accused of domestic abuse. Monmouth poll shows no clear choice in GOP Senate race. Posting House members' expenses online. Here is the Playbook.
PA Weather
Sewickley | Becoming Sunny, 54
Selinsgrove | Becoming Sunny, 55
Swarthmore | Mostly Sunny, 56
PA Sports
76ers (lead 3-2) | THU at TOR
Flyers (25-44-11) | THU at WIN
Penguins (45-25-11) | FRI vs. CBJ
Phillies (9-10) | d. COL, 7-3; THU vs. COL
Pirates (8-10) | lost vs. MIL, 3-1; THU vs. MIL
Union (5-1-2) | SUN vs. NSH
News
PA Governor Race: 'Four leading GOP governor candidates look for ways to differentiate themselves in latest debate': PennLive reports that "the four leading Republican primary candidates for governor agreed on the questions they faced in an hourlong debate Wednesday night inside the WHTM/abc27 studio in Harrisburg, so much of the time was spent trying to separate themselves from their opponents."
PA Senate Race: Monmouth Poll: No Clear GOP Senate Choice: There are very different dynamics at play among the Democratic and Republican bases in Pennsylvania, as voters there prepare to nominate their respective party's candidates for U.S. Senate
Reader Poll: Won "Won" The GOP Governor Debate?: You watched the debate. Now let us know who you think did the best job on stage. Vote in our readers' poll.
Focus On: 7th Congressional District: The 7th Congressional District will be one of the more closely watched races in the Keystone State this fall.
'Senate probation reform bill faces pushback from advocates who say they prefer the status quo': The Pennsylvania Capital-Star reports that "advocates and lawmakers opposed to a Senate probation reform bill gathered on the Capitol steps on Wednesday to call on lawmakers to "vote no" on the proposed legislation, which they say will cause more harm than good."
'In unanimous vote, Pa. House advances bill to post members' expenses online': LNP | LancasterOnline reports that "the Pennsylvania House on Wednesday unanimously passed a bill to require legislators' expenses – including mileage, per diems, meals and rent for district offices – be posted online."
'A day later, Vogel may indeed be running for 6th Congressional District': The Reading Eagle reports that "a day after he announced the suspension of his campaign for the 6th Congressional District's Republican nomination, candidate Ron Vogel is said to have decided to re-enter the race, butting up against Chester County GOP officials who objected to his candidacy because of controversial social media posts attributed to him, sources said."
'Pa. lawmakers urge approval of rape kit tracking system legislation': WHYY reports that "Pennsylvania House Democratic Leader Joanna McClinton and state Sen. Katie Muth say they hope to address the issue with legislation that would create a statewide rape kit tracking system."
''All of us share a responsibility to guard against hate,' Wolf says as Pa. marks Holocaust Remembrance Day': The Pennsylvania Capital-Star reports that "state and local leaders gathered at the Capitol on Wednesday to remember victims of the Holocaust and to warn Pennsylvanians of the dangers of not speaking out against hatred and discrimination in the commonwealth."
'Want to learn German? 'Clearinghouse' of online classes for K-12 students would be created under Ortitay proposal': The Pittsburgh Post-Gazette reports that "Ortitay has been trying to get the state to create a database of courses so students in rural and low-income school districts can broaden their academic interests beyond the courses that their district might offer. He's introduced a version of this bill every legislative session since he was first elected to the House eight years ago and believes he'll get it across the finish line to Gov. Tom Wolf's desk this summer."
'Pennsylvania solar projects held up by federal probe, group says': StateImpactPA reports that "a solar industry trade group is warning the threat of tariffs on imported panels is already starting to affect businesses in the commonwealth and across the country."
'DelVal Dems Split on Biden College Debt Forgiveness Deal': The Delaware Valley Journal reports that "if President Joe Biden forgives $1.7 trillion of debt for college loans, will Delaware Valley's congressional delegation be with him? So far, it's a mixed bag."
'Rep. Hakeem Jeffries, Rep. Chrissy Houlahan Headline Chesco Democrats' Spring Dinner Event': The Delaware Valley Journal reports that "on April 20, the Chester County Democratic Committee, under the leadership of Chairwoman Charlotte Valyo, welcomed member of the Democratic House Leadership Hakeem Jeffries to Chester County to present the keynote address at their annual Spring Event."
'Fed up with inaction, bipartisan pair urges leaders to put more on the floor': CNN reports that "the leaders of the bipartisan Problem Solvers Caucus are ramping up pressure on their leadership in a new effort to bring a series of bills to the House floor that they argue already have bipartisan backing and could help bolster incumbents ahead of the midterm elections from attacks that Congress isn't working."
'Despite busy election season, Lehigh Valley seemingly overlooked by candidates ahead of primary election': WFMZ reports that "the Valley, despite a very crowded field for Governor and U.S. Senate, hasn't been prime primary campaign ground for candidates, aside from a January Lehigh County stop by GOP Senate hopeful Dave McCormick, a Dr. Oz Business Matters appearance, and a Muhlenberg College Senate Democrat debate."
Legislative Election Updates
'In new 96th Legislative District, Democrat Mike Sturla faces first primary challenge in decades from Dana Hamp Gulick': LNP | LancasterOnline reports that "the 16-term lawmaker, long the only Democrat representing Lancaster County in the state House and a politician who hasn't faced a primary challenge since he was first elected in 1990, is facing Manheim Township resident Dana Hamp Gulick in the May 17 primary."
'Primary 2022: The contest for the GOP nod in 24th Senatorial District': The Reading Eagle reports that "Washington Township Supervisor David Moyer and state Rep. Tracy Pennycuick are seeking the nomination in the May 17 primary."
'Primary 2022: 2 competing for Democratic nod in 24th Senatorial District': The Reading Eagle reports that "former Boyertown School Board member Jill Dennin and former Pottstown School Board member Emanuel Wilkerson are seeking the nomination in the May 17 primary."
'Primary 2022: 3 compete for GOP nod in 124th House District': The Reading Eagle reports that "Jamie Barton, Elle Rulavage and Jill Saunders are competing for the Republican nomination in the May 17 primary."
'Sen. Browne faces primary challenge in 16th District': Armchair Lehigh Valley reports that "in the May 17 primary, Parkland School Board Director Jarrett Coleman is looking to unseat Browne, who has represented the Allentown area as a state senator from the 16th District since 2005."
'A Fighter Runs for State Senate in Philadelphia': The Delaware Valley Journal reports that Republican Sam Oropeza and Democrat Jimmy Dillon "will square off in a special election on May 17 to fill the unexpired term of Sen. John Sabatina Jr., who resigned in November after being elected to a judgeship on the Philadelphia County Court of Common Pleas."
Regional Spotlight: Northeast
Citizens Voice: Luzerne County mail-in ballot error won't happen again, state election official testifies 
Times-Tribune: GOP chairman predicts Republican "wave" at pre-election meet-and-greet
Times-Tribune: Officials, consultant present spending plan for Scranton rescue funds
The Times Leader: Meuser joins colleagues in filing Title 42 amicus brief
The Times Leader: Mail ballot drop boxes dominate Luzerne County Election Board meeting
The Times Leader: Hazleton resident urges Democratic Luzerne County Council replacement for Schnee
The Times Leader: 'Pro-voter' group calls for voting accessibility, more drop boxes
The Times Leader: Luzerne County releases outside review of Children and Youth agency
The Times Leader: Luzerne County Council must decide on infrastructure loan guarantee
The Times Leader: Luzerne County mail ballots scheduled to be sent Friday
The Times Leader: Luzerne County Council puts Rescue Plan allocations on hold
The Times Leader: Pashinski announces $1.1M grant to expand domestic violence shelter
The Times Leader: CAPITOL ROUNDUP: State warns of spring flooding; urges purchasing flood insurance
Times-Tribune: After debate, Scranton School Board hires new law firm; will bid busing this week
Times-Tribune: Federal funds to support improvements in Dickson City, Archbald
Times-Tribune: Clarks Summit officials interview mayoral candidates
Times-Tribune: Forest City councilwoman accused of fraudulently obtaining benefits faces May 2 hearing
Citizens Voice: Flood insurance rates set to rise for many NEPA homeowners 
Citizens Voice: Wilkes-Barre mayor hears support for land bank
Opinion  
John Baer: Here's how to be a better voter in Pa.'s May 17 primary elections 
Paul Muschick: Why the Lehigh DA is right to crack down on election ballot boxes
Brandon McGinley: The man in black versus the man in blue
Michael A. MacDowell: Expect high gas prices as we address climate change
Eric W. Orts: Cut the root of Russia's power by making a clean energy transition
Jenny DeHuff: Editor's Note: College consolidation is sometimes key to improving student outcomes
John L. Micek: As deaths rise, a new call for gun reform. Will Republicans listen? | Wednesday Morning Coffee
Scott Seeborg: Pa. leaders should spend money on improving our elections, not trying to expose problems that don't exist
Inquirer Editorial Board: Philadelphia messed up the mask mandate 
Post-Gazette Editorial Board: Scrap state law restricting broadband options
Post-Gazette Editorial Board: The convictions and comity of Orrin Hatch
LNP | LancasterOnline Editorial Board: Lancaster County is in the top 10* in Pennsylvania for health outcomes, but some issues must be addressed
Todd Peterson: I'm a Republican. Doug Mastriano is my senator. Here's what Pennsylvanians should know.
Paul Muschick: The inspiring story of an Emmaus student tackling Pennsylvania's litter problem
Bruce Ledewitz: How a shuttered bathroom at a Pgh grocery store explains structural racism 
Aliya Poblete and Gangadhar Andaluri: Philly's poor waste management is environmental injustice
Daniel R. Taylor: No closed pools: Why this Philly doctor wants every city pool open this year | Expert Opinion
Gwen Snyder: Elon Musk's understanding of free speech on Twitter is flawed
Bill White: How Lehigh County Humane Society is renovating and evolving