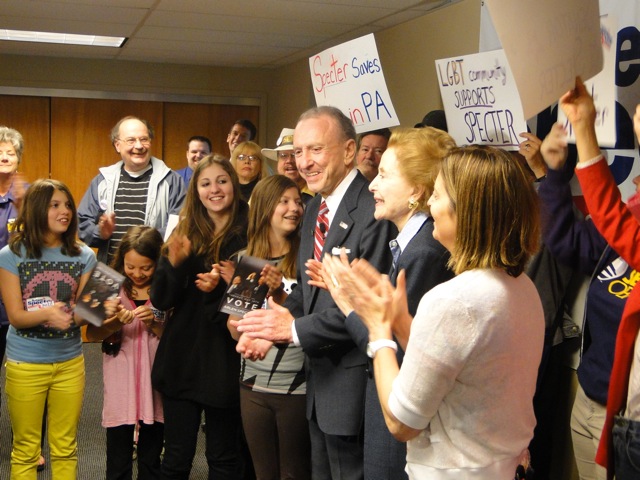 People from across the political spectrum and across the nation mourn the passing of Sen. Arlen Specter. Here are their words.
President Barack Obama:
"Arlen Specter was always a fighter.  From his days stamping out corruption as a prosecutor in Philadelphia to his three decades of service in the Senate, Arlen was fiercely independent – never putting party or ideology ahead of the people he was chosen to serve.  He brought that same toughness and determination to his personal struggles, using his own story to inspire others.  When he announced that his cancer had returned in 2005, Arlen said, "I have beaten a brain tumor, bypass heart surgery and many tough political opponents and I'm going to beat this, too."  Arlen fought that battle for seven more years with the same resolve he used to fight for stem-cell research funding, veterans health, and countless other issues that will continue to change lives for years to come.  Michelle and I send our thoughts and prayers to Joan and the rest of the Specter family."
Vice President Joe Biden:
"Jill and I are deeply saddened. Arlen Specter was a great Senator who lived his life the way he died, with dignity and courage. He was my friend and I admired him a great deal.
For over three decades, I watched his political courage accomplish great feats and was awed by his physical courage to never give up.  Arlen never walked away from his principles and was at his best when they were challenged.
Jill and I are thinking of Joan at the moment – she was an incredible partner through his life journey. Our hearts go out to Shanin and Stephen and all who were deeply touched by his life."
Presidential Candidate Mitt Romney:
"Arlen Specter was a longtime public servant who participated in some of the most consequential and historic debates of our time. His fight against cancer served as an inspiration to others battling this deadly disease. Ann and I hold his family in our thoughts and prayers today."
U.S. Sen. Bob Casey:
"I am deeply saddened to learn that my friend Arlen Specter has passed away. I had the honor and privilege of working with him in the U.S. Senate on behalf of the people of Pennsylvania. Arlen was a statesman and a problem solver who was able to work with Democrats and Republicans in the best interest of our Commonwealth and our Country. Arlen fought cancer courageously and his enduring legacy of support for the National Institutes of Health will help countless Americans as they battle cancer and other ailments. My thoughts and prayers are with Joan, Shanin, Stephen and his entire family."
U.S. Sen. Pat Toomey:
"A man of sharp intelligence and dogged determination, Sen. Specter dedicated his life to public service and the Commonwealth of Pennsylvania. His impact on our state and public policy will not be forgotten.
My wife Kris and I send our thoughts and prayers to Joan and the entire Specter family."
Former Senator Rick Santorum:
"Serving with Senator Specter for more than a decade, I can say without a shadow of a doubt that he was a fighter, and his commitment to public service was admirable. Karen and I extend our deepest sympathies and prayers to the entire Specter family as they mourn their loss."
Joe Sestak:
"Deeply saddened by the loss of Senator Arlen Specter — a warrior of inestimable public service."
Tom Smith:
"Today, Saundy and I join Pennsylvanians in mourning the loss of a dedicated public servant.  Our thoughts and prayers are with Senator Specter's family and friends at this difficult time."
Governor Tom Corbett:
"For more than five decades, Arlen Specter lived a life devoted to public service on behalf of the people of Pennsylvania and the United States. Pennsylvania has lost a political figure whose career stretched from Philadelphia's City Hall to the chambers of the U.S. Senate. We are saddened to hear of his death."
Former Governor Ed Rendell:
Rendell calls Specter "a mentor, colleague and a political institution." Rendell also called Specter "a champion for veterans across our state and beyond" and said he "will be deeply missed."
Rep. Chaka Fattah (D-Phila):
"Arlen Specter was an important mentor and inspiration for me, and he was my friend. The long arc of his career in public service touches on most major moments in contemporary American history. Those moments required great leadership and Senator Specter always met the challenge."
Rep. Jim Gerlach (R-Chester):
"Arlen Specter was a dedicated public servant and tireless advocate for Pennsylvania. He was always willing to work with every member of the Pennsylvania delegation to address the needs of the communities we serve and the people we are privileged to represent. Senator Specter was a helpful partner in my efforts to honor the service of our veterans and the sacrifice of their families with the opening of a veterans' cemetery in southeastern Pennsylvania. We also collaborated on the Chester County Public Safety Training Center project to ensure emergency responders would receive the very best training to save lives and keep themselves safe. A skilled prosecutor and legislator, Senator Specter never shied away from vigorous debates even with members of his own political party. I would like to offer sincere condolences to the entire Specter family."
Rep. Patrick Meehan (R-Delaware):
"I'm deeply saddened by the loss of Senator Specter. He made tremendous and long-lived contributions to Pennsylvania and to our nation. He distinguished himself by leading on criminal justice issues, foreign affairs, and most especially, fighting for advances in health care research. Senator Specter attacked problems and sought to find consensus for solutions. He cared deeply about his constituents and understood their concerns. He had a brilliant mind and required that those he entrusted be equally engaged in the issues he took on."
Rep. Mike Fitzpatrick (R-Bucks):
"The passing of Arlen Specter represents a loss to the people of Pennsylvania he represented for three decades in the United States Senate and to the country he served so diligently throughout his career.
"In the history of our Commonwealth, few men have had such an impact on the lives of so many, from the constituents he served, to the careers he started, to his wife Joan, his sons Shanin and Steve, and his four granddaughters.
"A man who put his constituents and his principles ahead of party loyalty and never one to give up without a fight, Arlen Specter will forever serve as an example to future generations as a true public servant.
Kathy Boockvar:
"I am so sad to learn of the loss of Senator Arlen Specter.  Senator Specter exemplified public service at its best, always working with Democrats and Republicans to do what he thought was best for our country. Pennsylvanians and all Americans were fortunate to have the Senator as our representative. My thoughts and prayers are with the Senator's family and loved ones. We will always be grateful for his service."
Rep. Tom Marino (R-Lycoming):
"I was saddened to learn that Sen. Arlen Specter passed away earlier today. The perseverance he demonstrated in his fight against cancer offered hope to all of us affected by this disease. While Arlen's battle with cancer is now over, his efforts to support medical research will not soon be forgotten by those of us still in the fight."
Rep. Mark Critz (D-Cambria):
"Senator Specter will be remembered for a lot things: a prosecutor and legal expert, an independent-minded legislator, a champion for cancer and other medical research, and a fixture in Pennsylvania and U.S. politics for over three decades. We are a better Commonwealth and nation because of his service and I hope it is a comfort to his wife, Joan, and to their entire family that so many grieve their loss and are praying for them during this sad time."
Democratic Party of Pa. Chairman Jim Burn:
"Senator Arlen Specter was a true Pennsylvania institution whose record of fighting for our Commonwealth is unmatched. Senator Specter's contributions to Pennsylvania and the United States will leave a lasting legacy. Our thoughts and prayers are with Senator Specter's family during this difficult time."
Republican Party of Pennsylvania Chairman Rob Gleason:
"The Republican Party of Pennsylvania extends its deepest sympathies to the friends and family members of former U.S. Senator Arlen Specter.  Senator Specter will always be remembered for his many years of dedicated public service."
State Sen. Jay Costa:
"Whether it was on the local, state or national political scene, Senator Specter helped shape history. His work and his accomplishments throughout his many years in public life have left a lasting footprint.  He led a purposeful and meaningful life and contributed so much to making the lives of the citizens of Pennsylvania better."
State Sen. Daylin Leach:
"Senator Specter called them as he saw them, and based his positions on a thoughtful analysis of the facts, not some allegedly infallible ideology. Sometimes I agreed with his conclusions, sometimes I did not. But I always admired his willingness to listen, to learn, and to change his mind.
"We will miss not only Senator Specter as a man, but we will miss his kind; moderate men and women who weren't in public service to make a point, but to get things done. These men and women were the glue that held our country together. We will know that our democracy is on the mend when more people like Arlen Specter lead our nation again."
State Rep. Eugene DePasquale:
"He said something about my well-fought victory. I remember thinking I was surprised he had any clue who I was."
"He was always very detail-oriented on what we were there about. If it was an issue, he knew it in and out. He was always moving, always doing something."
"People obviously had different points of views with him in politics, but no one ever questioned his work ethic to the people of Pennsylvania."