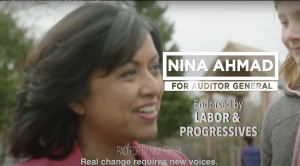 The Philadelphia Democrat joins the television race for Auditor General. 
Former Deputy Mayor of Philadelphia Nina Ahmad, one of six Democrats seeking the party nomination for the statewide office, released a 30 second television spot highlighting her experience for the office, while promising to hold the government accountable and take on drug companies.
"She came to the U.S. alone having lived through a violent war as a child," a voiceover says to begin the ad. "Nina Ahmad waitressed before becoming a scientist discovering new cures to disease." 
The ad continues to detail her positions in politics after highlighting some of her personal experiences, specifically citing her serving as as a member of the National Advisory Commission on Asian Americans and Pacific Islanders under President Barack Obama, advising on "key issues affecting the health, employment, and well-being of these communities," according to her campaign website.  
"Nina worked for President Obama and then as a local President of NOW, battling discrimination," the voiceover says in the ad. 
"As Auditor General, I'll use facts and data," Ahmad says in the ad. "Not fear and division." 
While Ahmad says "not fear and division," the screen cuts to President Donald Trump speaking. This is the first television ad in the Democratic Auditor General race to date to include Trump. 
"I'll hold government accountable and take on drug companies for price gouging," Ahmad continues to say towards the conclusion of the ad. 
The ad ends with a voiceover saying that "real change requires new voices," followed by Ahmad telling everyone to "stay safe." 
The Ahmad campaign said that the ad buy is in the six-figure range and is airing statewide on broadcast and cable. The ad first aired on May 14 and will air through the election. 
Ahmad is one of a few candidates in the race to have television ads on the airwaves. Pittsburgh City Controller Michael Lamb has released a 15 second spot that is airing in five different markets in the state that promotes endorsements from various labor, teacher, and firefighter unions across the state and touts his experience in public office. State Rep. Scott Conklin (D-Centre) released a minute long spot showing the candidate driving around the state with his dog, Lucy, as he pitches a message of unity in response to the coronavirus pandemic. 
In addition to Ahmad, Conklin, and Lamb, the other Democrats seeking the party nomination include former Lancaster County congressional candidate Christina Hartman, longtime Auditor General office employee Tracie Fountain, and Rosie Marie Davis, a Monroe County CPA. 
The Pennsylvania Democratic Party did not endorse a candidate for the office at their winter meeting, although Lamb was the highest vote getter after one round of voting, but did not surpass the two-thirds threshold needed for the endorsement.