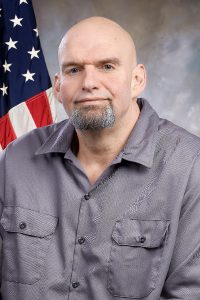 Good Friday morning. It's National Vinyl Record Day. Go ahead and listen to your favorite song.
Fetterman Set To Return to the Campaign Trail. Mastriano's Fight With Jan. 6 Committee May Help His Campaign for Governor. Questions Remain about FBI Subpoenas in Harrisburg. Here is the Playbook.
PA Weather
Erie | Sunny, 75
State College | Sunny, 79
Wilkes-Barre | Sunny, 80
PA Sports
Phillies (62-49, 10.5 GB) | lost to Miami, 3-0; FRI-SUN vs New York Mets
Pirates (45-67, 16.5 GB) | lost to Arizona, 9-3; FRI-SUN vs. San Francisco
Union (12-3-9, 1st) | SAT vs Chicago
Thanks for reading PoliticsPA. Share our newsletter with your friends and colleagues. And visit us online at PoliticsPA.com.
Top Story
1. Fetterman plans 'raw' remarks in return to PA Senate race
"Pennsylvania Senate candidate John Fetterman is expected to open up about his personal health challenges as he officially returns to the campaign trail Friday, more than 90 days after the Democrat suffered a stroke that threatened his life and political prospects in one of the nation's premier Senate contests." (Associated Press)
Related
Oz demands 5 debates as Republicans question Fetterman's stroke recovery
"Mehmet Oz formally challenged John Fetterman to five Pennsylvania Senate debates Friday, an opening salvo designed to help the Republican catch the Democratic frontrunner and indirectly highlight his health as he recovers from a stroke." (NBC News)
Why John Fetterman picked Erie for his first big rally after a stroke that nearly killed him
"The lieutenant governor will return to the campaign trail with a rally Friday in Erie County. The choice of venue reflects his campaign's emphasis on more rural, blue-collar parts of the state." (Philadelphia Inquirer)
John Fetterman's return to the campaign trail predictably starts in Erie, 1 of Pa's most pivotal regions
"For years, Mr. Fetterman has seen Erie for the seesaw that it is — the swing county in Pennsylvania that's correctly guessed the winner of the past two presidential elections and may decide this crucial race for the U.S. Senate." (Pittsburgh Post-Gazette)
John Fetterman says he is mentally and physically ready for anything that comes his way
"On Thursday, he spoke to KDKA-TV political editor Jon Delano in his first television interview since May. Fetterman said he is mentally and physically up for anything that comes his way." (KDKA)
Fetterman's campaign trail return comes amid big ad spending lead
"Pennsylvania Democratic Lt. Gov. John Fetterman will return to the campaign trail Friday, having already carved out an advantage in ad spending so far in the Senate race." (NBC News)
Charted: The social media hype of Oz vs. Fetterman
"The number of online news articles and social media interactions about Mehmet Oz, the Republican nominee for U.S. Senate in Pennsylvania, has exceeded his Democratic rival John Fetterman's metrics for most of the year." (Axios)
PA farmers slam Dr. Oz for cashing in on a major tax credit designed for farm and forestland
"When Dr. Mehmet Oz purchased a farmhouse in Montgomery County last year, it raised more questions than it answered. As Oz, the Republican candidate for U.S. Senate, continues to have his residency questioned by critics, the land acquisition came with a $50,000-a-year tax break that has now added fuel to the fire for Democrats looking to label Oz as a carpetbagger that doesn't care about Pennsylvania – only a Senate seat." (City & State PA)
Fetterman appointee to Pa. Board of Pardons sought to abolish mandatory life sentences for murderers
"The Pennsylvania Board of Pardons (BOP) secretary appointed by the state's lieutenant governor and Democratic Senate candidate John Fetterman repeatedly tweeted to "disarm the police" and advocated for abolishing mandatory life without parole sentences for first- and second-degree murder." (Fox News)
Governor
2. Doug Mastriano's fight with the Jan. 6 committee may help his campaign for governor
"A legal fight between Doug Mastriano and the congressional committee investigating the Jan. 6, 2021, attack on the U.S. Capitol could push his testimony back beyond November, helping his campaign." (Philadelphia Inquirer)
Related
Rules for covering DeSantis visit pose ethical quandary, experts say
"Ordinarily, political reporters wouldn't think twice about whether to cover next Friday's planned visit to Pittsburgh by Florida Gov. Ron DeSantis. He is, after all, a potential Republican presidential contender for 2024, and he will be at a Downtown hotel stumping on behalf of Pennsylvania gubernatorial candidate Doug Mastriano — a candidate who rarely speaks to reporters at all. But a media policy being imposed by the event's sponsor, conservative activist group Turning Point Action, may present ethical challenges for those who wish to cover it." (WESA)
Doug Mastriano campaigning in Western Pennsylvania
"Republican nominee for governor Doug Mastriano is hitting the campaign trail in western Pennsylvania. Over the next several days, the state senator, and his wife, Rebbie, will be making stops in several counties in the area starting on Wednesday and going through Saturday." (WTAE)
Harrisburg
3. Questions remain about who received FBI subpoenas in Harrisburg this week
"As federal investigators made visits to some state House and Senate Republicans, at least two of the state's top leaders say they were not among those served a subpoena." (Pittsburgh Post-Gazette)
Related
Who is Rep. Scott Perry, the Trump ally from Pa. whose phone was seized by the FBI?
"What you need to know about the York County Republican again making headlines." (Philadelphia Inquirer)
Around the Commonwealth
Ahead of midterms, Casey, Dems tout impact of 'historic' spending bill for Pennsylvania
"A "historic" spending bill passed by the narrowest of margins in the U.S. Senate last weekend will lower prescription drug costs for Pennsylvania's senior citizens and set the stage for a cleaner environment for the commonwealth's young people. That's the message that U.S. Sen. Bob Casey, D-Pa., and other Democrats delivered Thursday as they touted the benefits of sweeping energy, health care, climate, and tax package that Democrats hope will help lift their electoral fortunes as they head into the fall campaign season." (Pennsylvania Capital-Star)
How some Pennsylvania candidates are using social media in their campaigns
"With just under three months until Pennsylvania's Nov. 8 election day, at least four candidates in the commonwealth's high-profile races for governor and senator are highly visible online." (WVIA)
Lisa Boscola wants to restore property tax relief mechanism as wave of school district tax increases hit Lehigh Valley
"As a wave of school property tax increases hits the Lehigh Valley, state Sen. Lisa Boscola has filed a bill to reverse the recent elimination of a mechanism that could have pumped hundreds of millions of dollars into property tax relief." (Allentown Morning Call)
Sestak Named To New Third Political Party Advisory Board
"The Forward Party announced on Thursday that former Democratic Congressman Joe Sestak was selected to be a founding member of the Forward Leadership Circle (FLC), which will serve as an "advisory body to the organization."" (PoliticsPA)
National Convening of Black Mayors returns to Philadelphia
"Municipal leaders from across the country gathered in Philadelphia this week for the 2nd Annual National Convening of Black Mayors. The event is being held at WHYY Studios in collaboration with African-American Chamber of Commerce (AACC) of Pa., N.J., and Del., and media partner 6abc." (WHYY)
This week's biggest Winners & Losers
City & State PA details "who's up and who's down this week." (City & State PA)
Former Supreme Court Justice Stephen Breyer joins National Constitution Center board as co-chair
"Recently retired Supreme Court Justice Stephen Breyer has been named the honorary co-chair of the National Constitution Center's board of trustees, where he joins Justice Neil Gorsuch, who has served in that position since 2019." (Philadelphia Inquirer)
Meadville Mayor Charged with Welfare Fraud
"City of Meadville Mayor Jaime Kinder has been charged with welfare fraud, according to court records." (Erie News Now)
Commentary