August 23rd Playbook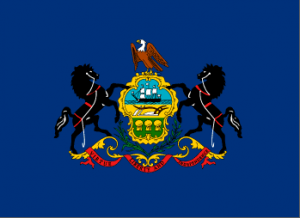 The first GOP candidate has formally announced a bid to challenge Rep. Conor Lamb (D-Allegheny) in 2020. Here is the Playbook.
Lamb Draws GOP Challenger: The former Air Force pilot and small businessman is the first Republican to enter the race in the 17th District. He accuses Lamb of being a "born again liberal" and believes GOP leadership has put America first.
Harrisburg & DC   
AP: Pennsylvania OKs $3.8M to treat PFAS in drinking water 
StateImpactPA: Wolf tells pipeline activists he won't shut down Mariner East 
WESA: Almost 10 Years In, PA Commission Struggles To Agree On Sentencing Reforms
KDKA: State Attorney Generals, Including Pa.'s Shapiro, Working With Major Carriers To Combat Robocalls 
KDKA: AG Shapiro Files Brief Saying Indiana Unconstitutionally Denied Women Safe Abortion Care
Pennsylvania Capital-Star: Sentencing officials are trying — again — to build an algorithm to predict future crimes. Critics still have big concerns 
WHYY Newsworks: Activists push Democrats on climate change, a new priority for party's base
PLSReporter: Wolf touts increased education spending 
PLSReporter: 3 under 3!
Pittsburgh Business Times: See which counties produced the most natural gas in 2018 
PA Post: Pa. libraries are getting more state money this year. But it's still less than what they received 10 years ago
Philadelphia
Philly Clout: George Soros' team is jumping back into Pa. politics with the billionaire's cash
Billy Penn: City Hall newbies tap campaign staffers for top jobs 
Inquirer: After police commissioner resigns, Philadelphia's sexual harassment policies again under scrutiny
Inquirer: Ex-U.S. senator accused in Jeffrey Epstein scandal oversaw Philly Archdiocese's sex-abuse compensation fund
Inquirer: Fire-damaged, idled Philly refinery to retain 83 workers as 'caretakers' while seeking new owner
Inquirer: North Philly shootout left neighbors wondering: Why did police make a mess and leave us to clean up?
Inquirer: Philly Police launch website to help find suspects in unsolved murders
Inquirer: Cannabis 'drought' strikes Philadelphia region as the number of marijuana patients spikes
Inquirer: Philly to switch all 100,000 streetlights to 'smart' LEDs; expect some debate
Philadelphia Magazine: Retaliation, Unwanted Groping, and "Stolen" Breast Milk: The Philly Police Lawsuit, Broken Down
Philadelphia Magazine: Let There Be Light (Emitting Diodes): Philly to Retrofit All 100,000 City Streetlights
WHYY Newsworks: Emotions raw, PES refinery workers fight to keep plant open 
WHYY Newsworks: Philly Police creates unsolved murder website in hopes of catching killers 
WHYY Newsworks: No severance pay or benefits for PES refinery workers; next round of layoffs Friday  
Philly Voice: Philly Police launch unsolved murders website, hope public can help find suspects 
KYW Newsradio: Planned Parenthood chapters deal with loss of federal funds over gag rule fight 
KYW Newsradio: 'That is 100% false': Hahnemann disputes claims that some have trouble accessing medical records
SEPA
AP: Pennsylvania OKs $3.8M to treat PFAS in drinking water 
Daily Local News: Gov. Wolf visits pipeline construction site in Chesco 
Daily Local News: West Chester Borough Council calls for Bill Scott to resign after racial remark 
Daily Local News: Chester County towing company sues Reading Parking Authority for $2.8M
Inquirer: Gov. Tom Wolf pledges $3.8M for PFAS-tainted water in Philly suburbs
WHYY Newsworks: Wolf allocates $3.8M to BuxMont towns for PFAS treatment, eliminating surcharges on water bills
Bucks County Courier Times: Gov. Wolf announces $3.8M to help PFAS-contaminated communities in Bucks, Montco 
Bucks County Courier Times: Fitzpatrick, Boyle bills seeks to boost special education funding 
Pottstown Mercury: Kuklinski resigns as Douglass (Mont.) supervisor, replacement sought 
Pittsburgh  
Post-Gazette: Allegheny County DA skeptical of plans for county police review board 
Post-Gazette:  Zappala says public shouldn't be put at risk regarding July undercover drug bust in Ross
City Paper: Rep. Guy Reschenthaler silent on Trump's comments after previously condemning Democrats for being "anti-Semitic" 
City Paper: Allegheny County Council weighs a proposed citizen police review board 
Tribune Review: Lyft providing low-cost transportation for grocery shopping
Tribune Review: Peduto gives key to the city to former United Steelworkers union president
The Incline: Forget Silicon Valley, these tech companies are moving to Braddock
KDKA: DA Stephen Zappala Raises Questions About Officer-Involved Shooting On McKnight Road 
Pittsburgh Business Times: See which counties produced the most natural gas in 2018
SWPA
Beaver County Times: U.S. Rep. Conor Lamb still wants bill passed on forgiving disabled vets' student loans after President Trump signs executive order
Beaver County Times: DEP: Beaver County Conservation District acted without "sound judgement" in permits
Johnstown Tribune-Democrat: State Rep. Frank Burns calls for outside review of parole policies
Johnstown Tribune-Democrat: Cambria GOP: No coroner candidate 
Observer-Reporter: Consent order bars landfill that takes fracking waste from sending discharge to BVMA
NEPA
Citizens Voice: Lawmaker: Retirement tax still on table to lessen property tax load
The Times Leader: Wall out, Nanticoke mayor names interim police chief
Times-Tribune: Police substation established in Scranton City Hall
Times-Tribune: Scranton mayor race could be crowded   
South Central  
Patriot News: Plans announced for a new Harrisburg office building to house 900 state government employees
Patriot News: Middletown mayor still open to forming new type of police department
Patriot News: Environmentalists host conference to discuss Harrisburg's sewage-contaminated water: 'I didn't realize it was this bad'
York Daily Record: Testing shows high level of sewage in Susquehanna
York Dispatch: Pa. business leaders echo Trump, say recession talk is Democratic ploy  
York Dispatch: York City mayor criticizes media, 'rumors' following fatal shooting of child
LNP | LancasterOnline: Residents tell Pequea Twp. supervisors to keep police force, raise taxes if they need to
LNP | LancasterOnline: Pa. Supreme Court says Lancaster can't assess maintenance fees on utilities
LNP | LancasterOnline: Wrightsville council still concerned about ambulance coverage
Lehigh Valley    
Reading Eagle: Christian Leinbach speaks out against Gov. Wolf's Restore Pennsylvania infrastructure plan
Reading Eagle: In 2014, 5 property owners challenged Reading's recycling fee; the case is back in Berks County Court
Reading Eagle: Berks commissioners get update on efforts to tackle truancy
Morning Call: Where do Lehigh Valley, Pennsylvania rank when it comes to clean energy?
Morning Call: How Northampton Area School District hopes to get $3 million-$4 million from FedEx Ground, warehouses, more
Express Times: With 149 illnesses in U.S. linked to vaping, Pennsylvania says its medical marijuana vape products are safe
North by Northwest
Williamsport Sun-Gazette: Stormwater transfer is in whose hands?
Erie Times-News: Data released as Erie bayfront hotels tax case proceeds
Erie Times-News: DEP weighing Erie Coke settlement offer  
Opinion  
Bucks County Courier Times Editorial: PA AG Josh Shapiro should sue foam manufacturers
Post-Gazette Editorial Board: Back-to-school fear: The market for bulletproof backpacks is tragic  
Post-Gazette Editorial Board: Hidden influence: China's power projects a tailored image
Pam Snyder: Pa. can't wait any longer on broadband expansion. Here's why
John L. Micek: Study: Pa. ranks 35th nationwide for condition, cost-effectiveness of its highways | Thursday Morning Coffee
John L. Micek: Who says compromise is dead? In September, two former Pa. governors will try to revive it 
Christine Flowers: In fallout from Commissioner Richard Ross' resignation, we haven't heard full story 
Jessica Edwards: Hahnemann closure a reminder physicians need unions to fight for-profit takeover of healthcare 
Anwar Curtis: Summer might be almost over, but for one special weekend, Harrisburg's best had a moment in the sun 
Will Bunch: Beto O'Rourke re-invents how to run for president. Is his 'Bulworth' campaign crazy enough to work? 
Claire Sasko: Drivers, Stop Parking in the New Spruce and Pine Street Bike Lanes