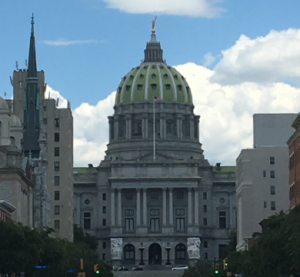 Wagner accuses Wolf of trying to 'run out the clock', while Rep. Tim Briggs (D-Montgomery) has been named the new minority chair of the House Health Committee. Here is the Playbook.
PA7: SafeSport Clears Nothstein: The national oversight organization joined local police in concluding that sexual misconduct allegations were unsupported.
Meet Josh Shapiro, the Man Behind the Bombshell Investigation of Clergy Sexual Abuse: The New York Times' Elizabeth Dias wrote a profile on Pennsylvania Attorney General Josh Shapiro published yesterday.
Young voters surge in Pennsylvania: The New York times takes a look at Pennsylvania getting a significant increase in registered voters 34 and younger.
Harrisburg & DC
AP: Wagner says Wolf wants to 'run out the clock' on answers
WHYY Newsworks: At sentencing today, former Pa. treasurer could get six years for extorting donors
Times-Tribune: Nealon becomes longest-serving federal district court judge in U.S. history
Inquirer: Pennsylvania, New Jersey order flags lowered for John McCain as White House faces criticism
AP: Pennsylvania to start pre-qualifying residents for a Real ID
PLSReporter: Briggs named new Democratic chair of House Health Committee
PLSReporter: DePasquale releases recommendations and findings from school safety task force report
PLSReporter: After week of controversy, Wagner uses press club to tout education plan
City and State PA: Winners & Losers for the week ending August 24
WHYY Newsworks: Voter registration ticks up in Pennsylvania as groups target young people
WHYY Newsworks: Following clergy report, Pa. lawmaker proposes new penalties for failure to report abuse
WHYY Newsworks: Pa. Catholics grapple with the church in wake of 'predator priest' report
AP: Judge blocks online plans for printing untraceable 3D guns
WESA: Senate Proposal Aims To Add Funds To Struggling Rural Hospitals   
PennLive: GOP guv candidate Wagner renews call to defund Planned Parenthood. It's still a bad idea | Tuesday Coffee
Morning Call: Pat Toomey urges Commerce officials to speed up decisions on tariff exclusions
Philadelphia
Philly Voice: Here's what Philly's first day back to school looked like
KYW Newsradio: Philadelphia students back in school with experimental early start date
KYW Newsradio: Community College of Philadelphia teachers, staff protest working two years without a contract
KYW Newsradio: Philly-area superdelegates support DNC nomination process change
Philadelphia Magazine: Philly Is Trying Really, Really Hard to Keep Its Amazon HQ2 Bid a Secret
Inquirer: For Archbishop Chaput and Pope Francis, envoy's letter a reminder of past tensions
SEPA
Bucks County Courier Times: Lawmakers: Changes needed to address harassment
Bucks County Courier Times: Parx Casino owner applies to offer sports betting in Pennsylvania
Daily Local News: Meeting set in West Chester to explore gun violence, mental illness
Delco Daily Times: Critics call Carlino a 'bully' for Don Guanella development tactics
Pittsburgh
Tribune Review: Franklin Regional superintendent named to statewide School Safety & Security Committee
Tribune Review: Former Moon Area superintendent fights on in federal court
Tribune Review: Alle-Kiski veterans call John McCain a hero despite Trump's opinion of him and reaction to his death
Tribune Review: Ross considering law prohibiting workplace, housing and other forms of discrimination
WESA: Activist Leon Ford Says Pittsburgh Officer Disrespected Him, Prompting Internal Investigation
WESA: Senate Proposal Aims To Add Funds To Struggling Rural Hospitals
WESA: 'Emotions Were Raw:' Police Chief Scott Schubert On A Turbulent Season Of Peacekeeping In Pittsburgh
WESA: Pittsburgher Works To Prevent Infection, Overdose Deaths Amid Opioid Epidemic
City Paper: Hazelwood residents march for better pedestrian access out of their neighborhood
KDKA: Hazelwood Gets Affordable Housing Grant, Tries To Avoid Gentrification Missteps
KDKA: School Safety Task Force Has Recommendations, But Not Much Cash To Help Districts Implement Them
Pittsburgh Business Times: Senators critical of DEP's well permit fee increase
Post-Gazette: Pa. school safety task force calls for increased security, mental health services for students   
Post-Gazette: Allegheny County Children's Fund proposal will appear on Nov. ballot
Post-Gazette: Dixon named new police chief in Heidelberg
SWPA
Johnstown Tribune-Democrat: Voting precinct proposal draws ire from residents of 8th Ward care home
Johnstown Tribune-Democrat: Gleason appointed to Westmont school board
Johnstown Tribune-Democrat: Grant will help Greater Johnstown School District add social workers
Altoona Mirror: City OKs land bank concept
Altoona Mirror: Lower rent price discussed
Observer-Reporter: O'Neal to host opioid roundtable
Beaver County Times: New program lowers RMU tuition below state-related universities
Beaver County Times: County considers selling land parcels to PennEnergy
NEPA
Times-Tribune: With board vote, fate of Scranton teacher layoffs now unclear
Times-Tribune: Marywood to rescind honors given to Timlin
The Times Leader: OT and parking meter revenues affecting Wilkes-Barre budget
Citizens Voice: Marywood joins local colleges in rescinding honors from bishops
Citizens Voice: Road named after priest stays the same in Hazle Twp.
Times-Tribune: Nealon becomes longest-serving federal district court judge in U.S. history
Citizens Voice: Plymouth taking aim at blighted properties
Citizens Voice: Arbitrator rules in favor of 2 police union officials
Citizens Voice: W-B Area to receive over $400K in school improvement grants
South Central
PennLive: GOP guv candidate Wagner renews call to defund Planned Parenthood. It's still a bad idea | Tuesday Coffee
PennLive: Harrisburg councilman resigns
PennLive: Cops, doughnuts and a couple of yucks turns into recipe for a York political brush fire
York Dispatch: Domestic violence in York County a 'public health epidemic'
LNP | LancasterOnline: School District of Lancaster, La Academia receive nearly $1.4M in school improvement grants
Lehigh Valley
Morning Call: Wake-up Call: Paying the federal piper
Morning Call: Pat Toomey urges Commerce officials to speed up decisions on tariff exclusions
Morning Call: To battle addiction, doctors shift focus to trauma, mental illness
Morning Call: Berks man sues Allentown Diocese in new claim of sexual abuse
Morning Call: FBI agents confronted Reading Mayor Vaughn Spencer in Florida ahead of City Hall raid
Reading Eagle: How a Reading campaign finance law was nearly overturned
North by Northwest
Centre Daily Times: Rep. Conklin introducing legislation to protect children
Erie Times-News: EMTA director resigns following heated board meeting
Erie Times-News: City of Erie faces huge debt payment jump in 2019
Williamsport Sun-Gazette: Lawmaker talks taxes, pensions at town hall
Williamsport Sun-Gazette: Contractor: Levee engineer stops work, claims bills aren't being paid by Williamsport
Williamsport Sun-Gazette: City home rule presents final draft charter
Opinion
Times-Tribune Editorial Board: Pass Casey's bill to require abuse reports
Inquirer Editorial Board: More gambling craziness: Casinos sue the lottery
Christine Flowers: John McCain was a fighter to the finish
Abraham Gutman: Johnny Bobbitt's story is a reminder that even winning the lottery won't beat stigma
Inquirer Editorial Board: Too many Philly landlords shutting the door on fair housing
Gail Dines, Wheelock College & David L. Levy, University of Massachusetts Boston: Child pornography may make a comeback after court ruling guts regulations protecting minors
State Sen. Andy Dinniman: Lack of pipeline safety info puts schools, students at risk
Tribune Review: Was McCain the last maverick?
Tony Norman: Of flags, folly and presidential cynicism  
Brian O'Neill: A long life on the same longitude
Post-Gazette Editorial Board: Help awaits for Kerala: India rejects foreign aid for a flood-ravaged state
Post-Gazette Editorial Board: Moving Franco: Relocating ruler's body would help Spain heal
Post-Gazette Editorial Board: Don't take a lifeline: The poor, elderly rely on subsidized phone service
John Micek: This is the Pa. Congressional race Donald Trump is sweating the most | Analysis