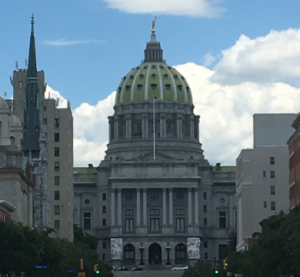 Pennsylvanians react to the August Franklin & Marshall poll, while the candidates for PA-8 trade different types of jabs in their newest ads. Here is the Playbook.
F&M Poll: Casey and Wolf Lead by Double Digits; Trump to Play Role in Congressional Voting: Democratic enthusiasm is high for the midterms.
PA8: Cartwright and Chrin Strike Different Tones in New Attack Ads: Residency and sanctuary cities are at the forefront of the most recent attacks.
Harrisburg & DC
AP: Former mayor found guilty in federal corruption trial
AP: Bishops back victim fund over abuse lawsuits in Pennsylvania
Citizens Voice: Long-serving jurist Nealon dies at 95
AP: Mumia Abu-Jamal's appeal request continued
AP: Nonbelievers win suit over Pennsylvania House prayer policy
PLSReporter: In heart of gentrification, Pittsburgh officials propose first use of affordable housing fund
PLSReporter: Single payer in Pennsylvania? House Democrats hold roundtable on proposal
PLSReporter: Horror at grand jury report lingers, but agreeing on action still an open question
PLSReporter: Federal judge strikes down House policy on who can offer opening prayer
Inquirer: Pa. auditor general to audit Temple University; business school and tuition hikes are areas of focus
Philadelphia Magazine: Feds: We'll Crack Down on a Safe Injection Site in Philly Immediately
Philly Voice: Swarthmore, eastern Pa. universities look good in new college rankings
WESA: Shapiro Talks Immigration, Ongoing Efforts to Address Church Abuse
City Paper: Support for abortion access growing in Pennsylvania; highest ever surveyed
KDKA: SBA Administrator Linda McMahon Visits Western Pa., Pushes Help For Small Businesses
KDKA: Bishop, Senate President Propose Clergy Abuse Compensation Fund
PennLive: Midterms are always a referendum on the president. In Pa., this year's really is | Friday Morning Coffee
Morning Call: Wake-up Call: Labor Day
Philadelphia
Philly Clout: 100+ people ran for City Council at the height of anti-Rizzo furor. Could it happen again?
Inquirer: Pa. auditor general to audit Temple University; business school and tuition hikes are areas of focus
AP: Mumia Abu-Jamal's appeal request continued
Philadelphia Magazine: Feds: We'll Crack Down on a Safe Injection Site in Philly Immediately
Philadelphia Magazine: Philadelphia Workers Overwhelmingly Report Feeling Underpaid
WHYY Newsworks: Philly's only majority black building trades union planning move from the 'burbs to North Broad
Al Dia: Nelson Díaz: The first, but not the last
KYW Newsradio: City develops local 'brand' in effort to unify its global identity
SEPA
Delco Daily Times: Huge crowd hears results of pipeline risk assessment study
Daily Local News: Steelworkers rally in Coatesville for new contract
Daily Local News: Comitta finds pipeline concerns trump all others
Bucks County Courier Times: Morrisville teachers have new five-year contract
Pittsburgh
Tribune Review: Joe Biden to march in Pittsburgh Labor Day parade
Tribune Review: Parishioners defend priest in Greensburg diocese accused of sexually abusing minor
Tribune Review: $500,000 state grant to boost New Kensington's blight fight
WESA: Shapiro Talks Immigration, Ongoing Efforts to Address Church Abuse
WESA: Neighbors Of Rural Tear-Gas Manufacturing Plant Resent Explosions, But Embrace Jobs
WTAE: Cardinal Wuerl's name covered up on sign outside of North Catholic High School
City Paper: Support for abortion access growing in Pennsylvania; highest ever surveyed    
PLSReporter: In heart of gentrification, Pittsburgh officials propose first use of affordable housing fund
KDKA: SBA Administrator Linda McMahon Visits Western Pa., Pushes Help For Small Businesses
KDKA: PWSA Wants To Stop Providing Free Water To City-Owned Facilities
KDKA: Ambridge Borough Council Suspends Police Chief Without Pay
Post-Gazette: In Pittsburgh, it's a banner year as PAC takes its anti-Trump message to the sky
Tribune Review: Plans to close Bruce Mansfield plant a blow to employees, Beaver County economy
Tribune Review: Penn Hills residents react to manager's contract, severance
SWPA
Beaver County Times: County GOP secretary called black NFL players 'baboons' in Facebook post
Beaver County Times: County to issue fines for missing permit information
Johnstown Tribune-Democrat: Several SCI-Somerset employees hospitalized, reports indicate
Johnstown Tribune-Democrat: Johnstown Council 'on correct page' on budget
Observer-Reporter: Cumberland Township hires new police chief
Observer-Reporter: Washington County officials hear second pitch for new voting machines
Observer-Reporter: Judge reduces DeWeese's restitution while he continues to try to overturn conviction
NEPA
Citizens Voice: Long-serving jurist Nealon dies at 95
Citizens Voice: Program preserves more than 3,000 acres of farmland
Citizens Voice: W-B Area working with DEP on new school
Citizens Voice: W-B mayor's office releases Labor Day schedule and announcements
Times-Tribune: Scranton School Board votes to eliminate teaching positions
The Times Leader: Northwest Area one vote away from 'early-bird' teacher contract
The Times Leader: Crestwood superintendent's home on tax-sale list; attorney cites pending divorce
The Times Leader: Small group of vocal protesters rally against WB Area consolidation
The Times Leader: Double the fun for Wilkes-Barre's second Multicultural Festival and Parade
South Central
LNP | LancasterOnline: Report: Increased mental health services could ward off violence in schools
York Dispatch: YCPD chief knew of mayor's concerns about lip-sync video before filming, chief of staff says
Carlisle Sentinel: Carlisle to consider fees for funding stormwater improvements
PennLive: Community group stages suicide prevention training after student's death
PennLive: Harrisburg, other Catholic dioceses open to creating fund for clergy sex abuse victims
PennLive: Midterms are always a referendum on the president. In Pa., this year's really is | Friday Morning Coffee
Lehigh Valley
Reading Eagle: Former Reading Mayor Vaughn Spencer guilty of all counts in federal bribery trial
Reading Eagle: Reading trade conference hampered by visa denials
Morning Call: Wake-up Call: Labor Day
Morning Call: Bethlehem to sink $1.75 million into golf course  
North by Northwest
Erie Times-News: Erie small business leaders meet with cabinet member
Williamsport Sun-Gazette: Charter brings final report to council outlining new form of city government
Williamsport Sun-Gazette: Voting district consolidation being explored
KDKA: Bishop, Senate President Propose Clergy Abuse Compensation Fund
Centre Daily Times: PennEnergy Resources to purchase State College company in multi-million dollar acquisition
Opinion
Times-Tribune Editorial Board: Fill shortages by raising pay
Will Gonzalez: Mayor Kenney, please, be consistent and equitable and sign the Construction Impact Tax bill
Michael Smerconish: Sign me up for these college courses
Nico Rodriguez: International Overdose Awareness Day: Where is Philly's overdose prevention site?
Stu Bykofsky: You don't fight drugs by accommodating addiction
Will Bunch: Is Delaware's Kerri Evelyn Harris the next explosion to rock the Democrats?
Donna Cooper and Phil Lord: The test Philadelphia can't afford to fail
Post-Gazette Editorial Board: Poor judgment: Judge Pappas' bond-setting raises questions
Tony Norman: Dog whistling never goes out of style
Brian O'Neill: The Holy Spirit better pick up the phone