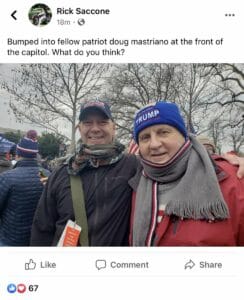 Good Tuesday morning. It's National Book Lovers Day. Take some time to read a few pages of your favorite book today.
DeSantis to Rally for Mastriano. Fetterman Leads Oz By Double Digits in New Poll. Republicans Want "Woke Rhetoric" Off Education Department Website. Here is the Playbook.
PA Weather
Connellsville | T-Storms, 83
Williamsport | Scattered T-Storms, 87
Pottstown | Scattered T-Storms, 92
PA Sports
Phillies (60-48, 10.0 GB) |TUE-THU vs. Miami
Pirates (44-65, 16.0 GB) | lost to Arizona, 3-0; TUE-THU vs. Arizona
Thanks for reading PoliticsPA. Share our newsletter with your friends and colleagues. And visit us online at PoliticsPA.com.
Top Story
1. DeSantis To Rally for Mastriano in Pittsburgh
A potential 2024 Republican presidential candidate is hitting the campaign trail to boost GOP candidates on the ballot this fall in several swing states and will be making an appearance in the Keystone State along the way.
Florida Gov. Ron DeSantis will be headlining a Turning Points Action "Unite & Win" rally in Pittsburgh to promote state Sen. Doug Mastriano's campaign for Governor on August 19. (PoliticsPA)
Related
Doug Mastriano to appear for questioning by House Jan. 6 panel Tuesday, but it may be short
"Pennsylvania Republican gubernatorial nominee Doug Mastriano will dial-in Tuesday morning for a scheduled on-line deposition before the House Select Committee to Investigate the Jan. 6th Attack on the United States Capitol. But he may not be staying on the line very long, his lawyer says." (PennLive)
Mastriano and Shapiro pitch to PA county commissioners
State Sen. Doug Mastriano, the GOP candidate for Governor, and Attorney General Josh Shapiro, the Democratic candidate for Governor, both spoke at the County Commissioners Association of Pennsylvania gathering in Lancaster County on Monday. (LNP | LancasterOnline)
PA Gov. Race: Tickets available for DeSantis/Mastriano Pennsylvania rally
"Tickets are now available for a Pennsylvania rally with Florida Governor Ron DeSantis and Pennsylvania gubernatorial candidate Doug Mastriano." (ABC27)
Josh Shapiro stops in Clinton County over weekend
"Despite the hot and humid weather, a crowd of Clinton County residents gathered at the Clinton County Democratic Headquarters to hear Pennsylvania governor candidate, Josh Shapiro, speak about his campaign." (Williamsport Sun-Gazette)
U.S. Senate
2. Pennsylvania Senate Race: Fetterman leads Oz in new poll
"A new Pennsylvania Senate Race poll shows Democrat John Fetterman holding a double-digit lead over Republican Mehmet Oz.
The poll was conducted by Momentive/SurveyMonkey for Center Street PAC, "a nonpartisan political action committee focused on promoting rational governance and combatting extremism."
Of the 1,206 voters recorded for the poll between July 29 and August 1, Fetterman received 47% to Oz's 30% with 23% undecided, a 17% gap between Fetterman and Oz." (ABC27)
Related
Oz targets Fetterman over sanctuary cities, prison reform in new ad
"Pennsylvania GOP Senate candidate Mehmet Oz attacked Democratic Lt. Gov. John Fetterman over sanctuary cities and "failed liberal policies" in a new ad Monday as the two vie for the seat being vacated by Sen. Pat Toomey (R)." (The Hill)
A self-funded campaign and sliding poll numbers point to trouble for Dr. Oz in Senate race
"Federal Election Commission data shows Oz loaned nearly 70% of his campaign's $19 million raised in his race to replace retiring Republican Sen. Pat Toomey, which analysts called a potential sign of trouble as he runs against Democrat John Fetterman, the state's lieutenant governor." (Bucks County Courier Times)
John Fetterman and Mehmet Oz appear to be at odds over Inflation Reduction Act
"Democrats' climate and inflation reduction package draws a mixed response from Senate hopefuls." (City & State PA)
Mehmet Oz scored a $50,000 annual tax break on his $3.1 million Montco manor
"The tax incentive is part of a controversial state program designed to encourage the preservation of farm or forestland that overwhelmingly benefits wealthy landowners such as Oz." (Philadelphia Inquirer)
Behind the Ballot: Dr. Oz accuses Fetterman of being against fracking
"Dr. Oz says Fetterman wants it banned, but Fetterman says that's a lie. So what's the truth?" (WFMZ)
Harrisburg
3. Pa. GOP lawmakers want 'woke rhetoric' about gender identity off education department website
"Twenty-one state House Republicans are calling on Pennsylvania's acting education secretary to remove gender identity resource information from the department's website or resign.
In a statement released on Monday, the lawmakers accused Acting Education Secretary Eric Hagarty of promoting "gender theory indoctrination" in public K-12 schools by including resources on a department webpage relating to gender identity." (PennLive)
Related
Representatives call for removal of gender identity resources on webpage
"State Rep. Joe Hamm, R-Hepburn Township, and state Rep. Stephanie Borowicz, R-McElhattan, are joining other Republican lawmakers in calling for the removal of a gender/gender identity resource page from the Department of Education's website." (Williamsport Sun-Gazette)
Around the Commonwealth
Pa. elections official blames spreadsheet for state's mistake in certifying a county's election results
"A top elections official said Monday that "human error" in tracking the results of the May 17 primary election led Pennsylvania to inadvertently certify a county's vote counts that the state deems to be inaccurate." (Philadelphia Inquirer)
PA pols react to Senate passing sweeping health care, climate and deficit-reduction bill
City & State PA lists "some of the commonwealth's most prominent politicians – and a few others – who offered a range of thoughts on the bill and how it will affect the nation's economy on the verge of a recession." (City & State PA)
Wolf touts lower corporate income tax plan during York County visit
"Governor Tom Wolf visited the York County Economic Alliance to tout Pennsylvania's new, lower Corporate Net Income Tax (CNIT) rate." (ABC27)
Philadelphia children rally against gun violence at the state capitol
"Gun violence continues to be a problem across Pennsylvania, and Philadelphia is no different. The local district attorney has received a lot of backlash when it comes to gun-related issues. On August 8, young Philadelphians came to Harrisburg with homemade signs and a plea for help." (ABC27)
PennDOT submits plan to install 150 charging stations for electric vehicles
"By this time next year, the Pennsylvania Department of Transportation expects to see construction beginning on the first 27 charging stations for electric vehicles that are part of the Biden administration's economic stimulus program." (Pittsburgh Post-Gazette)
GOP continues to erode Democrats' voter edge in 7th Congressional District
"Heading into the fall campaign season, Republicans continue to erode the Democrats' voter edge in the 7th Congressional District, where incumbent Democrat Susan Wild is again facing Republican Lisa Scheller for the seat." (Armchair Lehigh Valley)
Pa. seniors on Medicare will save on insulin, prescription drugs if House passes Senate Inflation Reduction Act
"Seniors with diabetes could pay less for insulin and the government could save on an increasing number of prescription drugs if a budget reconciliation bill passed by the Senate on Sunday is voted into law in the coming days." (Pittsburgh Post-Gazette)
The 2022 Pennsylvania Agriculture Power 100
City & State PA lists "the people from Pennsylvania cultivating the state's thriving farming sectors." (City & State PA)
Commentary