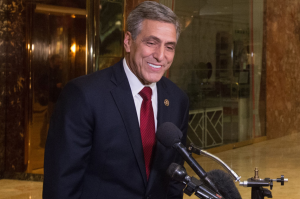 The decision is in Congressman Lou Barletta's hands.
At least that's the impression he's giving.
According to Dennis Owens of ABC27, during Rep. Barletta's meeting with Donald Trump the President-Elect offered the Congressman the position of Secretary of Labor. It was originally thought that Trump would offer the Transportation Department but that opportunity went elsewhere.
Barletta, though, wants a day or so to think it over.
If he does decide to take the job it will trigger a special election to replace him as representative for the 11th Congressional District.